The new year brings an entirely new slate of bowl games unlike any of the previous ones played. While there have been a few good games thus far, the final days of the college football schedule promise to be some of the best.
Whether it's the BCS bowl games that float your boat or matchups like the Cotton Bowl and Capital One Bowl that tickle your fancy, the next six days pack 11 games that are sure to make any college football fan happy.
With less than a week remaining for both the 2013 college football season and the BCS as a whole, here is a breakdown of the best remaining matchups on the schedule.
Cotton Bowl: Missouri vs. Oklahoma State
Kevin C. Cox/Getty Images
Both Missouri and Oklahoma State barely missed out on representing their respective conferences in a BCS bowl because of losses to close out the season. But make no mistake about it, these are still two of the best offenses in the country.
Clint Chelf is a quarterback that has emerged for the Cowboys and has been one of their most explosive offensive weapons. Chelf didn't get serious playing time until the sixth game of the season for the Cowboys but has been carrying them since.
The senior has 12 touchdowns through the air and another five on the ground for Oklahoma State in his last six games and has a total of 21 touchdowns this season.
For Missouri, James Franklin and Henry Josey have carried the team. Franklin missed four games this season due to a shoulder injury but has still thrown for 2,225 yards, 19 touchdowns and five interceptions.
Josey, on the other hand, has also been one of the best running backs in the stacked SEC this year with 1,074 rushing yards, 13 touchdowns and an average of 6.6 yards per carry.
With four straight games at 95 or more yards to close the season, Josey's 1,000-yard season was his second straight for the Tigers after recovering from a devastating injury and missing the 2012 season.
Not that he needed much motivation for this game, but David Morrison of the Columbia Daily Tribune reported that Josey is motivated for this game for one reason:
Henry Josey, on Missouri's motivation for the Cotton Bowl: "We love winning."

— David Morrison (@DavidCMorrison) December 30, 2013
The last remaining playmaker for the Tigers might be the best one. Dorial Green-Beckham is a mammoth wide receiver for Missouri at 6'6", 225 pounds and has caught 55 passes for 830 yards and 12 touchdowns this season.
When asked about Green-Beckham, Oklahoma State defensive coordinator Glenn Spencer said he reminded him of a certain NFL superstar, according to Morrison:
Oklahoma State defensive coordinator Glenn Spencee compared Dorial Green-Beckham to Calvin Johnson, who Spencer recruited at Georgia Tech.

— David Morrison (@DavidCMorrison) December 31, 2013
That's pretty high praise considering Calvin Johnson is now viewed as the best wide receiver in the NFL.
Rose Bowl: Michigan State vs. Stanford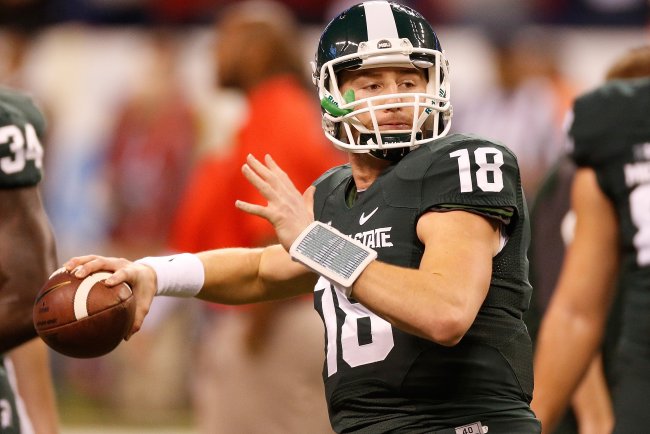 Gregory Shamus/Getty Images
When we're talking about matchups, it doesn't get much better, considering both of these teams boast two of the best defenses in the country.
Stanford has the offensive weapons with Tyler Gaffney and Ty Montgomery to get the job done, but the erratic play of Kevin Hogan could cost the Cardinal a chance to win their second straight Rose Bowl going against a tough Michigan State defense.
But if anyone can run into a stout defense like the Spartans', it's Gaffney. The former baseball player has been carving up defenses all year and told Lindsay Schnell of Grantland.com that he actually enjoys contact: "I'm a little bit of an instigator, I'll admit that. I play within the rules, but I won't go out of the way to avoid a collision."
With Michigan State presenting a more complete offense that includes Connor Cook and Jeremy Langford, the Spartans are probably the more complete team. Cook has proven himself as a sophomore this season and likely had his best performance of the season in the Big Ten Championship Game.
The sophomore signal-caller was relied upon heavily against Ohio State and responded with 304 yards passing—his first-ever 300-yard game—and three touchdowns with one interception. Cook said he felt like his offense was seen as a weakness for the Spartans heading into the Big Ten Championship, according to CBSSports.com:
This wasn't the first week where we heard people say negative things about us as an offense. I think we were underdogs in the majority of the games we played this year. It really didn't affect us.
Hopefully for Michigan State fans, Cook thinks his offense is being overlooked again because a similar performance to the one he had against Ohio State could be the tipping point in the Rose Bowl for the Spartans.
BCS National Championship: Florida State vs. Auburn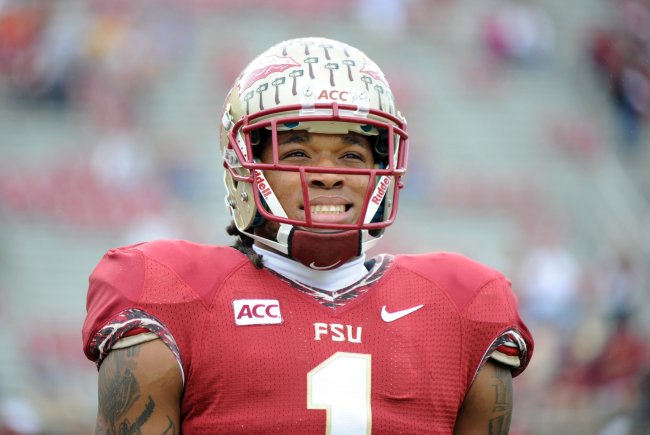 Melina Vastola-USA TODAY Sports
Who Will Win the Final BCS National Championship Game?
Florida State has the No. 2 scoring offense in the country and the No. 1 scoring defense. Auburn finished No. 1 in rushing yards per game and has the 12th-best scoring offense. Needless to say, the BCS finally got it right with the national championship.
The Seminoles have scored less than 40 points in a game just once this season. Much of their offense relies heavily on the talents of Heisman winner Jameis Winston, but it's his top three receivers, who have each amassed over 900 yards receiving, that he gives the credit to.
The 2013 Heisman Trophy winner has been specifically targeting one wide receiver, Kelvin Benjamin, as of late. The sensational sophomore has 17 receptions for 392 yards and seven touchdowns over his last three games.
Winston told Garry Smits of Jacksonville.com that he has a lot of faith in Benjamin: "I told him, 'You are an unstoppable force. If you go out and do what you have to do, you will be unstoppable and no one will be able to cover you.'"
On the Auburn side, Nick Marshall and Heisman finalist Tre Mason have been the catalysts for the offense. The two players finished with a combined 45 touchdowns with Mason averaging 5.7 YPC and Marshall finishing with 6.6 YPC.
While Mason was simply incredible down the stretch and finished his regular season with a trip to the Heisman Trophy presentation, he credits Marshall with being the leader on the team. Mason told ESPN the Magazine that Marshall's demeanor has helped the team remain confident:
"We're losing, crowd's so loud & you should be freaking out. Then you look at Nick, and he's just chilled out." -Tre Mason #StoryOfTheSeason

— ESPN The Magazine (@ESPNMag) December 24, 2013
With two great offenses squaring off to find out who the best team in the country is in the final year of the BCS, this one could come down to which defense can get huge stops.