It's finally here, New Orleans Saints fans; the playoffs are upon us. With the Saints malfunctioning toward the end of the regular season, they must now navigate the entire playoffs on the road. First up to bat is the NFC East champion Philadelphia Eagles.
For my money, the Eagles are a budding juggernaut. Head coach Chip Kelly has the most imaginative, forward-thinking offensive mind in the NFL. While coaches like Sean Payton, of the New Orleans Saints, believe the game is won outside the numbers—Kelly believes in dominating both lines of scrimmage at all costs.
While many believed that Kelly's squads at the University of Oregon were a pass-centric offense, this writer was one of the first to dispel that notion when Kelly took the job. As someone who has been a huge fan since the day he became offensive coordinator at Oregon, it comes as no surprise that the Eagles find themselves NFC East champions in Kelly's first season at the helm.
And what makes it even more frightening: The Eagles don't have close to the style of players Kelly needs to run his "Showtime"-like, fast-paced offense. Teams better catch the Eagles now, as they will only get better as Kelly implements more of his scheme.
Unfortunately, or fortunately, the Eagles have to face a team that excels at an aspect they struggle with.
The pass...
The Saints are truly a pass-centric offense that's virtually without peer. Quarterback Drew Brees just completed his third straight 5,000-yard passing season. Totaling 39 touchdowns opposed to just 12 interceptions, it's safe to say that any defense that opposes the Saints has its work cut out for it.
When you factor in the Eagles have the 32nd-ranked pass defense, the waters become muddier. Conversely, the Eagles have what it takes to shoot it out with New Orleans.
They possess the No. 1-ranked rushing offense and finished with the No. 9-ranked passing outfit. Needless to say, this game has all the makings of an explosive classic.
One that the Saints should win...
Breakdown of Key Personnel
Quarterback
Eagles QB Nick Foles had a wonderful first year as the starter. Playing in 13 games, Foles tallied 27 TDs against only two interceptions. Many believed that Foles didn't possess the prerequisite athleticism to pilot Kelly's fast-break offense.
Well, with the exception of yours truly.
@lawlornfl lol thx for the read Tom - I appreciate it! As for Foles,the film study on him reveals a Franchise QB in multiple schemes

— Murf Baldwin (@MurfBaldwin) May 2, 2013
The Eagles offense is designed to get the ball in the hands of its playmakers in the quickest ways imaginable. Foles is extremely accurate and makes lightning-quick decisions. Despite not being very mobile, Foles has a great feel for the pocket and knows how to avoid sacks by stepping up or sliding out of it.
In addition, he's not afraid to hold onto the ball until his receivers uncover. Saints defensive tackle Akiem Hicks needs to get quick pressure in Foles' face and force him off his spot. Although Foles throws great on the run, the end combination of Cam Jordan and Junior Galette will look like cheetahs chasing a gazelle if Foles is flushed from the pocket.
The Saints need to be ready for about 30 different screen passes to receivers, tight ends and running backs alike. It's imperative that the Saints tackle well, as the Eagles do a great job of getting their skill players the ball in space.
Offensive Linemen/Skill Players
The Eagles line is one of the very best in the business. Left tackle Jason Peters anchors a line full of freak athletes. The Eagles are masters at pulls and traps that confuse linemen and linebackers alike.
Patience will be the key as the Saints defense reads and deciphers its keys.
The Eagles usually operate from "11" and "12 personnel," which affords them the opportunity to rarely substitute. By comparison, the Saints substitute multiple players on every snap—but that's another problem for another day.
The Eagles initially begin most plays the same. Rather it be a run or a pass, the ball will look like its being handed to running back LeSean McCoy. From there, the Eagles have multiple options out of the same look.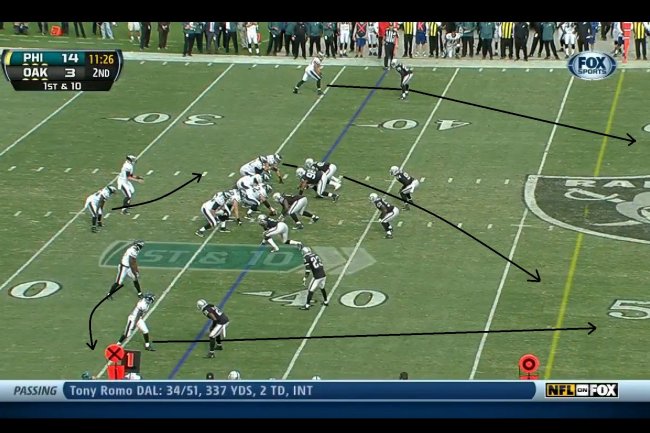 Via Game Rewind
In addition, the Eagles send either a slot receiver or a player in motion to the flats. This forces a defender to stay put and generates less traffic for explosive plays downfield. McCoy, who led the NFL in rushing, demands so much attention that his presence helps generate less traffic as well.
So running play action with him is a necessity for Kelly's offense.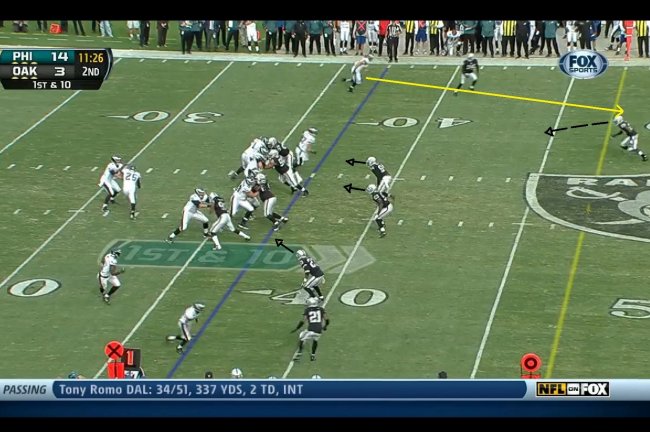 Via Game Rewind
As you can see, the fake to McCoy draws attention from even the free safety. This leaves receiver Riley Cooper in man coverage with a corner. Saints corners Keenan Lewis and Corey White will have their respective hands full with Cooper and fellow receiver DeSean Jackson.
Cooper, 6'3", 222 pounds, is having a breakout season with 47 receptions for 835 yards and eight TDs. Cooper is fast, physical and tenacious. He's also an impending free agent who would look perfect in a Saints uniform.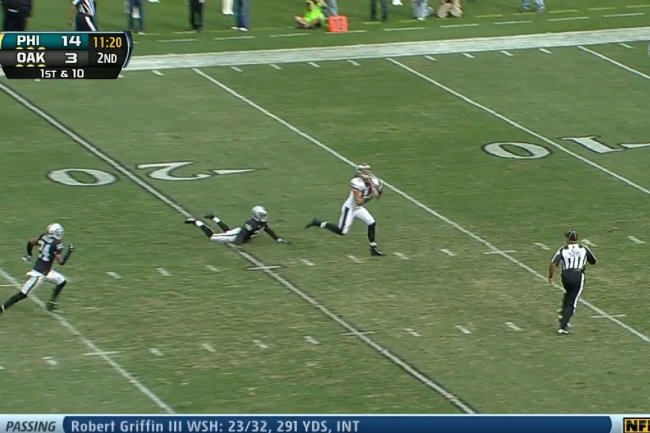 Via Game Rewind
Another one bites the dust.
White and Lewis both stand at 6'1" and can compete physically with Cooper. But neither has the speed to keep up with Jackson—who might be the fastest player in the league at his position.
Jackson has proved to be a perfect fit in Kelly's offense with 82 catches for 1,332 yards to go along with nine TDs. He's a perfect candidate to be shadowed by Lewis the entire game. Lewis needs to get physical with Jackson in an effort to throw off timing.
Tight ends Brent Celek (32 receptions, 502 yards) and Zach Ertz (36 receptions, 469 yards) will eventually find themselves matched up with Saints linebackers David Hawthorne and Curtis Lofton. If this scenario happens more times than not...it's time to panic.
The Saints need to scheme both linebackers out of coverage and allow safety Malcolm Jenkins to defend the tight ends.
Watching Saints defensive coordinator Rob Ryan scheme against Kelly will be fun in itself. Both are two of the most creative minds in their respective fields, and this contest may come down to who gets the better of the matchup.
Defense
The Eagles have converted to a 3-4-based alignment under coordinator Bill Davis. The Eagles do a lot of two-gapping, which puts the onus on the edge-rushers and inside linebackers to get pressure.
Defensive end Fletcher Cox is a monster against the run and can pressure the QB when given the opportunity. Fellow end Vinny Curry seems like a scheme misfit, as he's better rushing the passer than against the run.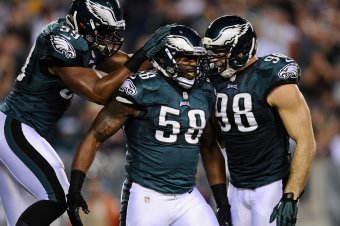 Maddie Meyer/Getty Images
Outside linebacker Trent Cole is a savvy rusher who will undoubtedly give rookie left tackle Terron Armstead fits. Cole paces the team with eight sacks, while his counterpart, Connor Barwin, has chipped in five of his own.
Both Carwin and Cole are great against the run—something the Saints probably won't do much of. If the Saints are able to establish an efficient run game, this game could potentially get out of hand.
But you know what they say: If "If" were a lift, we'd all be high!
The Saints will undoubtedly attempt to pass their way to victory one way or another. It's the Payton way.
Philadelphia's linebacker duo of DeMeco Ryans (127 tackles, two interceptions) and Mychal Kendricks (106 tackles, two forced fumbles and three interceptions) is phenomenal. Ryans is as cerebral as it gets, and Kendricks ran a 4.45 40-yard dash—according to Sporting News.
As good as the duo has been, neither wants to see Saints tight end Jimmy Graham in coverage. This is the perfect game to line Graham up exclusively at the "Y," and let him go to work.
Cornerbacks Bradley Fletcher, Brandon Boykin and Cary Williams are decent, but none of them should concern Brees. Saints receivers Marques Colston and Kenny Stills will have plenty of opportunities to make plays downfield and in the intermediate game.
The Eagles have some of the worst safeties in the sport, so much so that none of them are even worth mentioning. You will see their names, on their jerseys, when they are running behind a Saints receiver who's going in for a score.
The Saints need to take care of business, as the Eagles don't have the same amount of experience. If the Saints leave Philadelphia with a loss, a major shakeup should be in order for the Black and Gold.