Most experts expect Georgia to beat Nebraska comfortably in the Gator Bowl on New Year's Day, with Odds Shark having the Cornhuskers as nine-point underdogs.
In last year's Capital One Bowl, Georgia pulled away to beat Nebraska, 45-31. Both teams ended this season at 8-4, but Georgia played in a much more difficult conference. Teamrankings.com had the SEC ranked No. 1 and the Big Ten ranked No. 5 in its overall power rankings for 2013.
Georgia's losses came to then-No. 8 Clemson, then-No. 25 Missouri and then-No. 7 Auburn, as well as to unranked Vanderbilt. Nebraska's losses, on the other hand, were to then-No. 16 UCLA and then-No. 16 Michigan State, as well as to unranked Minnesota and Iowa.
It is understandable why Georgia is such a heavy favorite to win this year's Gator Bowl (noon ET, ESPN) in Jacksonville, Fla. While there are a number of variables which could affect the outcome, Nebraska's best chance to win is if junior I-back Ameer Abdullah has a career day against the Bulldogs.
In 2013, Nebraska had 5,035 yards in total offense. Abdullah accounted for 1,800 of those yards, meaning that he contributed 35.7 percent of Nebraska's total offense. Abdullah led the B1G in rushing this season, even with a number of nagging injuries that hampered his performance as the season wore on.
Nebraska's 2013 season, at least on offense, was defined by the early injury to senior quarterback Taylor Martinez. Nebraska tried to limp along—both literally and figuratively—with a hobbled Martinez early in the season, as Abdullah took on the role of Nebraska's primary weapon.
Once Martinez was no longer able, Nebraska alternated between redshirt freshman Tommy Armstrong and senior Ron Kellogg III at quarterback. In addition to the lack of experience of both Armstrong and Kellogg, they were asked to run an offense that was designed for Martinez's unique skill set. As a result, the offense was a little out of joint.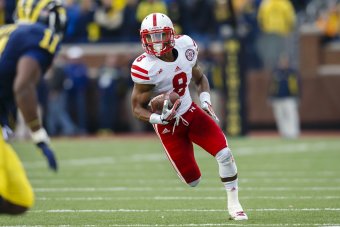 Rick Osentoski-USA TODAY Sports
The one constant in Nebraska's attack all season has been Abdullah. As a runner and as a receiver coming out of the backfield, Abdullah allowed the rest of Nebraska's offense to fire. Abdullah brought the experience, explosiveness and the consistency that Nebraska needed for the rest of its offense to find its collective feet after Martinez's injury.
Nebraska faces a formidable opponent in Georgia's offense, particularly with the return of a healthy Todd Gurley at tailback. Had Gurley remained healthy, he likely would have been a Heisman Trophy candidate, and will easily be the best tailback Nebraska will face this season.
Nebraska has struggled with big backs like Gurley all season, surrendering 144 yards to Minnesota's David Cobb, 149 yards to Penn State's Zach Zwinak and 72 yards to Iowa's Mark Weisman. Gurley is better than all of those backs, so it is not unreasonable to expect him to gouge Nebraska for big yardage in the Gator Bowl.
If that's the case, Abdullah needs to answer with a big game for Nebraska. The obvious reason is that Nebraska will need to keep up with what is likely to be a significant scoring output by Georgia, and Abdullah is NU's best hope to keep pace.
Success for Abdullah will help Nebraska in other ways as well. The more yards that Abdullah can pick up, the more that Nebraska's offense will stay on the field, keeping Gurley and the Georgia offense on the sidelines. That will also allow Nebraska's defense to rest, preserving its stamina to hold up against Georgia's attack.
If Abdullah gets going, Georgia's defense will have to put more focus on stopping him, opening running lanes for Armstrong in the option game and giving Nebraska more opportunities down the field in its passing game. With a healthy Jamal Turner returning to join Kenny Bell, Quincy Enunwa, and the rest of Nebraska's receiver corps, they could benefit greatly from Abdullah drawing the bulk of the attention of the Georgia defense.
So, can Nebraska win the Gator Bowl without a monster day from Abdullah?
Conversely, if Abdullah struggles, it is difficult to see how Nebraska can beat Georgia. Nebraska would be asking a redshirt freshman quarterback to carry the offense against an SEC defense—an awfully big ask. It would also be asking the Blackshirts to contain Gurley and Georgia's offense, giving them extra possessions and opportunities.
It is not inconceivable that Nebraska could pull off the upset and beat Georgia, giving head coach Bo Pelini his first bowl victory since 2009 and the program a much-needed boost of confidence heading into the offseason. However, it is hard to envision a scenario in which Nebraska wins without Abdullah having a big performance.
Stats courtesy of CFBstats.com.

If you'd like to contact Patrick, send an email to Patrickrunge@gmail.com or you can always use the Twitter machine to follow @patrickrunge