Outback Bowl 2014: 10 Things We Learned from Iowa vs. LSU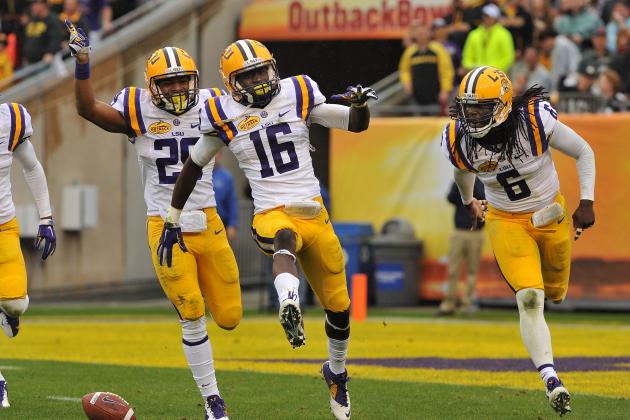 Al Messerschmidt/Getty Images

With a 200-yard rushing performance by Jeremy Hill, the LSU Tigers proved capable of defeating a hard-nosed Iowa team in the 2014 Outback Bowl without Zach Mettenberger.
In a 21-14 victory, Hill carried the Tigers with 216 yards rushing and two rushing touchdowns. His performance paved the way for the offense, while LSU's defense had one of its best showings of the season.
Still, Iowa didn't go down without a fight, as James Morris and the defense kept the Hawkeyes in the game all the way until the end. It was a defensive struggle that saw LSU outgain Iowa 302 to 233 in total yards.
With a Tiger victory over a physical Iowa bunch, here are the greatest takeaways from the 2014 Outback Bowl.
Begin Slideshow

»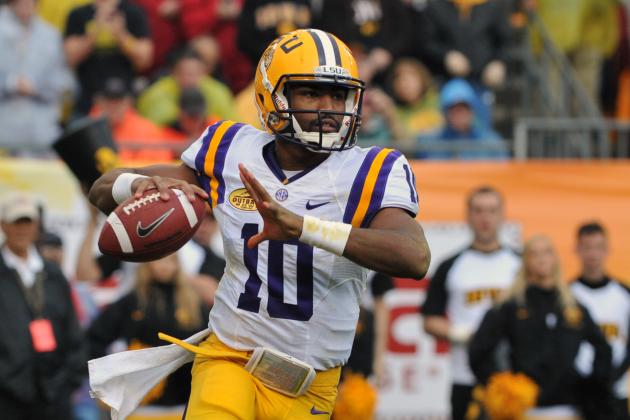 Al Messerschmidt/Getty Images

Don't go all Arkansas on me.
Just like LSU fans delved too deeply into his performance against Arkansas, I'm sure fans will look too far into his struggles against Iowa. My Twitter feed reassures me.
Look, it was Jennings' first start of his career, and he was going against one of the better defenses in college football. The nerves got to him, and he did not perform to the best of his abilities. He finished the game with just 82 yards passing and an interception.
Luckily for him, he gets a full spring and summer with one of the best quarterback coaches in the business, Cam Cameron. Brandon Harris' arrival will also benefit him, as iron tends to sharpen iron. I wouldn't give up on Jennings just yet.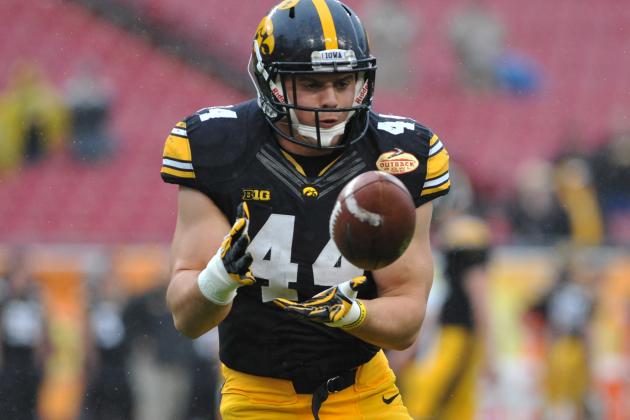 Al Messerschmidt/Getty Images

Here's some not so breaking news—James Morris is one of the best linebackers in the nation.
Say what you will about LSU's lethargic passing game, but you have to credit Morris' ability to fluster the young Jennings in the pocket.
Morris had multiple sacks, met LSU's running backs repeatedly in the hole and was all over the field.
Indeed, Morris and his fellow linebackers, Anthony Hitchens and Christian Kirksey, lived up to hype. In doing so, they nearly gave LSU all they could handle.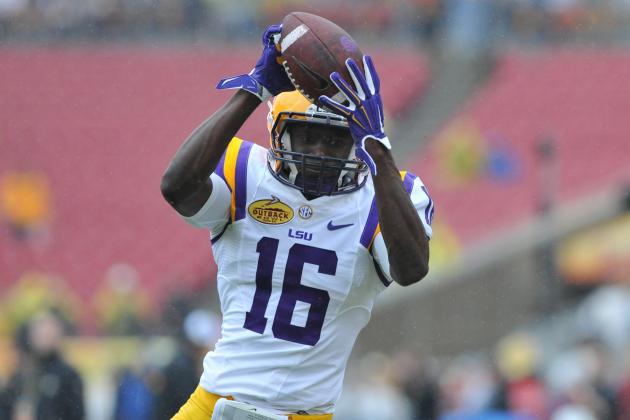 Al Messerschmidt/Getty Images

It's not a secret that Rashard Robinson and Tre'Davious White give LSU its best chance to shut down opposing passing games.
With that said, who would have predicted these two ruling the first half? Both cornerbacks shut down their assignments, which allowed LSU to blitz freely and disrupt Jake Rudock. When Rudock did get a pass off, one of these players made a play most of the time, with White's interception being the most impressive.
Rudock finished the game with just 102 yards passing, after completing only 9 of his 22 passes. White and Robinson held down their men for most of the game, barring a few slips here and there on the sloppy playing surface.
Because of their stellar play, LSU put together a brilliant defensive performance. It started from the outside and was completed on the inside with Craig Loston, Lamin Barrow, D.J. Welter and Jalen Mills assisting the Tigers front four in run defense.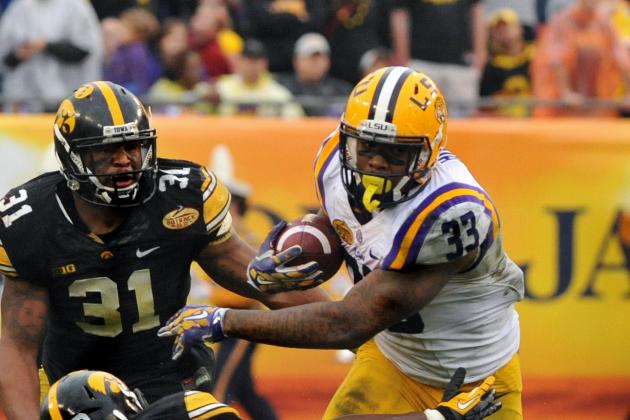 Al Messerschmidt/Getty Images

What would LSU have done without Jeremy Hill?
Hill was superb in the game, as he became the first 200-yard rusher for the Tigers since Alley Broussard. He did it by switching gears mid-run, breaking tackles and accelerating past defenders on a routine basis.
With Zach Mettenberger unavailable for LSU, the Tigers pounded the rock with Hill 28 times, and Hill averaged 7.7 yards per carry in a memorable effort.
For fans who were disappointed with Miles not giving Hill the ball enough in last year's Chick-fil-A Bowl, you more than got your money's worth in this one. Hill nearly tripled Iowa's 76 total rushing yards.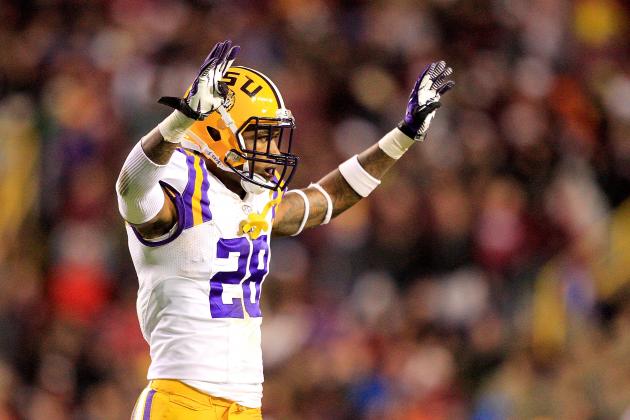 Sean Gardner/Getty Images

Jalen Mills is a natural blitzer.
Recognizing this, defensive coordinator John Chavis blitzed him on numerous occasions from the safety position. The results were Iowa punting twice as many times (6) as they converted first downs (3) in the first half.
Mills constantly played close to the line of scrimmage, making plays in the backfield for the Tigers.
Whether it was in run pursuit or with a pass rush, Mills made Iowa's pocket unstable for most of the game and had five tackles to show for it.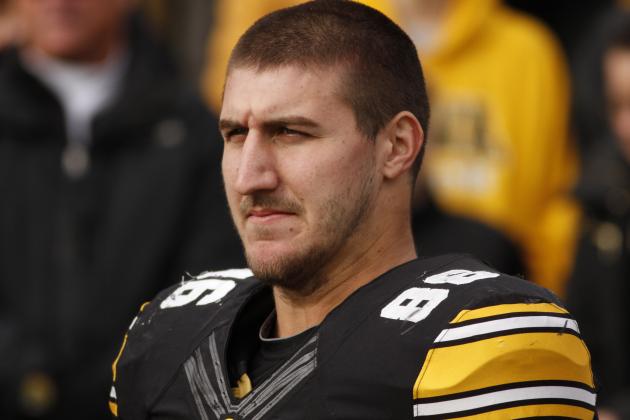 Matthew Holst/Getty Images

Iowa's best bet to win the football game was to utilize the talents of C.J. Fiedorowicz and Jake Duzey.
The Hawkeyes failed to do so. Because of the blitz packages the Tigers showcased against the Hawkeyes, Iowa was unable to fully get its tight ends involved.
Being matched up against LSU's linebackers, Fiedorowicz and Duzey combined for 104 yards receiving, and both led Iowa in receiving. However, they only had seven receptions in the ballgame.
It was evident that both tight ends could win battles against D.J. Welter and Kwon Alexander, but because of pressure situations and play-calling, Iowa could not make the Tigers pay with the matchup.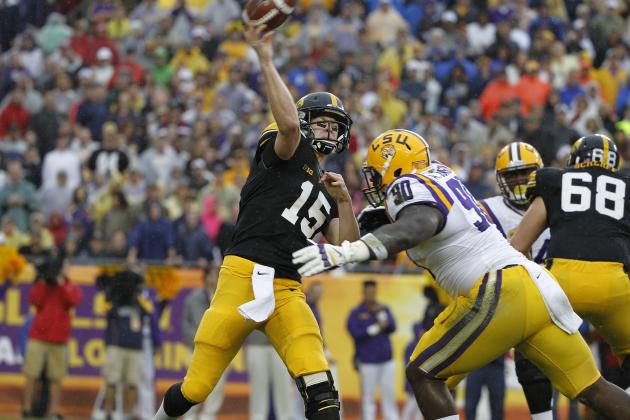 Kim Klement-USA TODAY Sports

We all challenged him, and he answered emphatically.
Johnson had one of his best games of the season after having one of his worst games in his career against Arkansas. Without Ego Ferguson by his side, Johnson was a monster in the middle, getting pressure on Rudock and nullifying Iowa's powerful running game inside.
Johnson finished the day with two tackles for loss, but his presence was felt more than that statistic may indicate.
He provided nonstop energy on the sideline, and he was the force LSU fans have been anxiously anticipating from him. Cheers to you, Anthony. You showed up when your team needed you the most.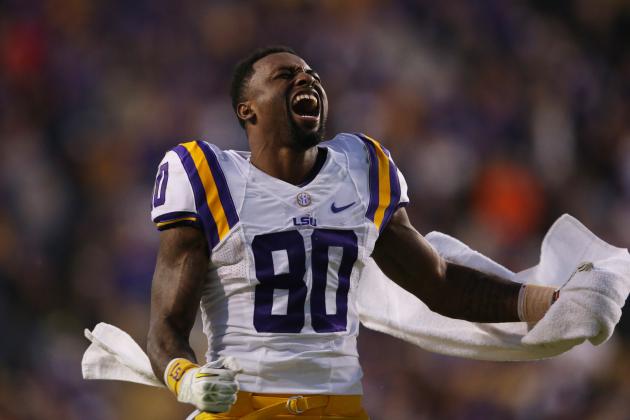 Crystal LoGiudice-USA TODAY Sports

His legacy at LSU will be his third-down production.
Yeah, he's made some of the greatest catches we've ever seen in a purple and gold uniform, but Jarvis Landry was always clutch on third down at LSU. The 2014 Outback Bowl was a continuation of that fact.
Though Jennings struggled for most of the game, he often found the Tigers' best receiving target of 2014 on third down.
If that was Landry's last performance as a Tiger, at least the All-SEC receiver left Tigers fans with a few more third-down receptions to remember him by.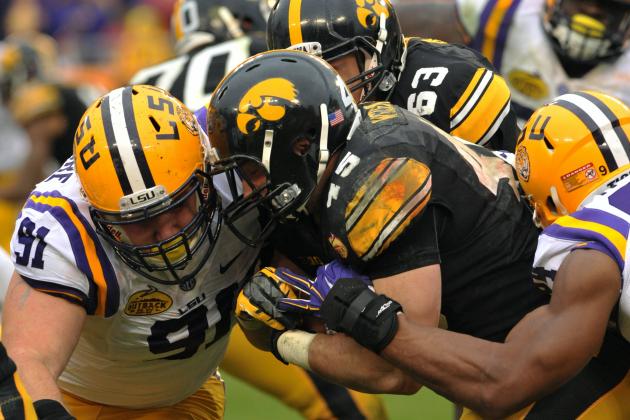 Al Messerschmidt/Getty Images

Ground and pound LSU? Think again.
So much talk went into LSU's defense shutting down Mark Weisman, Jordan Canzeri and Damon Bullock, when in fact, more chatter should have been about Iowa's defense stopping Jeremy Hill.
The Tigers beat Iowa at the point of attack and won in the trenches, which made the rushing totals so lopsided. I guess the next time we declare one team's physicality over the Tigers, we better consider the consistent makeup of a Les Miles team.
It's always going to be hard to muscle around a Miles-led LSU team. Iowa found that out the hard way.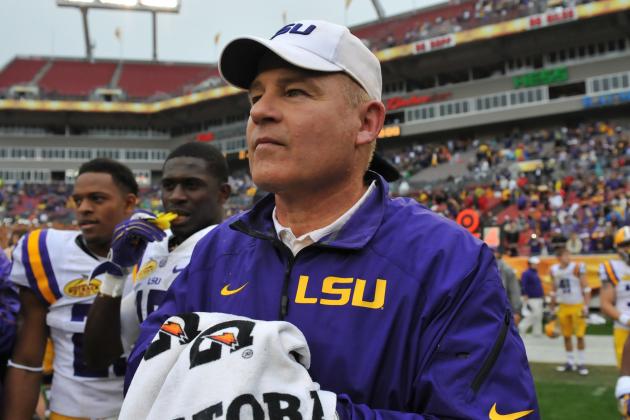 Al Messerschmidt/Getty Images

No way the LSU Tigers could prevail in the SEC having lost eight defensive starters, they said.
No way the Tigers could put together a 10-win season with that daunting schedule, they said.
They were wrong, and you know what? The Hat was magnificent this season. Coaching a defense that sported so much youth and inexperience, along with fresh bodies on the offensive line, Miles put together his fourth straight 10-win season.
Credit Miles for maintaining LSU as an elite program in one of the more difficult coaching hurdles he's faced.