On-loan striker Romelu Lukaku has declared that Everton can win the Premier League this season.
The Belgian forward, currently at Goodison Park after being allowed to depart parent club Chelsea on a temporary basis at the end of the summer transfer window, has revealed that he knew Roberto Martinez's squad had the ability to "do something special" after his first training session with the club.
Now, with Everton just five points behind league leaders Arsenal at the halfway stage, the 20-year-old believes it is not madness to suggest the Toffees can go on to win the title.
As reported by The Times (subscription required), Lukaku said:
You can say we are outsiders for the title now, you don't need to be shy about that. You have to when you look at our points.

I knew from the very first day I arrived on the training ground. I called my dad and said, 'We did something very good' [Lukaku had the option to go to West Brom instead].

The quality is here. We have a lot of internationals and, in training, I was impressed.
Having experienced many training sessions with Chelsea, the hotly-tipped striker does not believe there is much difference between the two squads.
He added:
Chelsea were top, but Everton are getting there. There is not a lot of difference, and that is why I think I made a good choice. I knew after that first session. I didn't want to say anything to the players, but then I said to Phil [Jagielka] on the bus after the West Ham game, 'This year we will do something special, because you are all special players. I am not saying this to be friends with you, but I have trained with the best players in the country and you are not far from it.'

Phil just laughed, but I was serious.

Now we are showing a lot of great performances.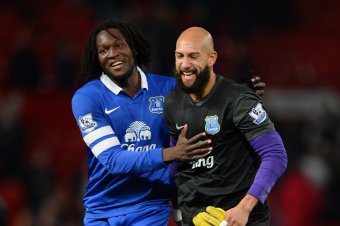 Michael Regan/Getty Images
It is one thing to start a season well, however, it is another entirely to sustain such levels of performance for an entire campaign—demands on players that usually separate the eventual winners from the also-rans.
Everton have had some eye-catching performances in recent weeks, beating Manchester United at Old Trafford and drawing with Arsenal at the Emirates, but a Boxing Day defeat at home to Sunderland stunted their progress somewhat.
"What we have to work on in the second half of the season is being more ruthless," Lukaku added. "If we are more ruthless, we will definitely end in the top four. Definitely."
Lukaku will have to play his part in that—the striker scored his first goal in a month as Everton beat Southampton on December 30. He blames fatigue for the drop-off, but believes he will push through the issue as the season progresses and warns Premier League defences that he is trying to improve with every game.
I have found it hard at some points. After the [Manchester] United game, I felt I wasn't as sharp and as fresh as at the start. I knew it would happen at some point because, since my time at Anderlecht—and I am talking three years ago—I have not played this amount of games.

But I kept working and working and I knew that, if I did not score, I had to defend for the team or give an assist. I set myself other targets if I wasn't scoring, like how many miles I ran, how many sprints I did, if I delivered enough passes with my back to goal. I knew I would score sooner rather than later with all of the work I did.

I have noticed teams want to keep me with my back to the goal, but that is a nice challenge for me. It challenges me to move better and not stay in one position. I try to keep moving all the time and there is not a single day that I am not practising something.