Mack Brown's career didn't start at the University of Texas, but by the looks of it you would have never guessed he coached anywhere else. On December 30, 2013, Brown put on and took off the headset one last time.
He started his coaching career at Florida State University working with wide receivers. He got his first head coaching job with Appalachian State. He even was the offensive coordinator at the University of Oklahoma. After multiple 10-win seasons at the University of North Carolina, Brown was hired by Texas athletic director DeLoss Dodds to coach the Horns football team.
And the rest is history.
So here's Brown's final night. The Longhorns played the University of Oregon Ducks in the 2013 Valero Alamo Bowl.
Bevo started the evening off with a slight modification to his wardrobe. The longhorn changed the lettering on his halter from "BEVO" to "MACK" via @darrenrovell.
TOUCHING: Bevo XIV wear halter that says "MACK" on it tonight in honor of outgoing coach pic.twitter.com/G3BiBIJHjm

— darren rovell (@darrenrovell) December 30, 2013
Brown entered the football stadium one last time as the Texas head coach. He waved at fans captured by @MaxOlson.
Mack Brown waves to Texas fans as he leads team into the Alamodome. Lots of applause. pic.twitter.com/gfoV41C9H9

— Max Olson (@max_olson) December 30, 2013
The Longhorns took the field and Brown got one last pregame interview with ESPN's Holly Rowe. The game was underway, and it wasn't going in favor of the Longhorns. Here's Brown leaving the huddle after coaching up the offense; photo embedded below.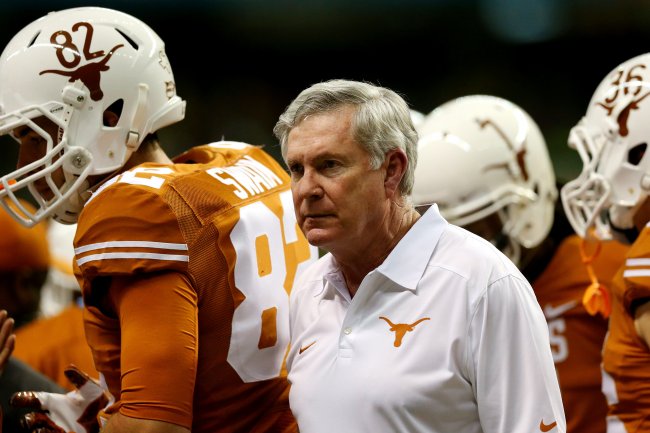 Ronald Martinez/Getty Images
Then halftime came with the Longhorns down 20-7. The Texas band spelled out "Mack" via @thesean.
Texas band spells out "Mack Brown" during the halftime show and plays the Eyes of Texas in salute Mack Brown. pic.twitter.com/YmYTvKiOqz"

— Sean Adams (@thatsean) December 31, 2013
The second half got underway and the Longhorns couldn't get it together. Then in the fourth quarter, Case McCoy threw his second pick which was returned for a second touchdown. Here was Brown's reaction via gifsection.com.
Anti-Texas fans were slowly getting sad that Brown's career at Texas was coming to an end. @soonrtillidie reacted to Brown's last 15 minutes with:
@gkketch Nooooooooooooooooooooooooooooo!!!!!!!!!!

— Soonrtillidie (@soonrtillidie) December 31, 2013
Then the game ended. Texas lost 30-7.
ESPN made sure to cut to the fan-made signs. Here's a "Thanks for the memories Mack!" sign captured by @FakeWillie.
You said it, sweetheart. Thanks for the memories. Tonight I'm pouring one out for Mack Brown. #texas #KState pic.twitter.com/7idn2PCSE0

— Fake Willie Wildcat (@FakeWillie) December 31, 2013
Lots of memories from Brown throughout his career. And here's more fans thanking Brown in the embedded photo below.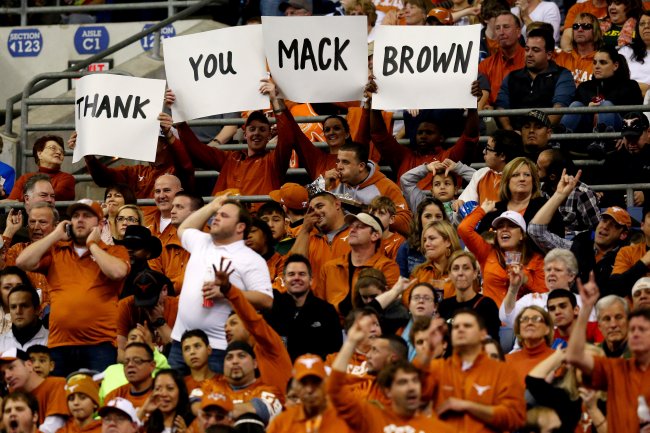 Ronald Martinez/Getty Images
Brown went to sing the "Eyes of Texas" one last time. He got one final hook'em with his wife Sally via @YahooDrSaturday.
Mack Brown exits Texas with a touch of class, calls his tenure 'a great ride.' http://t.co/egKbMU9MJ0 pic.twitter.com/2PGzGgMDfh

— Dr. Saturday (@YahooDrSaturday) December 31, 2013
He then got a chance to address his team. The man, who famously addressed the Longhorns championship team after the 2006 Rose Bowl, got one last postgame meeting with the 2013 team captured by @MBTexasFootball.
@UT_MackBrown just had last postgame meeting with the team. pic.twitter.com/57tGk69epC

— MBTexasFootball (@MBTexasFootball) December 31, 2013
And then Brown got to do what he was so good at for years. Addressing the media. Photo via @JeffBlogwell.
My buddy is currently filming the Mack Brown press conference. This picture is just depressing. pic.twitter.com/tsBAGDVGk5

— Jeff Blogwell (@JeffBlogwell) December 31, 2013
And as a bonus, Bevo didn't want to leave the Alamo Dome. Via @LonghornNetwork.
Bevo is refusing to leave the field. We don't blame him.

— Longhorn Network (@LonghornNetwork) December 31, 2013
Thanks for the memories, Mack. You built Texas back up from the ground since taking over in 1997, and you created the "Texas standard." You've made an impact on so many young student-athletes' lives. And for that, you will always be remembered as a Texas Longhorn legend.