Under Armour All-America Game 2014: 10 Sleepers You Need to Know More About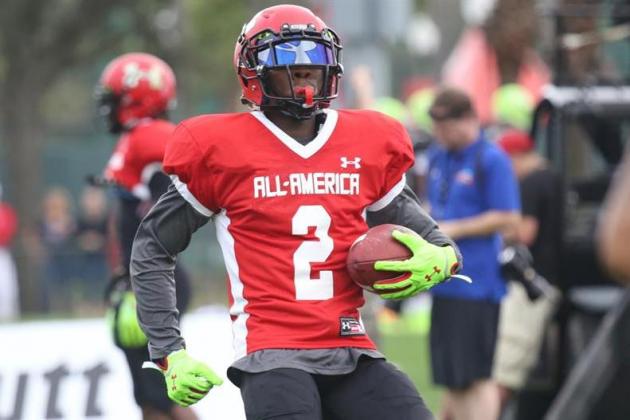 247Sports

On Thursday, the 2014 Under Armour All-America Game will be played in St. Petersburg, Fla. This is one of the best all-star games for recruits, as it will showcase many of the nation's best players.
However, it also has several sleepers who will be looking to elevate their stock during the week. Just so these underrated players will not be unfamiliar to you during the game, it's time to spotlight a few of them.
There's a sleeper at cornerback from Louisiana who is headed to Texas, while an underrated safety will help Florida in a few seasons. Plus, a pair of quarterbacks are also on this list.
Player evaluations are based on review of tape at Scout.com, Rivals and 247Sports.
Begin Slideshow

»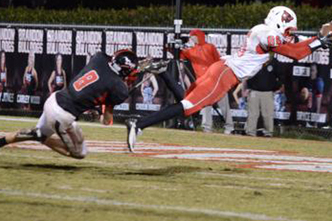 247Sports

Only a 3-star prospect, Jesse Jackson has a chance to become a No. 1 receiver at Mississippi State. He displays great quickness and explosive speed to make plays.
Jackson, who is No. 360 in the 247Sports composite rankings, will be looking to take advantage of the first chance he gets to blow by some of the 5-star defensive backs in this game. He also has the skills to be used as a runner and kick returner.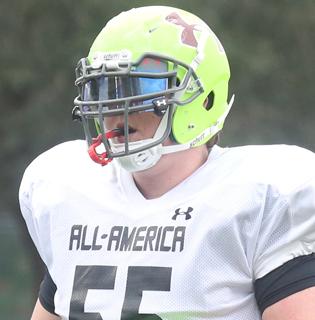 247Sports

Jacob Bragg is a 3-star center who has the ability to hold his own against anyone. At 6'3" and 314 pounds, he can play the pivot with quickness, strength and solid vision.
Bragg, who is committed to Kansas, is from Texas. He moves well when engaged with his targets, plus he doesn't panic when he's covered in the pre-snap phase of a play. He grows on you the more you watch him.
There's no reason why De'Andre Thompkins should not be a hit at Penn State. The 4-star prospect can play defensive back, but he has a brighter future at receiver.
At 6'0" and 170 pounds, Thompkins displays good quickness to jet off the line of scrimmage. He can wiggle around press coverage, plus he detaches well from coverage at junctions. Thompkins can adjust to balls outside his frame before using his speed to make plays after the catch.
He will be productive for the Nittany Lions soon enough.
Quincy Wilson is a 4-star safety who is committed to Florida. Yet, he doesn't get the typical attention a 4-star Gator pledge usually receives.
However, the 6'1", 196-pounder is a good football player who has what it takes to be a baller in the SEC. Wilson has great instincts, plus he is more than willing to fill alleys versus running plays.
He makes his presence felt in the box by making thumping hits on running backs, but Wilson also has enough speed and range to help out versus passing plays.
At 5'9" and 172 pounds, Isaiah McKenzie is an undersized recruit who plays with a lot of heart. He'll run between the tackles as a running back, and he will go across the middle as a receiver.
In fact, McKenzie will also deliver a blow to a ball-carrier as a defensive player. However, his future is on offense, where his speed and agility allow him to make big plays. McKenzie is dangerous in space, where he uses his explosive jump-cutting ability to gain yards.
Notre Dame, Rutgers and Virginia Tech are in the mix, says 247Sports.
If Kevin Crosby were taller than 6'0", the 236-pounder would be higher on various recruiting boards. However, he's still a solid 4-star tight end who will make the coaches at South Carolina happy in a few seasons.
Crosby can explode out of his stance to quickly get into his routes. He has some wiggle to skate away from defenders at junctions, but his hands are what make him an interesting prospect.
Crosby catches everything thrown his way, as he possesses impressive ball skills and concentration. He's also a willing blocker in the running game.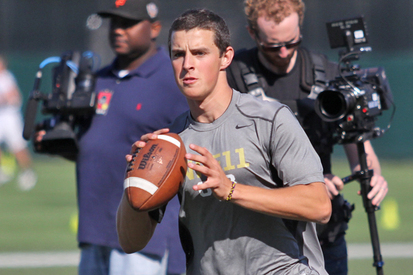 247Sports

Morgan Mahalak is a 4-star quarterback with limited starting experience. However, the California native has great upside. He's committed to Oregon, where he should blossom into a good quarterback in the Ducks' spread-option offense.
At 6'3" and 190 pounds, he shows a quick release and solid arm strength. Mahalak can deliver accurate strikes from the pocket, but he also has the mobility to make solid throws on the run.
Tracking Mahalak's performance during the practices and game will be one of the key things to watch for this week.
A 3-star prospect, Melvin Keihn is a defensive end/outside linebacker who could be a 'tweener. However, he is at his best when he is going forward to attack off the edge, so it appears a 3-4 outside linebacker role is his best fit.
He's committed to Virginia Tech, where the 6'1", 225-pounder will be given to defensive coordinator Bud Foster. Keihn, who is from Maryland, is a great athlete who has fantastic quickness off the ball.
He plays with good range, but his ability to crash off the edge is what will get him on the field in Blacksburg.
Texas has put together another good recruiting class that features several 4-star prospects. However, 3-star cornerback Jermaine Roberts could prove to be the best player in the haul down the line.
Roberts, who is from New Orleans, is 5'9" and 175 pounds. He can mirror receivers with quickness at the line before using his speed to recover. Roberts battles bigger receivers through the whistle, plus he'll come off the perimeter to support the run.
He's committed to Texas.
While he isn't flashy, 3-star quarterback Rafe Peavey can get the job done. He's a scrappy passer who does what he has to do to win games.
Peavey has adequate quickness in his drops, plus he's not afraid to climb back into the pocket. The 6'2", 212-pounder has solid vision, plus he excels in the intermediate passing game. However, the Arkansas commit does have the arm strength to get the ball deep down the field.
Peavey has solid mobility to make some plays with his legs, plus his toughness can inspire teammates around him.
The 2014 Bleacher Report College Football Recruiting Heat Map features many of the nation's best recruits!
Edwin Weathersby is the College Football Recruiting Analyst for Bleacher Report. He has worked in scouting/player personnel departments for three professional football teams, including the New York Giants and Cleveland Browns.