Oregon vs. Texas: Score, Grades and Analysis from 2013 Alamo Bowl
December 31, 2013

Getty Images
Many thought No. 10 Oregon, a legitimate national championship contender before losing two games in November, would lack motivation during the Alamo Bowl against unranked Texas. 
Someone forgot to tell the Ducks. 
Mark Helfrich's squad out-gained the over-matched Longhorns, 469 yards to 236, en route to a dominant 30-7 win at the Alamodome on Monday night. 
Alamo Bowl MVP Marcus Mariota was at the forefront of the offensive assault for the Ducks. He looked a little rusty in the passing game at times, but still managed to throw for 253 yards and a touchdown. The QB was most dangerous on the ground, though, rushing for 133 yards on 15 carries.
If you noticed the lack of touchdowns in Mariota's final line and are wondering where Oregon's points came from, look no further than Texas quarterback Case McCoy. 
The up-and-down senior threw two pick-sixes on the night—one to Avery Patterson to start the scoring in the first quarter, and one to Derrick Malone to seal the blowout in the fourth quarter: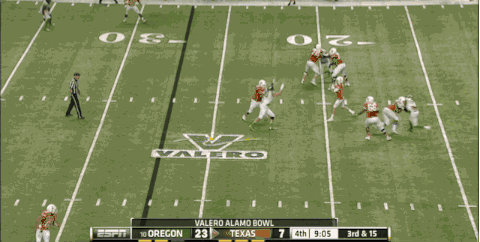 GIF courtesy of Bleacher Report
In a sense, it was the perfect sendoff for Oregon defensive coordinator Nick Aliotti, who is now off to enjoy retirement after 21 total seasons with the Ducks (over three separate stints) and 36 overall as a coach. 
As for legendary Texas head coach Mack Brown, who was coaching in his final game with the Longhorns, the farewell wasn't nearly as sweet.
No matter the rocky finish, though, it was an absolutely marvelous career at Texas for Brown:
A one-yard McCoy touchdown plunge after an impressive 16-play, 79-yard drive brought the Longhorns to within three at 10-7 after the first quarter. But the Ducks reeled off 20 straight points from there, as six of Texas' next seven drives went for less than 15 yards.
Oregon may not have been looking to see its season end before the new year, but the comprehensive win is another sign that the Ducks remain a consistent force in college football—likely finishing in the top 10 for the fourth consecutive year. The Ducks' Twitter account provided a cool infographic of the big win:
Player Grades
Marcus Mariota, Oregon: A
Well, I guess he's healthy. In the last five games of the regular season, Mariota combined for just 89 rushing yards (which counts sacks), but on Monday night, he tallied an impressive 133 on the ground, ripping off seven runs of 10 or more yards. 
The sophomore QB looked a bit inconsistent throwing the ball at times, yet he still managed to complete 69.2 percent of his throws for 9.7 yards per attempt. His explosiveness in the running game was what made the Ducks so difficult to stop while on offense:
GIF courtesy of Bleacher Report
Mariota did cramp up at times, and talked about it after the game via Rob Moseley of GoDucks.com:
Unfortunately for Pac-12 defenses, the ever-dangerous Mariota is coming back next season.
Case McCoy, Texas: D
Well, that wasn't pretty. 
There's only so much McCoy can do when his receivers are seemingly dropping every other pass, but he never looked comfortable in the pocket and threw two interceptions that each resulted in six points for Oregon.
In the end, he finished eight-of-17 for 48 yards, giving him an average of 2.8 yards per attempt. Yuck. Moving on.
Josh Huff, Oregon: A
The Longhorns had no answer for the Houston native, who finished with 104 yards on five grabs. He was the epitome of a big-play threat, too, as four of those receptions went for at least 20 yards.
And the fifth, which went for 16, was his most impressive of the night:
In a closer game, Huff would have put up some video-game numbers, but he'll have to settle for this:
 Huff wanted to talk about his QB after the game via Moseley: 
Malcolm Brown, Texas: A-
Brown put on display what downhill running is all about. Whether it was an inside run or a stretch to the outside, he patiently stayed behind his blocks and exploded forward when a hole developed. 
Moreover, his importance to the offense was clear from the beginning.
After Texas' first two possessions ended in an interception and a three-and-out, the Longhorns turned to Brown for their longest drive of the season:
Nine of those 16 plays—including the first five—went to Brown, and he took five of them for at least seven yards and three for first downs.
A big deficit meant the Longhorns couldn't continue to pound the ball to Brown, but he still tallied an impressive 130 yards on 26 carries (5.0 YPC).