The Rajon Rondo Card Will Show Boston Celtics' Hand
Use your ← → (arrow) keys to browse more stories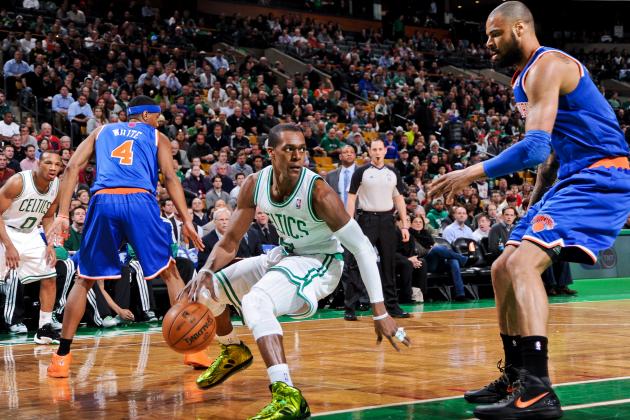 Brian Babineau/Getty Images

How and when the Boston Celtics choose to phase in Rajon Rondo will shed some light on where they see themselves this season and what they believe the immediate future can hold.
Do they want to win this year? Would they prefer trying their luck in the lottery? Will they move Rondo before the trade deadline? Will they make a conscious effort to build around him sooner than later?
All these questions will hopefully find answers over the next few months; for the Celtics, Rondo remains the center of everything.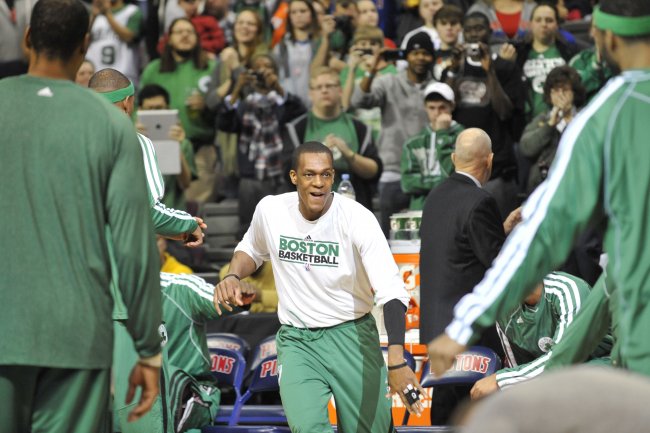 J. Dennis/Einstein/Getty Images
Does Boston Want to Win Now?
News that Rondo could could play in the D-League before making his regular-season debut brings up some interesting questions about the team's commitment to winning as many games as possible this year.
Not all of those questions are fair—the only way for Rondo to condition himself for an NBA game is by playing actual basketball with other players; full-court practice scrimmages won't cut it because they aren't frequent enough, and Boston's coaching staff won't wear out everyone else at Rondo's expense—but the speculation is inevitable.
Regardless, once Rondo returns the Celtics will be better with their best player in the lineup. Since becoming one of the elite at his position, Boston's offense has been better with him on the court.
In 2011, the team scored 10.1 more points per 100 possessions when he played. The following year they were 7.1 points per 100 possessions better.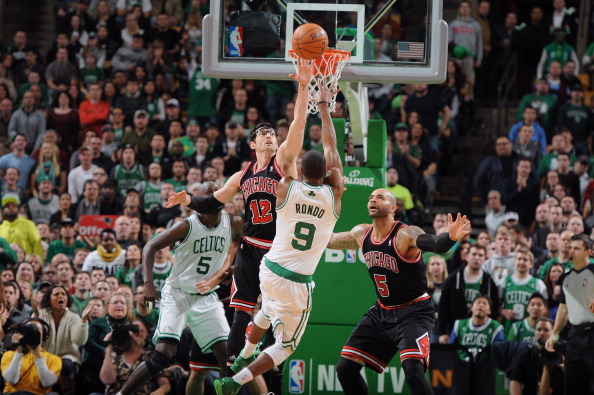 Brian Babineau/Getty Images
This season the Celtics have lacked a true point guard, Jordan Crawford not withstanding. They average 19.0 assists per game as a team, which is lowest in the league. Rondo averaged over 60 percent of that number by himself last season. He's a maestro when it comes to getting others involved and putting them in advantageous situations, in the restricted area, behind the three-point line and all space in between.
He makes mediocre players shine, and great players even better. During Kevin Garnett's last full season as Rondo's teammate, he was more efficient both from the mid-range and the restricted area when Rondo was on the floor, per NBA.com/Stats.
That's just one example, but as good as Avery Bradley and Jared Sullinger are playing without Rondo, their basketball lives will only be easier when the franchise's best player returns.
Stability goes hand in hand with long-term success. The Celtics know this. They also know All-Star point guards do not grow on trees, and giving up on one well before his 30th birthday would be a mistake.
Boston already has loads of draft picks and a young core made up of Bradley, Sullinger, Jeff Green and Kelly Olynyk. Over the next couple years, any combination of those assets could be packaged for another All-Star or two. Rondo is already in place.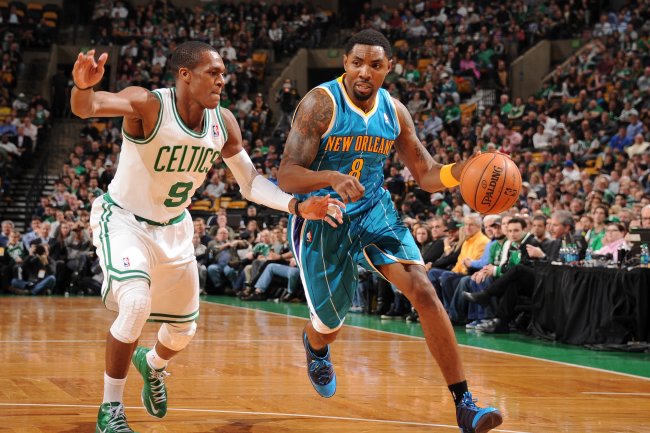 Brian Babineau/Getty Images
Will Rondo Be Part of Boston's Future?
Rondo will be paid about the same as New York Knicks forward, and everlasting disappointment, Andrea Bargnani, this season. It's obviously less than he's worth, as is the $12.9 million Rondo's due next season, the final year of his contract.
This is where moving Rondo becomes tricky. Any team that trades for him would not only part ways with whatever haul Danny Ainge requested, but also put themselves at risk of losing Rondo after just a season of play. That team would receive his Bird Rights and have the ability to construct a contract with more guaranteed money and an extra year, but it may not matter.
Jared Wickerham/Getty Images
Given his legitimate limitations, injury history and the league's strenuous luxury tax, any team that decides to give Rondo a max contract (five years at nearly $100 million) would struggle to build a championship contender in the long-term.
Rondo will turn 28 on Feb. 22, 2014, two days after this season's trade deadline. We still have no idea whether his debut will come before or after that date.
It's unlikely any team would be willing to acquire a player before seeing how his surgically repaired knee holds up after a week or two of live-game action. Various situations around the league have only heightened such worry (see Derrick Rose, Kobe Bryant and Russell Westbrook). Given Rondo's unclear return date, no team will get that chance.
And so chances are Rondo stays in Boston through the rebuild, which makes total sense. For all his weaknesses, Rondo is one of the four or five best point guards in the league. He enters his prime with championship experience, four All-Star appearances and All-Defensive teams and one All-NBA team (2012) in his seven professional seasons.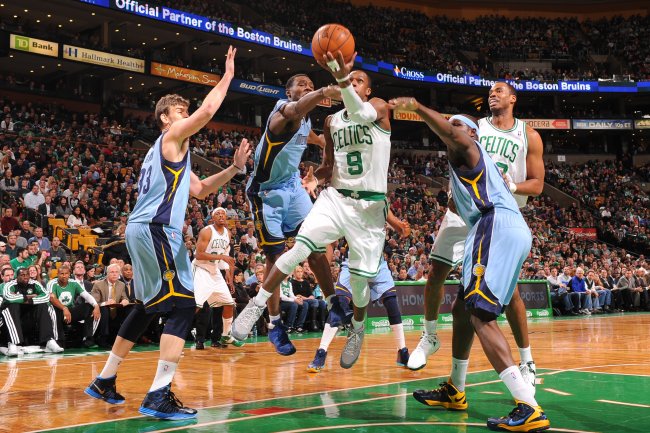 Brian Babineau/Getty Images
The Celtics are in prime position to win the Atlantic Division and grab the No. 4 seed in the playoffs, allowing them to avoid the Miami Heat and the Indiana Pacers in a first-round blood bath.
Season-ending injuries to Brook Lopez and Al Horford could push Danny Ainge to upgrade now knowing the chances of getting another high draft pick are possible even if it's not Boston's own.
But how they treat Rondo ultimately has more to do with their own pick and their own future. Holding him in the D-League for an extra week or two could swing three or four losses that may have been wins. In the end, so much is unclear until he gets on the court.
All salary information in this article can be found at ShamSports.com.
Michael Pina has bylines at Bleacher Report, Red94, CelticsHub, The Classical, Sports On Earth and Boston Magazine. Follow him here.