At the last World Cup finals in South Africa, Fabio Capello's England endured a wretched campaign before they were knocked out in the last 16 by a rampant German side.
On that afternoon in Bloemfontein, England were humiliated 4-1 largely because their midfield staffed by Frank Lampard and Steven Gerrard were overrun by Germany.
More than three years later, when England qualified for the 2014 World Cup in Brazil with a 2-0 victory over Poland at Wembley in October, they finished the game with both Gerrard and Lampard on the pitch and occupying these midfield positions.
Gerrard and Lampard are both fine players and still have something to offer the national side, but what does it say about the paucity of English midfield talent that the pair are still getting so much playing time?
It doesn't have to be like this yet again. There is another way.
In the build-up to next year's World Cup, Roy Hodgson could start to build his England side around the enormous talent of Ross Barkley.
Lampard will be 36 and and Gerrard will be 34 during the World Cup. We know what we will get from them at the tournament: a succession of solid and largely unspectacular performances.
But Barkley offers something else: excitement, the unexpected, a glimpse of the future, and the ability to play without the baggage of over a decade of already failing at these tournaments.
Barkley's time is now.
He shouldn't be kept on the sidelines in Brazil while Gerrard and Lampard indulge in their international swansongs.
So far this season, Barkley has become a regular for Everton under Roberto Martinez and proved he is worthy of this role for England. We are witnessing the emergence of a truly great player who has already shown incredible maturity and technical ability.
Barkley should be cherished for his confidence on the ball, tactical awareness and desire to surge forward with the ball.
As the Everton manager Martinez told the BBC this season: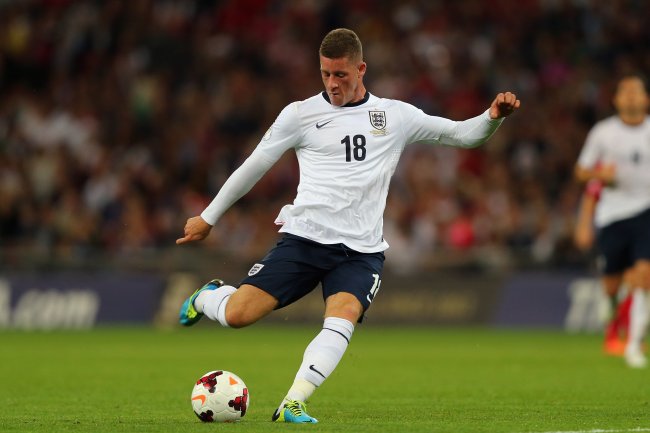 Clive Rose/Getty Images
Ross is a diamond of English football…[He] is the sort of player who controls things in midfield, and that is unusual in a player his age. I think he is an exceptional ambassador, not only for Everton but English football as a whole.
The England manager Roy Hodgson has noticed this as well and handed Barkley his international debut in September as a substitute. He now has three caps but has not started a game.
Hodgson is yet to indulge in the same praise for Barkley as Martinez. Commenting to the BBC about his and West Ham's Ravel Morrison's potential impact on the World Cup, he said:
We think they will be exceptional players, but they have got to perform week-in and week-out, and make sure they are on that team sheet. If they can keep more experienced players out of the team then, come May, their names will be in serious discussion.
Hodgson is not a risk taker. But Barkley deserves a lot more than just serious discussion.
If Barkley continues to show the form he has so far this season, Hodgson has to be bold and start him for England in their opening World Cup game against Italy in June.