The Top 10 Goalscorers of 2013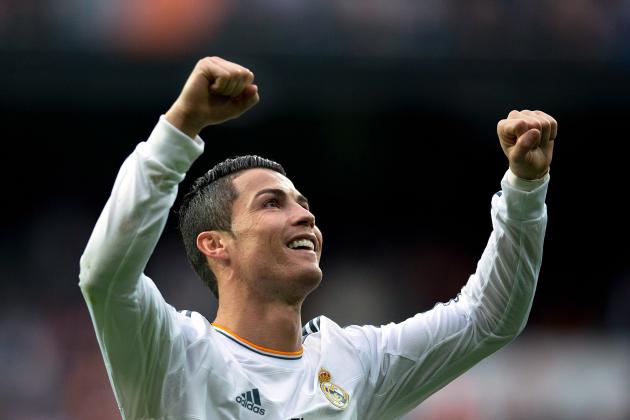 Gonzalo Arroyo Moreno/Getty Images

As 2013 draws to a close, it's time to look at the men in football who have been giving goalkeepers the hardest time.
In 2012, the race for the most prolific goalscorer was fought between La Liga rivals Cristiano Ronaldo and Leo Messi, but in 2013, the duopoly has been broken.
Read on to discover the identity of the top 10 goalscorers of 2013...
Begin Slideshow

»
2013 Goals for club and country: 30
Manchester City striker Sergio Aguero is the second-highest Premier League goalscorer of 2013/14, having found the net 13 times in 15 games. (Incredibly, this is just a quarter of the Citizens' total haul of 54 goals).
In 2013, he has scored 30 goals, the same amount as he managed in his debut season at Eastlands. According to Rob Dawson of the Manchester Evening News, Manuel Pellegrini recently claimed that the Argentinean is the best player in the world behind Cristiano Ronaldo and Lionel Messi.
2013 Goals for club and country: 31
Like Aguero, Robin van Persie is out action right now, but he has managed an impressive haul of 31 goals this calendar year.
The Dutchman has scored just seven Premier League goals in 2013/14, but his golden-boot winning tally of 26 in 2012/13 has helped contribute to his prolific year.
RVP became the Netherlands' all-time leading scorer in October, when he scored a hat-trick in a World Cup qualifier against Hungary.
2013 Goals for club and country: 33
Radamel Falcao's international strike partner, Jackson Martinez, has been in rude health in 2013, netting 33 times for club and country. On such form, it is unsurprising that the Colombian has been linked with the likes of Chelsea and Napoli by ESPN.
Martinez has scored seven in six appearances in 2013/14 and was the Portuguese Liga's top goalscorer last season with a total of 26 goals.
2013 Goals for club and country: 36
Charged with the unenviable task of picking up where the aforementioned Radamel Falcao left off at Atletico Madrid, Diego Costa has risen to the occasion in spectacular fashion in 2013.
The aggressive Brazilian-born Spanish international finished the year with 36 goals, all of which were scored for Atleti: He represented Brazil twice in friendlies but made the controversial switch to represent Spain in the summer.
2013 Goals for club and country: 39
With Robert Lewandowski set to begin a new phase of his career at Bayern Munich in 2014, the Polish striker will be happy that his final calendar year at Borussia Dortmund was a very successful one.
Lewandoswki was the second-highest scorer in the 2012-13 Bundesliga and Champions Leagues, netting 24 and 10 goals respectively. His most devastating moment was the Champions League semi-final against Real Madrid in April, in which he found the net four times.
2013 Goals for club and country: 41
Edinson Cavani arrived at Paris Saint-Germain in the summer having finished 2012/13 as Serie A top scorer, with 38 goals for Napoli in all competitions.
Any fears that the Uruguayan would fade into the shadow of Zlatan Ibrahimovic were unfounded, as he has bagged 18 goals for the Parisians in 2013/14 so far, including 12 strikes in Ligue 1.
Cavani also managed eight international goals for Uruguay this year.
2013 Goals for club and country: 42
Suffice to say, it's been an eventful year for Luis Suarez.
Despite serving a 10-match ban for biting Branislav Ivanovic and all the distraction of trying to engineer a move away form Liverpool, the Uruguayan has still managed to accrue a very respectable goal tally of 42.
Suarez is currently on record-breaking form, having found the net an incredible 19 times in 14 Premier League appearances. In 2012-13, he was the second-highest league scorer behind Robin van Persie.
2013 Goals for club and country: 45
In 2012, Barcelona superstar Leo Messi managed a stupendous record-breaking tally of 91 goals for club and country (an average of 3.35 per game).
In 2013, the diminutive Argentinean has managed less than half this amount, but he still broke records: On May 5 he scored in his 21st consecutive league game, becoming the first footballer in history to net in consecutive matches against every team in a professional league.
Messi also won his sixth La Liga title and his sixth Spanish Supercopa, along with the Pichichi, the European Golden Shoe and Best La Liga Player accolades.
The Atomic Flea scored seven times for Argentina, bringing his total career tally to 37, surpassing the all-time totals of Hernan Crespo and some chap called Diego Maradona.
2013 Goals for club and country: 47
The mighty Zlatan Ibrahimovic may be one of the most arrogant souls to occupy this mortal coil, but he has the skills to back it up. The talismanic Swede had another fine year in 2013, managing a total of 47 goals.
Ibra managed two Ligue 1 hat-tricks and a Champions League match where he smashed four past Anderlecht.
It is not the quantity of his goals that is special, though, it is the quality. In the aforementioned Anderlecht game one of his goals was clocked at 93mph, while he scored one of the greatest goals of all time during a friendly against England (where he found the net four times). If that overhead kick doesn't win the 2013 Puskas Award, there is no justice in the world.
2013 Goals for club and country: 69
In terms of goalscoring, one man has stood head and shoulders above everyone else in 2013: Cristiano Ronaldo.
The Portuguese megastar's tally of 69 (38 in La Liga; 15 in the Champions League; six in the King's Cup; 10 for his country) is seven better than his 2012 tally and more than the totals of fellow Ballon d'Or nominees Lionel Messi and Franck Ribery combined.
Ronaldo has also scored six hat-tricks in 2013, bringing his career tally to an astounding 24. He also became the first player ever to score nine goals in a Champions League group stage in 2012/13, managing 15 goals in Europe this calendar year.