The Houston Texans locked up the No. 1 overall pick in the 2014 NFL draft following their 14th straight loss in Week 17, and the final draft order is now beginning to take shape.
If your team didn't make it to the playoffs, you now know where you'll be drafting when the festivities begin on May 8. Those teams lucky enough to make the playoffs will have their fates decided as play continues into January.
There is plenty of top talent in this year's class. Houston won't have an easy go of selecting No. 1 as a result. Quarterback is a pressing issue for this team, but additions in the trenches would also be a smart move. There are multiple quarterback options to choose from at No. 1, and selecting a lineman would come down to offense or defense.
Each NFL prospect has something different to offer to their new team, and expect those squads that missed out on the playoffs to start more advanced scouting in an effort to select the appropriate player.
Here are some of the top prospects to look out for, along with a complete 2014 NFL draft order.
2014 NFL Draft Order as of Monday, Dec. 30

| | |
| --- | --- |
| Pos. | Team |
| 1 | Houston Texans |
| 2 | St. Louis Rams (from Redskins) |
| 3 | Jacksonville Jaguars |
| 4 | Cleveland Browns |
| 5 | Oakland Raiders |
| 6 | Atlanta Falcons |
| 7 | Tampa Bay Buccaneers |
| 8 | Minnesota Vikings |
| 9 | Buffalo Bills |
| 10 | Detroit Lions |
| 11 | Tennessee Titans |
| 12 | New York Giants |
| 13 | St. Louis Rams |
| 14 | Chicago Bears |
| 15 | Pittsburgh Steelers |
| 16 | Baltimore Ravens |
| 17 | New York Jets |
| 18 | Miami Dolphins |
| 19 | Dallas Cowboys |
| 20 | Arizona Cardinals |
| 21 | Green Bay Packers |
| 22 | San Diego Chargers |
| 23 | Philadelphia Eagles |
| 24 | Kansas City Chiefs |
| 25 | Cincinnati Bengals |
| 26 | Cleveland Browns (from Colts) |
| 27 | New Orleans Saints |
| 28 | New England Patriots |
| 29 | San Francisco 49ers |
| 30 | Carolina Panthers |
| 31 | Denver Broncos |
| 32 | Seattle Seahawks |
CBSSports.com
Teddy Bridgewater, QB
Teddy Bridgewater is the most NFL-ready quarterback in this draft class, both because of his performance and the pro-style offense he played in at Louisville. Rob Rang of CBSSports.com breaks down why that is an advantage:
Bridgewater's success comes in a pro-style attack built on rhythm passes in the short to intermediate zones and occasional shots downfield.

It ask the quarterback to take snaps from under center most of the time, a stark contrast to the shotgun-heavy attacks preferred by most college teams.
Bridgewater was stellar against Miami in the Russell Athletic Bowl. He threw for 447 yards and three touchdowns in what could potentially be his last collegiate game. If he chooses to leave Louisville, he would be a top option for the Texans at No. 1.
If that was Teddy Bridgewater's final performance, what a way to go. Career-high 447 passing yards, 3 TD, Rush TD in a 36-9 rout of Miami.

— SportsCenter (@SportsCenter) December 29, 2013
His game seems like it will translate well to the pros. He's capable of standing in the pocket and is not afraid of pressure. Even when under pressure, he surveys the field and finds the open man. It's very rare that you'll see him lock on to one receiver and shrug off the rest.
Matt Schaub or Case Keenum may begin the season starting under center for Houston, but Bridgewater will be the fallback option as soon as things go south.
Jadeveon Clowney, DE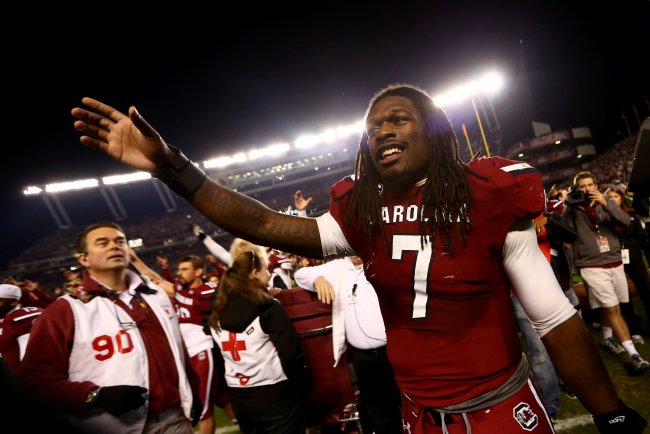 Streeter Lecka/Getty Images
The Texans have a decision to make with the No. 1 pick. Bridgewater profiles as a consistent NFL quarterback, but pairing J.J. Watt with Jadeveon Clowney on the defensive line would be a nightmare for opposing offenses.
Ross Tucker of The Sporting News told SN's Rayven Tirado that they really should consider this alternative strategy: "To be frank, what I would do is take Clowney to get another pass rusher, and then get the best quarterback available in round 2."
Clowney is a very talented pass-rusher, though mental lapses on the field occasionally hinder him from playing at his full potential. Who knows why the lapses occur, but NFL teams looking to draft him need to make sure he's in the right place before devoting their selection (and money) to him.
He recorded just three sacks this season but racked up 13 in 2012. He also forced three fumbles (one recovered) that year. There's a ton of potential in his game, but he'll need some reining in.
Look for him to go in the top 10, and maybe even in the top five. If the Texans pass on him, expect other teams to potentially alter their first-round draft strategies to take him.
Sammy Watkins, WR
Clemson wideout Sammy Watkins has the potential to be the biggest playmaker in this class. He has speed to burn and simply knows how to make himself open. This will make him a near-lock for the top 10 and first wide receiver taken off the board.
The junior brought in 85 catches for 1,237 yards and 10 touchdowns this season, and his physical makeup projects for him to be an ideal receiver in the pros. He's 6'1", and his explosiveness off the line of scrimmage makes him difficult to keep up with.
Cornerbacks can't give him a cushion off the line because he'll blow right past them and create a window for his quarterback to throw through. His ability to create that space is what makes him a truly special talent.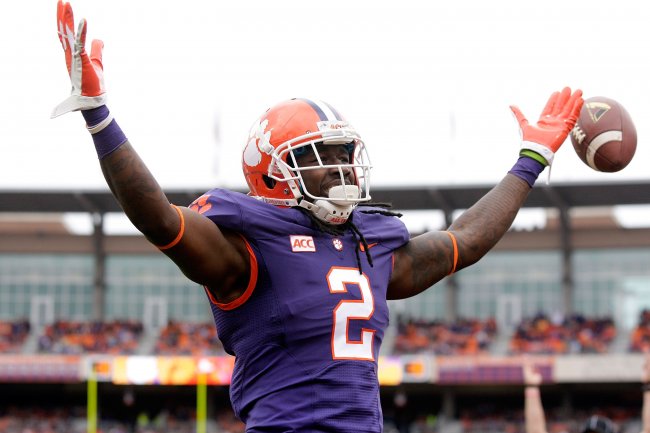 Tyler Smith/Getty Images
Rang projects Watkins to have a career similar to that of another speedy wide receiver:
Quick, strong and possessing the explosive speed to burn corners who challenge him in bump and run coverage, Watkins projects as an ideal flanker in much the same mold as Pierre Garcon (6-0, 212).
Teams looking for a threat in the vertical passing game should not pass up on Watkins. The Tampa Bay Buccaneers at No. 7 and the Buffalo Bills at No. 9 would make perfect sense. Both have young quarterbacks for Watkins to grow with, and they are in desperate need of help through the air.