Thibaut Courtois' tenure at Stamford Bridge thus far has been an odd one in that, since signing for Chelsea in 2011, the stopper has become one of the world's most respected keepers despite not playing a minute for the club.
That honour is instead owed to Atletico Madrid, who are evidently keen to hang onto the 21-year-old whom they've loaned for the past three seasons, to great success.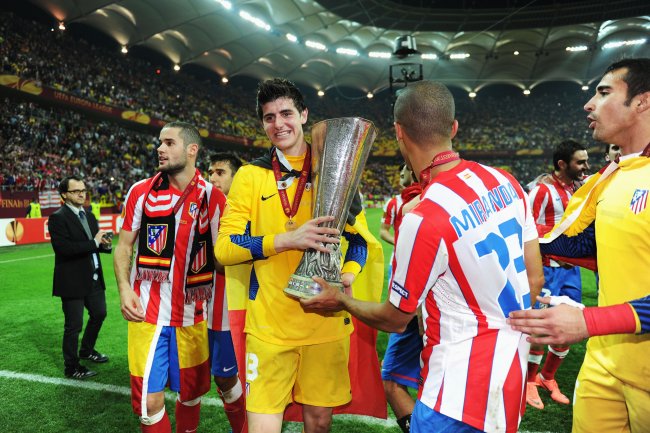 Michael Regan/Getty Images
Their desire to keep Courtois is so strong, in fact, that the Mirror's Tom Hopkinson has reported that Diego Simeone's side are willing to offer Diego Costa or Koke in exchange for the Belgian international's services on a full-time basis.
An excerpt from Hopkinson's report reads:
That has prompted the Spaniards to see if they can strike a permanent deal for the hugely talented youngster by using £20million-rated Costa as bait.

Atletico are ready to test Chelsea's resolve by offering the 25-year-old Brazilian or 21-year-old midfielder Koke, who is also a target for Manchester United.
Courtois' farming out to the Spanish capital has in large part been due to the fact that the Blues already have one of the world's finest stoppers in the shape of Petr Cech.
Up until now, the youngster hasn't had the bragging rights to warrant a place ahead of Chelsea's No. 1, but his development has now reached the stage where even the Czech international perhaps doesn't stick out as a clear favourite between the two.
Who would Chelsea be better off placing their faith in?
Costa may seem like the perfect signing right now. The Brazilian is currently top of the La Liga scoring charts and has 19 goals to his name in the 2013/14 campaign, per Squawka.
Given the fact that Samuel Eto'o, Fernando Torres and Demba Ba have scored barely a third of that figure between them, Costa would seem to have the finishing touch that Chelsea are currently lacking.
However, it's important that Jose Mourinho perseveres with the assets currently under his command, those who have already accounted for a great deal of expenditure over the last three years, Torres' £50 million arrival in 2011 being the most expensive.
As for Koke, it's difficult to see where the midfielder comes into Chelsea's squad. The Spaniard's finest work is accomplished in an advanced midfield position, but when one considers that Juan Mata has already been exiled to an extent in favour of Oscar plying that role, it's difficult to see how Koke can be added to the formula.
Finding a reliable presence in between the sticks is something of a fine art. A club that expects to challenge for Europe's top honours have to be able to rely on their goalkeeper, and selling a rising commodity such as Courtois at this stage would be folly.
The Huffington Post's Giggs Boson recently questioned whether Chelsea were in fact unnecessarily greedy by purchasing Courtois when they did:
Petr Cech is still only 31, he could have almost 10 more years at the top level. So was Courtois purchase greed or to thwart?

— Giggs Boson (@giggs_boson) December 23, 2013
Chelsea bought Thibaut Courtois when Petr Cech was still in his twenties. Courtois was a purchase of greed and excess.

— Giggs Boson (@giggs_boson) December 23, 2013
At 31 years of age, Cech may still go on to feature at the top level for another five or six years potentially. Mourinho is reaching the stage where all faith must be placed in one keeping presence or the other, the prospect of juggling both players' expectations not an attractive one.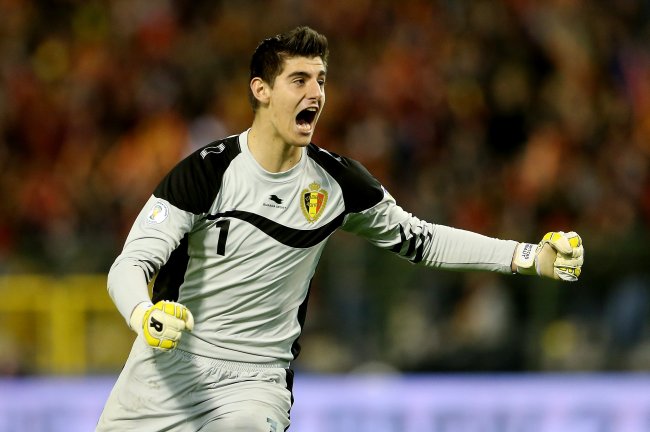 Scott Heavey/Getty Images
In a squad boasting as much talent as Chelsea's, goals are bound to come, but having an assured figure at the very back is something that's not quite as cemented.
Like so many of the Belgian national side, Courtois is a player barely at the start of his upward trajectory, and it's essential that the West Londoners don't cash in now, irrespective of how enticing the alternative options may seem.