On Saturday Jamey Newberg, Texas Rangers writer for The Newberg Report, stepped away from the crazed Masahiro Tanaka talk and threw out an incredibly interesting idea. He speculated on what he thought it would take for the Rangers to theoretically acquire Giancarlo "Mike" Stanton from the Miami Marlins.
Note—and Newberg also makes this clear in the piece—that this is total speculation. He doesn't think this trade would ever happen. He's just hashing out a deal that he thinks would theoretically be acceptable to the Marlins if they were interested in trading Stanton.
Here's what he proposed.
Texas trades outfielders Alex Rios and Michael Choice, second baseman Rougned Odor, righthanders Luke Jackson and Connor Sadzeck, and corner bat Joey Gallo and $8 million to Miami for outfielders Giancarlo Stanton and Marcell Ozuna.
I don't know if Stanton and Ozuna would cost that much. But if Jurickson Profar or Jorge Alfaro weren't included in the deal, Texas would likely have to give up more pieces to work around that. Newberg explained his thoughts in detail.
He believes that since the Marlins are in rebuilding mode, Alex Rios would be attractive to them. In this proposed deal, Newberg thinks that if the Rangers traded Rios before Opening Day 2014, the Marlins would get added benefit by getting a solid year out of him, not picking up his option but extending him a qualifying offer, and then receiving a first round compensatory pick for his signing elsewhere.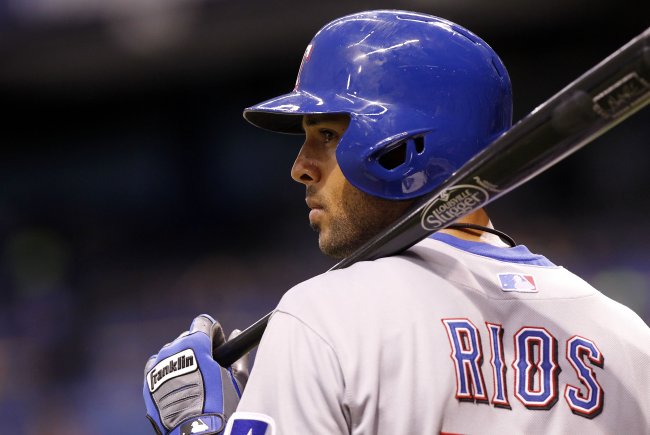 Kim Klement-USA TODAY Sports
Meanwhile, Michael Choice would likely be ready to step into the Marlins outfield by 2015, and join Christian Yelich and Jake Marisnick. In Luke Jackson, the Marlins would get a big righty arm who is originally from just outside Miami.
On the Rangers side of the deal, Stanton would replace Rios, and is under team control for three more years. He is another monster power bat, who at just 24, already has 117 career homers. He has a respectable career OBP of .354 and plays solid defense in right field.
Can you imagine his bat in the Texas lineup hitting behind Adrian Beltre? Wow.
Here is a taste of the launching power Stanton could bring into Arlington.
Texas would also receive outfielder Marcell Ozuna in this proposed deal. He is a very good defensive outfielder with an ability to drive in runs. In 70 games with Miami last season, the 23-year-old Dominican native hit .265 with three homers and 32 RBI.
He has some speed, hitting four triples and stealing five bases in 2013. He could immediately step in as a bench player, as he is better than Engel Beltre.
Newberg says he would hate to lose Odor in this deal. But with Elvis Andrus and Jurickson Profar both locked up long term, when would Odor finally break into the Rangers' lineup? It's arguable that Choice could also become expendable if Texas was getting Ozuna back in the deal.
This would be an incredibly difficult decision to make. If I were Jon Daniels and I were considering this deal, I'd know that I could give up Odor, Jackson, Sadzeck and Gallo and still have Jorge Alfaro, Alex Gonzales, Travis Demeritte, Lewis Brinson, Luis Sardinas, Nick Williams, Ryan Rua, Nomar Mezara, Jairo Beras and Ronald Guzman as developing players.
That's a ton of talent still on the farm. I believe I could allow myself to part with Rios, Choice, Odor Sadzeck, and the cash. But I would have a really tough time parting with Jackson and Gallo's prodigious power.
Ultimately, that's probably a deal breaker for Miami, and so I would turn away from this deal if I were Daniels. That cost is just a bit too much for Stanton, a guy who has all the talent in the world, but is still relatively injury prone and strikes out at a career rate of 28.5 percent.
Would you do this deal? How much do you think Stanton is worth? Would his addition put the Rangers over the top?
* All stats courtesy of baseball-reference.com.