Are the Seahawks Really as Dominant as Everyone Thinks?
Use your ← → (arrow) keys to browse more stories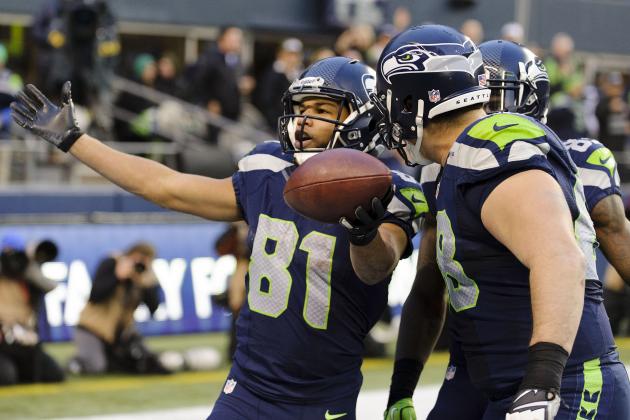 Steven Bisig-USA TODAY Sports

After last week's loss to the Arizona Cardinals, at home, the masses were down on the Seattle Seahawks and their quest for their for first Vince Lombardi Trophy in franchise history.
The criticism of head coach Pete Carroll's club was warranted based on the fact the Seahawks had struggled to put points on the board against the Cardinals. Yet, the naysayers have to remember Arizona has a top-10 defense and Pro Bowl players at defensive end, linebacker and cornerback. It's not like the Gridbirds are short on talent.
The true test in regard to Seattle's regression came this week versus the St. Louis Rams. If the 'Hawks had laid an egg in front of their home crowd for the second time in as many weeks, then it would have been appropriate to panic.
However, that didn't happen. The Seahawks fixed their mistakes on offense and got back to doing what they do best, running the football. Running backs Marshawn Lynch and Robert Turbin combined for 110 yards on 30 carries, while Lynch scored one touchdown late in the third quarter.
The backfield's strong performance helped the Seahawks' passing attack get back on track as well. Even though quarterback Russell Wilson only threw for 172 yards, he posted a quarterback rating of 102.1 and ate up the Rams' secondary with successful play-action passes to wide receiver Golden Tate.
Seattle's aerial assault doesn't thrive unless the running game is on point, which is why Carroll and offensive coordinator Darrell Bevell had to have been ecstatic after Sunday's showing. Yes, the overall numbers were low offensively, but it goes beyond the numbers.
You could just tell the offensive side of the ball was able to get into a rhythm. The Seahawks picked up 20 first downs and possessed the ball for 33:40. The third-down conversions proved to be a problem for the fourth straight game, yet those figures were skewed considering the Seahawks attempted to run out the clock during the latter part of the game.
Seattle's showing against St. Louis wasn't exactly a thing of beauty, but it was gritty. Gritty performances late in the year are always a positive sign, because they show a team's true colors. Nevertheless, the 'Hawks still have a few things to iron out before postseason play begins.
All of the Seahawks offensive issues stem from their offensive line incompetence. That's on Cable. He's had time and investment.

— matt (@SeattleDoorMatt) December 29, 2013
They need a couple of key players to get healthy on offense, the offensive line has to up its level of play in pass protection and Bevell's play-calling has to advance on first and second down.
This, in turn, leads me to the million-dollar question people are pondering at the moment: Are the Seahawks as dominant as everyone thinks? There's no question. Thanks in large part to defensive coordinator Dan Quinn's stalwarts, they are as dominant as everyone thinks.
Since the team's Week 12 bye, its defense is allowing 8.6 points per game, 153.6 yards through the air and 76.8 yards on the ground. Moreover, the 'Hawks are forcing 2.6 turnovers per game. Without a doubt, Seattle's defense has carried this team over the course of the past five weeks, and that's OK.
Seahawks are allowing 3.1 yards per carry in their last five games. That includes a 51-yard run by Frank Gore.

— Brian Nemhauser (@hawkblogger) December 30, 2013
Under Coach Carroll, the Seahawks have always been a defensive-oriented team. It's easy to praise Wilson and Co. when things are going smoothly, but Quinn's defense has had to bail Bevell's offense out numerous times as the season has pressed on. There's a reason why Seattle has the No. 1 defense in the league.
It's rare to see a team have the No. 1 offense and the No. 1 defense in the NFL. More often than not, one side of the ball has to compensate for the other's shortcomings. Even though Seattle's offense doesn't have a lot of shortcomings, it does have more deficiencies than the defensive side of the squad.
Are the Seahawks' offensive struggles worrisome, or is the defense good enough to mask its inefficiencies?
That right there speaks volumes to the team's talent level on defense, because we have all seen how explosive the offense can be when it is firing on all cylinders. Furthermore, let's not forget the Seahawks defense has been playing at a top-notch level all season long.
Forget about the past five weeks for a second and think big picture. On a per-week basis through 16 games, Seattle's defense led the league in points allowed, yards allowed and passing yards allowed. It also led the league in interceptions and turnover margin.
Being a dominant force isn't about blowing an opponent out on a weekly basis. It's about being consistent and having a core group that you can lean on week in and week out. It's evident that the Seahawks' core group is their 11 starters on defense. They set the tone every week, and Seattle goes as its defense goes.
At 13-3 with a first-round bye and home-field advantage throughout the playoffs, it's ludicrous to think the Seahawks aren't a dominant team.