Andrew Bynum's short stay with the Cleveland Cavaliers will soon officially be over. The question now is: What went wrong and who's to blame for Bynum's collapse with the Cavs?
The 26-year-old center has been suspended indefinitely by the team, according to Cavs.com. The official statement lists "conduct detrimental to the team" as the reason, but various whispers around the web have told us more.
According to Jason Lloyd of the Akron Beacon Journal, Bynum had displayed a negative team attitude recently, one that Cavs management didn't want infecting the rest of the players.
Bynum had struggled on the court as of late, including an 0-of-11 shooting performance against the Detroit Pistons on December 23. The next game against the Atlanta Hawks, Bynum attempted just three shots and was later benched for failing to rebound and defend Al Horford.
While it's easy to point to all the negatives now, we shouldn't forget that Bynum had some very impressive moments during his two months in Cleveland. He was active from the very start of the season and missed just four of the Cavs' first 28 games.
Bynum was huge in a November 30 win over the Chicago Bulls, racking up 20 points, 10 rebounds and five blocked shots during 30 minutes. His PER of 15.4 was second among Cleveland's starters, and his 1.2 blocks per game led the team.
At the time of his signing, the Cavs knew Bynum was a low-risk, high-reward type of deal. He'll end up making six out of a possible $24 million.
With such a promising start to the season, and many flashes of greatness still apparent in Bynum, it really is a shame that his career in Cleveland didn't work out.
Is this Chris Grant's Mistake?
General manager Chris Grant faced a make-or-break offseason.
For years he had conserved the Cavaliers' cap space, waiting to make his move when the timing was right.
This past summer, Grant had the green light to spend. He first inked combo forward Earl Clark to a two-year deal, then was praised mightily for his signing of veteran point guard Jarrett Jack.
Cleveland still had about $12 million worth of cap space, with no major free agent left to spend it on.
Bynum was still on the market, and the Cavaliers needed a center with Anderson Varejao's injury history. Mike Brown also had experience working with Bynum in Los Angeles and gave his blessing on signing the former All-Star.
While Bynum will be released or traded soon, Grant shouldn't take the blame.
First off, he did a brilliant job structuring the contract that essentially gave Cleveland two out clauses.
He knew this was a risky move, given Bynum's knee history. He wanted to have control over Bynum's salary and not let it have control over the Cavs' salary cap.
If he hadn't signed Bynum, would the Cavaliers really have used that extra cap space in the past few months? I sincerely doubt it.
For $6 million, Bynum was a risk worth taking.
Is Bynum to Blame?
Well yes, but not completely.
A former All-Star with the Los Angeles Lakers, Bynum missed the entire 2012-13 season with the Philadelphia 76ers following knee surgery. Cleveland was willing to bet Bynum would at least regain some of his previous form when signing him to a mostly incentive-laden deal.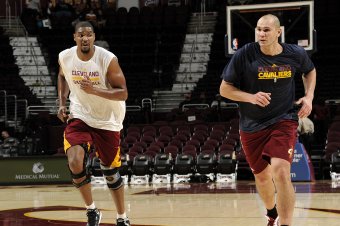 David Liam Kyle/Getty Images
Bynum was actually very good at working his way back.
Cleveland never put him on a timetable, knowing very well the dangers of setting unrealistic goals. Bynum was constantly praised by Mike Brown and Chris Grant for his work ethic and would even come in on off days to continue his rehab.
All this was a bit of a relief, given the criticism that had followed Bynum before.
Former Lakers great Kareem Abdul-Jabaar, who spent a lot of time working with Bynum in LA, had some harsh words for his protege after the trade that sent him to the Sixers. Abdul-Jabaar told the Los Angeles Times:
Dwight (Howard) is very committed to playing and winning. Andrew has been up and down on that issue. There are times he wants to play, do a great job and he goes out and does it. Then there are other times where it seems like he's not focused.
Abdul-Jabaar went on to criticize Bynum's lack of focus when it came to the nuances of the game.
When I first started working with him, he was eager to learn. He appreciated me shortening the learning curve. Once he figured he did everything he wanted to do in terms of learning, he didn't want me to bother him constantly going over the fundamentals.
Given Bynum's extensive rehabilitation, it's not absurd to think the majority of his work has been on fundamentals. Trainers want to see how much the body can handle when coming back from a serious injury.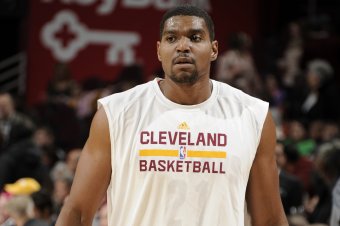 David Liam Kyle/Getty Images
Basketball fundamentals such as running, jumping, dribbling and shooting were all Bynum could do for a while, as he worked his way back to contact drills. This had to be incredibly frustrating for someone who despised such drills, even at full strength.
Did Bynum work hard in the short-term while with Cleveland?
By all accounts, yes.
Was he willing to put the team first long-term and work on all the details and fundamentals associated with doing so?
It appears not.
How Does Mike Brown Fit In?
Brown may have had a sparkling record with his first go-round in Cleveland, but this hasn't masked the fact that he isn't a good head coach.
There's a reason Brown has been fired twice in the past three years.
Having been asked to handle the egos of players like LeBron James, Shaquille O'Neal, Kobe Bryant and Bynum, Brown has stepped up to the plate and whiffed every time.
Brown has never played in the NBA. As a head coach in the association, it's tough to earn the respect of a team if you've never been in its shoes. Championship rings certainly help, but certain players have to know that their coach has "been there."
In his book, Shaq claimed that James never listened to Brown during their time together in Cleveland (per Hoopsworld). He also said that Bryant would definitely be the one in charge when Brown took the job with the Lakers, a position he would hold for just 87 games before getting fired.
What kind of a message does this send when the coach doesn't have the respect of the team's best player?
Brown is the ringmaster of the three-ring circus currently at Quicken Loans Arena.
Already this season, we've seen the Cavs accumulate just 10 wins in their first 30 games, a players-only meeting following a 29-point loss and a suspension of the team's starting center in Bynum.
Apparently, Bynum has displayed negative behavior in practice for weeks, including disrespecting coaches, says Alex Kennedy of Hoopsworld.
Cavs source on what happened with Bynum: "Same thing that happened in LA, just reckless behavior. He was regularly disrespecting coaches."

— Alex Kennedy (@AlexKennedyNBA) December 28, 2013
If a player has been showing any kind of disrespect to his staff, wouldn't a head coach do something about this right away?
Who's to blame for Bynum?
Up until the past few days, there was no suspension, fine or even benching of Bynum. No sort of punishment or reprimand whatsoever.
This hasn't been an isolated incident either, as Bynum has shown constant disrespect to Brown in the past as well.
If Gregg Popovich or Phil Jackson were coaching, would this still be going on?
Bynum may have been a mistake, but this whole scenario would have been handled more smoothly if someone other than Brown was in charge.
The Cavaliers may end up being better without Bynum, but part of the real problem still walks the sidelines in Cleveland.
-GS