As of this moment, the Texas Rangers are a true World Series contender. As they are currently constructed, they may be the American League's best team.
The Rangers don't have a desperate need to upgrade their starting rotation. Assuming Matt Harrison returns without any problems—and I certainly believe his work ethic and performance in 2011 and 2012 deserve your trust that he will—the Rangers might have the best one through four in the AL.
That, of course, is debatable with the quality of the rotations of the Boston Red Sox and Detroit Tigers. But Yu Darvish-Derek Holland-Matt Harrison-Martin Perez is at least right up there with them.
Signing Masahiro Tanaka would absolutely transform the Rangers' rotation into the best in baseball. They would become nearly a "lock" for the World Series. But there are obvious roadblocks to this. His price and the Rangers' budget are front and center.
In his piece, Anthony Andro of Fox Sports Southwest has Rangers co-owner Bob Simpson's comments on the Tanaka situation:
We're probably comfortable where we are in terms of financial commitments. Tanaka would be a tough thing. We aggressively went after Yu (Darvish). I guess I should never say never but at the moment we're more interested in rounding out our team.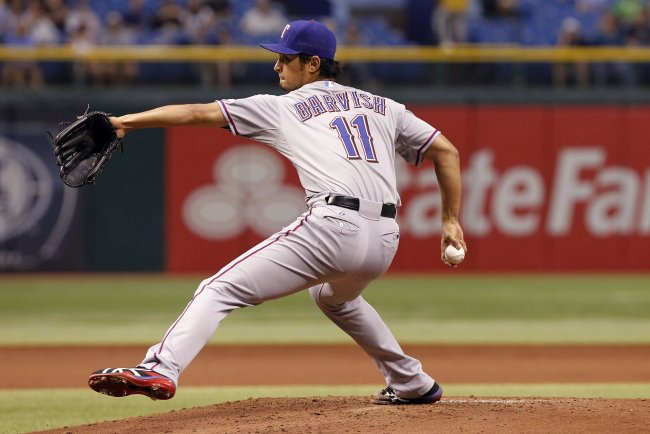 Kim Klement-USA TODAY Sports
Here's the big question: Should the Rangers go all in for Tanaka, knowing that if they do, they will be all but a World Series lock in 2014? Or perhaps a better question: Is there another, cheaper way to make the Rangers' rotation, and therefore team, the best in baseball?
Is there a way to significantly upgrade the rotation, while still saving as much money as possible for acquiring star power in the future?
As Andro notes, the Rangers' 2014 payroll will sit right at about $135 million once the roster is finalized. Signing Tanaka means not only paying the $20 million posting fee, but also paying him in the neighborhood of $20 to $25 million in the first year of his deal. That potentially pushes the 2014 payroll to $175 or even $180 million—Red Sox and Yankee territory that is unfair to ask this ownership to go to.
But if the Rangers already have as good a team as they do without Tanaka on the roster, why not make a smaller starting-pitcher signing—one who maybe isn't as dazzling, but also won't cost between $120 and $150 million?
As I've argued in the past, if the Rangers truly want to upgrade their rotation, Ubaldo Jiminez is the best option to do so. Let me be perfectly clear here: I am not saying that Jiminez is a better pitcher than Tanaka. It would be a hopeless effort to even begin making that argument.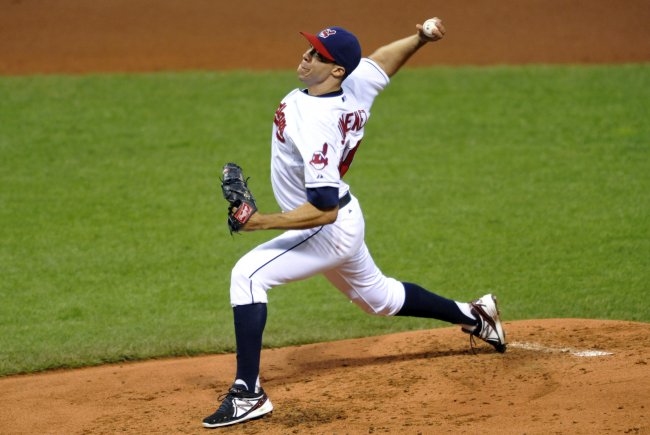 David Richard-USA TODAY Sports
What I am saying is this: For the price, and for what the Rangers actually need—since they don't need another blockbuster-level acquisition—Jimenez is the pitcher with the best value for Texas. The Rangers' need for Tanaka cannot ever hope to match Tanaka's price.
Let the Yankees vastly overpay for him. They have the need that Texas doesn't, and their rotation with him isn't even as good as the Rangers' is without him.
In terms of long-term financial flexibility, Jimenez is a much safer bet.
Here are a couple of reasons that the Rangers should, if they want to make any significant addition to the rotation, sign Jimenez.
Value for the Need
Jimenez is a solid major league pitcher, who is relatively young at 29. Over the last four years, he's averaged 29 starts per season. He's made at least 31 starts in each of the last three seasons. So he doesn't get hurt, and takes his turn every five days.
There were well-documented concerns over Darvish' pitching workload when Texas signed him. Could he handle pitching every five days versus every six days in Japan? Pitching against far superior hitters in the major leagues? Darvish proved that he could. Tanaka has not yet done that.
Jimenez' career opponents' batting average of .240 indicates that he is fairly difficult to hit. He has plus plus velocity with a filthy slider and a sharp-breaking sinker. Over his career, he has a 2.05 strikeout to walk ratio, which is passable.
He's a strikeout/flyball pitcher, but if you're worried about him allowing a barrage of homers in Arlington, keep two things in mind. One: In three seasons of 33 or more starts with the Colorado Rockies pitching at Coors Field, he never allowed more than 13 home runs in a season. Coors Field is arguably the NL's most notorious hitters' park, along with Citizens' Bank in Philadelphia.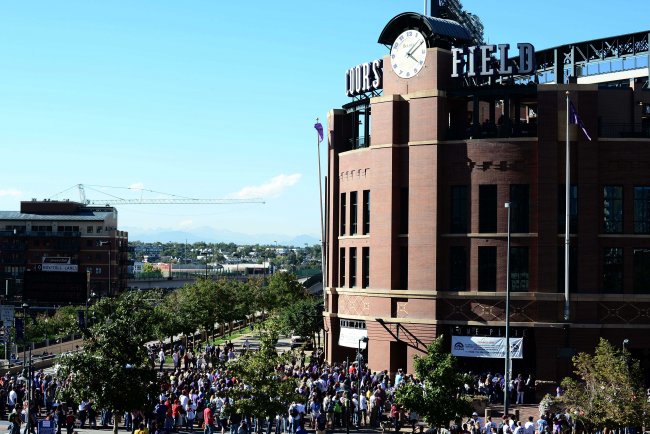 Ron Chenoy-USA TODAY Sports
As a Cleveland Indian, pitching at Progressive Field is better, but not by much. That is a park with at least a slight hitters' advantage.
Over his career, Jimenez has averaged 12.9 homers allowed per season. So he's generally been able to keep the ball down with his above-average movement.
Remember, the Rangers don't need another ace to make this rotation the best in baseball. I believe Jimenez would do the trick. He could slide in as the No. 4 starter, where he would consistently make starts and eat innings, while Martin Perez would get the fifth spot.
Also keep in mind that this newly-upgraded offense will make every Ranger pitcher look better. In other words, Jimenez' value likely increases with the Texas offense behind him.
This move would also allow Nick Tepesch to continue developing comfortably in AAA, let Colby Lewis to take his time returning from injury and, most importantly, send Alexi Ogando back to the bullpen where he should be full time.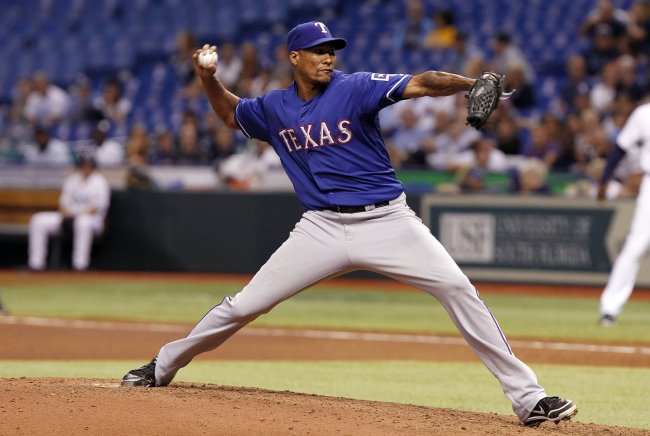 Kim Klement-USA TODAY Sports
All of this will come with a price tag that is far, far cheaper than that of Tanaka or Ervin Santana. I haven't seen any estimated figures, but I would guess he'd want no more than $10 to $12 million per season for three to five years. Jimenez would cost the Rangers a draft pick, but they will get that back when Nelson Cruz signs elsewhere.
For the price, Jimenez is the Rangers' best option as a starter. Santana is a bit better, but not $60 million better.
After all, what would you rather give up? Around $70 to $80 million more for Tanaka, or a draft pick, especially with as deep a farm system as the Rangers have?
Maintaining Future Financial Flexibility
The Rangers have already taken on two $100 million plus contacts this offseason with Prince Fielder and Shin-Soo Choo. Elvis Andrus was already set to begin his eight-year, $120 million extension after next season. Signing Tanaka would be the team's fourth nine-digit contract and would likely be the most expensive.
Again, Choo and Fielder are necessary risks. They were both needed, whereas Tanaka is not. Signing a less demanding pitcher like Jimenez keeps the doors open for the possibility of maybe signing David Price in two years, or Clayton Kershaw after next season.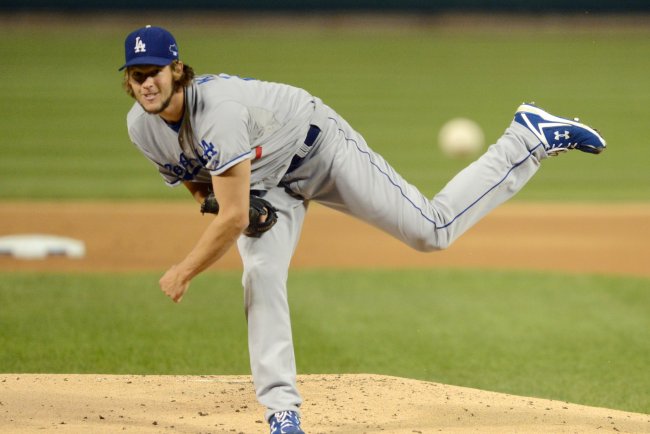 Pool Photo-USA TODAY Sports
I'm not saying either of those will happen if Texas doesn't sign Tanaka, but who would you rather have? Cy Young winners—two in Kershaw's case—or a guy from Japan who is not yet proven in the majors?
Besides, Kershaw is a Dallas native. You don't think he would naturally have some interest in pitching for the hometown team?
What about extending Yu Darvish in three to four seasons?
Or how about Mike Trout when he is a free agent in four years? Wouldn't it be nice to make a serious run at him? That $70 to $80 million dollars I mentioned could go directly to efforts to snag him.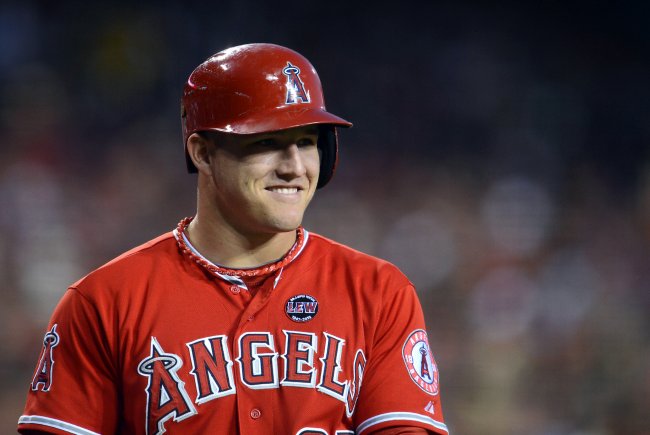 Jayne Kamin-Oncea-USA TODAY Spor
Down on the farm, what about guys like Luke Jackson, Alex Gonzales and Jorge Alfaro, who will be MLB ready potentially by the end of next season? Especially Alfaro, who will probably be the Rangers' next long-term catcher. What if Alfaro explodes onto the major league scene in his first couple years? What if his arbitration value increases to the $10 million range?
Signing Jimenez to a three-to-five year deal, rather than Tanaka to six to eight, is less damaging in terms of blocking lower-level talent.
Long-term success is just as crucial to a successful major league franchise as short-term success. If the Rangers are this close to World Series caliber, why not just go as far as really needed to achieve that status? There are so many unknowns that could present themselves to this franchise over the next few seasons. It would be wise to stay open to all of them, by not further hamstringing the club's flexibility.
It wouldn't be wise to go all-in on what is a marginal need at best. It's not needed now or for the future.
All stats courtesy of ESPN.