Tampa Bay Lightning Awards for the 1st Half of the 2013-14 Season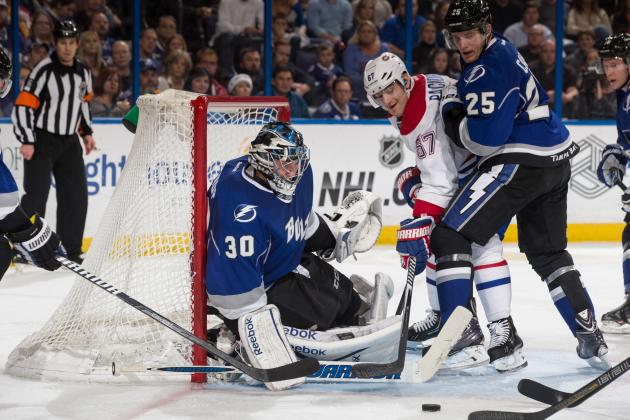 Scott Audette/Getty Images
Ben Bishop and Matt Carle have been solid for the Bolts, but is either one the MVP of the first half?
The midseason awards for the Tampa Bay Lightning are just as competitive as the team has been throughout the first half of the year. With so many players putting up great numbers and efforts on a nightly basis, the Bolts have fierce competition for spots like most valuable player, best forward and best defenseman.
With three games to go before the midway point in the season, the Lightning sit in third place in the Eastern Conference despite playing at less than full strength—but what team in the NHL is full strength this time of year?
After a shootout loss to Montreal on Dec. 28, the Bolts sit just four points behind division-leading Boston. With a 6-1-3 record in the last 10 games, Tampa Bay is one of the hottest teams in the league.
The strong first half has been buoyed by solid individual performances since the first puck dropped nearly three months ago. There are some surprising—and not-so-surprising—midseason awards for the Tampa Bay Lightning as we approach the new year.
Begin Slideshow

»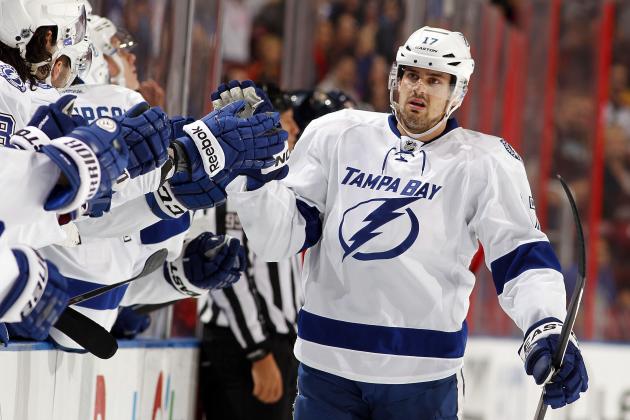 Eliot J. Schechter/Getty Images
Alex Killorn beat out some tough competition for the most improved so far this season.
Alex Killorn
The most improved player at the midway point of the season is Alex Killorn. Killorn jumped onto the scene last year in the shortened campaign and has been nothing short of solid in 2013-14.
He played in 38 games last season as a rookie with 19 points and a minus-six rating. Through 38 games this season, he has improved on his point total (21) and is a solid plus-six.
Outside of the statistics, Killorn is becoming the forward that the Lightning have needed. He is consistent, plays in all situations, has a big frame and works hard. On a team that is now focused on defense first, he has improved drastically as a two-way player.
Killorn has—obviously—already set career highs in a majority of statistical categories. His improvement extends to every facet of the game.
Honorable Mention: Tyler Johnson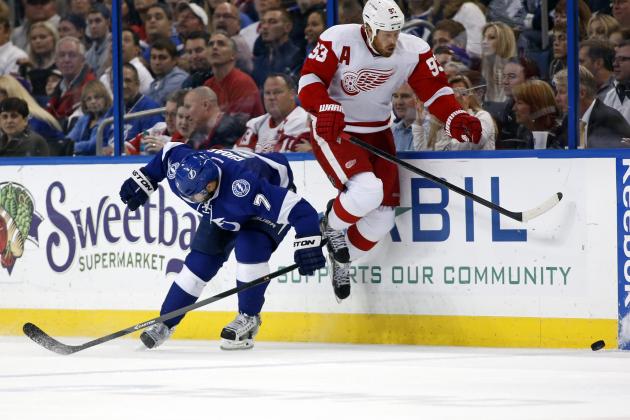 Mike Carlson/Getty Images
Radko Gudas has made an impact in every facet of the game.
Radko Gudas
NHL.com officially lists nine rookies for the Lightning so far this season. Radko Gudas is one on that list, despite playing in 22 games last season.
Gudas has made an impact in nearly every facet of the game. Often times it is opponents that feel his impact most abruptly, but that is exactly what he does. The 205-pound defenseman is no stranger to throwing his body around and using his trademark hip check.
So far this season, Gudas has registered 136 hits—70 more than anyone else on the squad. He is a solid plus-four rating with a team-leading 82 penalty minutes.
Gudas has also chipped in on the power play and on offense with eight points this season. He is constantly playing against the top lines and has done an impressive job this season.
Honorable Mention: Tyler Johnson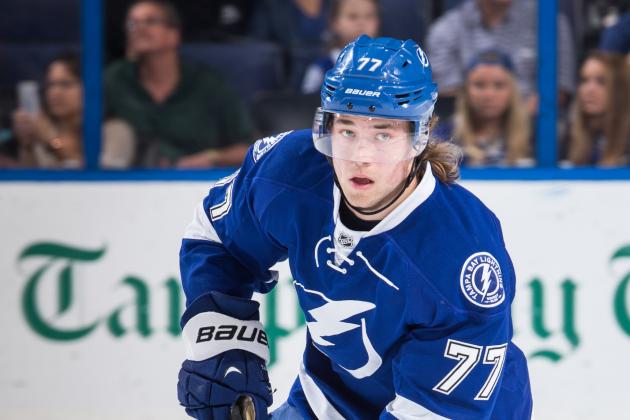 Scott Audette/Getty Images
Victor Hedman has grown his game exponentially this season.
Victor Hedman
Victor Hedman has been the team's most productive offensive blue-liner, but he has played on an extremely high level in his own zone as well. Hedman has limited the penalties he has taken (23 PIMs) and been better with the puck and puck retrieval.
He is currently plus-three with a team-leading 20 points from a defenseman, but some of the more obscure stats tell the tale. He is second on the team among full-time d-men in giveaways with 12. He is also leading all defenseman on the team with 22 takeaways.
He is second on the team in time on ice with just under 22 minutes per game and is also second on the team in time on ice on the penalty kill.
Hedman barely edged out another highly skilled defenseman for the best of the midseason, but this will be a close race down the stretch.
Honorable Mention: Matt Carle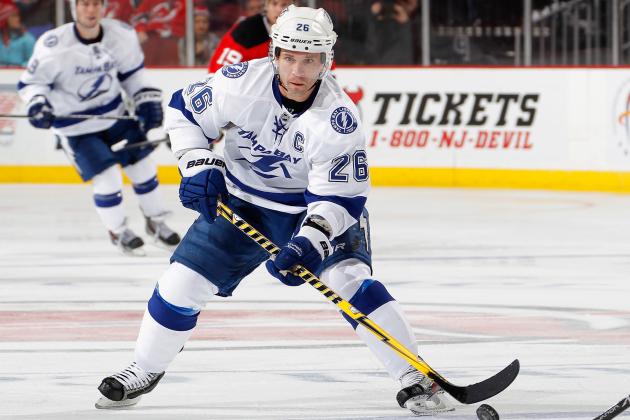 Paul Bereswill/Getty Images
Martin St. Louis has done everything in his power to keep the Bolts near the top.
Martin St. Louis
Could it really be anyone else? Martin St. Louis leads the team in nearly every statistical category. He has 10 more points than anyone else on the team and is second to only Steven Stamkos in plus/minus rating. Stamkos is plus-11 while Marty is a plus-10.
The crafty veteran has broadened his shoulders to help carry the team in the absence of their sniper. He has helped grow the play of nearly every young forward that has accompanied him on a line. Players like Alex Killorn, Richard Panik, Tyler Johnson and J.T. Brown have all benefited from his high-level of play.
St. Louis is currently tied for 13th in the NHL in scoring (38 points), and even though a Hart Trophy may not be in the cards, he has been the offensive MVP for the Lightning so far.
Honorable Mention: Valtteri Filppula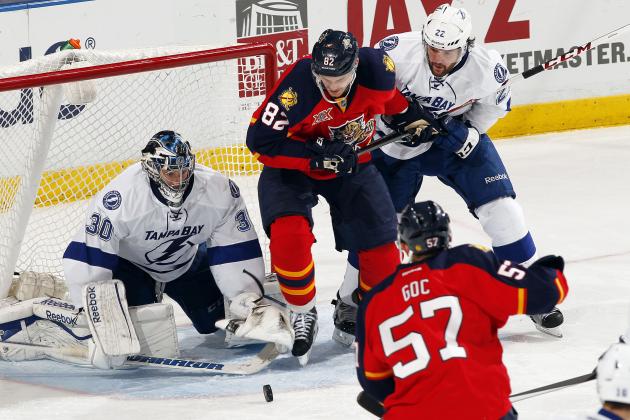 Eliot J. Schechter/Getty Images
Ben Bishop has been undoubtedly the most valuable player.
Ben Bishop
Ben Bishop has been outstanding so far this season. He was the second-fastest goalie to 20 wins, behind Marc-Andre Fleury of the Pittsburgh Penguins and is one of four goaltenders with 20 wins this season.
Anyone that has watched a Lightning game has seen that the defense in front of him can break down in an instant. Turnovers have led to odd-man rushes, and somehow the Bolts netminder has been up to the task. He has been far bigger for the Lightning than his statistics show, but even those are impressive.
His 1.89 goals-against average is ninth in the NHL, but there are only two full-time goaltenders above him. His .935 save percentage is eighth in the league ,and he has been good enough to work his way into consideration for the U.S. Olympic Team.
Bishop has been the anchor for the Lightning and will look to continue that stability into the new year.
Honorable Mention: Martin St. Louis