Striker Olivier Giroud was single-handedly responsible for propelling his Arsenal squad to the top of the Premier League table after his header was the difference-maker against Newcastle on Sunday, Dec. 29.
And here's @_OlivierGiroud_ glancing home the winner. How important was it for him to get back on the scoresheet? pic.twitter.com/3VfQwYSkq3

— Arsenal FC (@Arsenal) December 29, 2013
Newcastle had entered play winning seven of their last nine matches, while Arsenal stood firmly at No. 2 on the table behind Manchester City. Picking up a point was the goal, but defeating Newcastle was enough to push them ahead of Man City.
The game figured to feature excitement. Both squads boast potent, attacking offenses that are capable of scoring against even the best defenses. While the end result didn't live up to expectations, Arsenal still have to be happy with the final score.
Without Giroud, who knows how the match would have played out.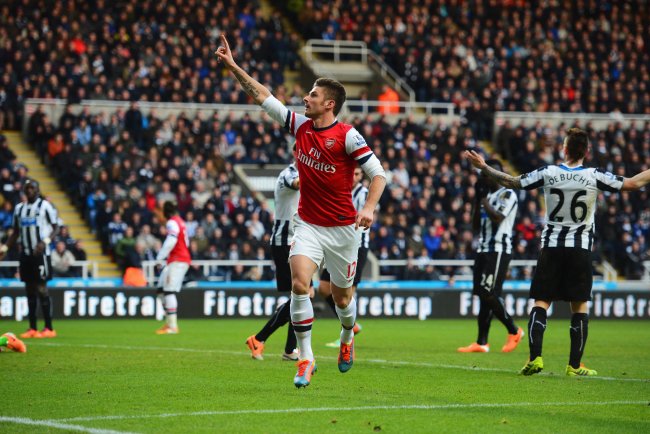 Michael Regan/Getty Images
The score was knotted at zero at the break. After the Newcastle defense switched off, Theo Walcott chipped a free-kick into the area, and defender Mike Williamson allowed Giroud to run freely behind him. Giroud proceeded to smash a header passed Tim Krul for the first goal of the match.
Sure, the goal was a result of poor defending, but Giroud's first goal in eight matches for Arsenal was much appreciated.
Giroud even told Canal+, via the Mirror's Ed Malyon, prior to Week 19 that he was frustrated about not scoring as often as he should. "It is, to be honest, a bit of pain for a striker who is not scoring, not finding the net," he said.
Jimmy on @_OlivierGiroud_ : "For getting the winning goal and holding the ball up really well for the team" #NUFCvAFC pic.twitter.com/o1xbi2u7yz

— Arsenal FC (@Arsenal) December 29, 2013
He put his speed and power on display leading up to the goal. Williamson didn't have the proper footwork to keep up with (or prevent) Giroud from running behind him, but Giroud's speed was what made the difference.
Are Arsenal the club to beat moving forward?
Giroud, an expert header, also showed the power necessary to get the ball past Krul and into the back of the net.
Giroud missed another opportunity to score later in the match, when Walcott poked a shot against the legs of Krul. His follow-up shot was chipped by Mathieu Debuchy, and the ball fell to Giroud. The French striker was off balance and shanked the shot wide left.
It was a great opportunity to go up 2-0.
Regardless, Giroud played well for Arsenal and has his team in great position to defend the No. 1 spot on the table in Week 20 against Cardiff City.