GIF: Samuel Eto'o and Mamadou Sakho Swap Shirts...at Halftime
December 29, 2013

Screengrab
Remember when shirt-swapping was done at full time? Those days are gone.
Samuel Eto'o of Chelsea and Mamadou Sakho of Liverpool exchanged jerseys at halftime in their Premier League clash at Stamford Bridge.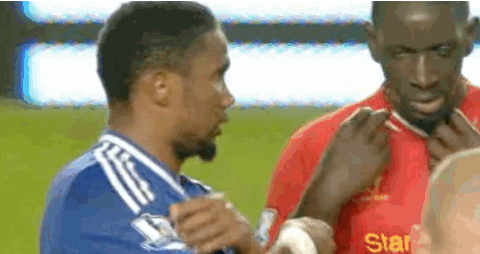 GIF
And they weren't alone—off camera, it appears Coutinho and Oscar also made a halftime trade.
Presumably in practical terms they have spares on hand so they can play the second 45 minutes, but still, it's enough to get some people grumbling on Twitter:
Players swapping shirts at half time. Eto'o and Sakho. Coutinho and Oscar. Hang your heads in shame.

— John Cross (@johncrossmirror) December 29, 2013
HT Chelsea 2-1 Liverpool - Eto'o swapping shirts with Sakho? Whats that all about? pic.twitter.com/edh33OXGVK

— Ian Abrahams (@BroadcastMoose) December 29, 2013
So what do you reckon? Harmless but a bit out of the ordinary? Or just about everything that's wrong with modern football?