Two of the nation's most well-rounded teams square off in the 2014 Capital One Bowl on New Year's Day, as Wisconsin (9-3) and South Carolina (10-2) will battle in what figures to be one of the more exciting games of the bowl season.
Unexpected losses for each team hurt their chances of playing in a BCS bowl game. South Carolina's 23-21 loss to Tennessee on Oct. 19 represented a low point for the Gamecocks this season while Wisconsin's 31-24 loss to Penn State on Nov. 30 was equally as shocking for the Badgers.
The Gamecocks enter having won five straight, including a double-overtime win over then-No. 5 Missouri and a 31-17 win over Clemson.
The Badgers have won six of their last seven games, although losses to Arizona State, Ohio State and Penn State would suggest that they have had trouble against better teams. That will be put to the test in the Capital One Bowl.
You're not going to want to miss this one, so here is the information that is crucial to your viewing experience, including betting lines and keys to the game that will help to keep you as informed as possible leading up to the action.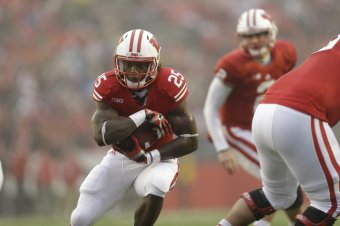 Mike McGinnis/Getty Images
When: Wednesday, Jan. 1, at 1 p.m. ET
Where: Citrus Bowl, Orlando, Florida
Watch: ABC
Live Stream: Watch ABC
Betting Lines: (via Covers)
Over/Under: 51 points
Spread: South Carolina (+1.5)
Team Injury Reports (via USA Today)
South Carolina

| | | |
| --- | --- | --- |
| Jordan Diaz | FB | Questionable (Knee) |
| Carlton Heard | WR | Questionable (Hamstring) |
| Gerald Turner | DE | Questionable (Ankle) |
| James King | LB | Questionable (Foot) |
| Devin Washington | DE | Out Indefinitely (Concussion) |
| Mike Matulis | T | Out Indefinitely (Shoulder) |
USA Today
Wisconsin

| | | |
| --- | --- | --- |
| Michael Caputo | DB | Probable (Head) |
| Marquis Mason | WR | Questionable (Knee) |
| Terrance Floyd | DB | Questionable (Disciplinary) |
| Dallas Lewallen | OL | Questionable (Leg) |
| Jake Keefer | DL | Questionable (Knee) |
USA Today
Can South Carolina Stop Wisconsin's Running Game?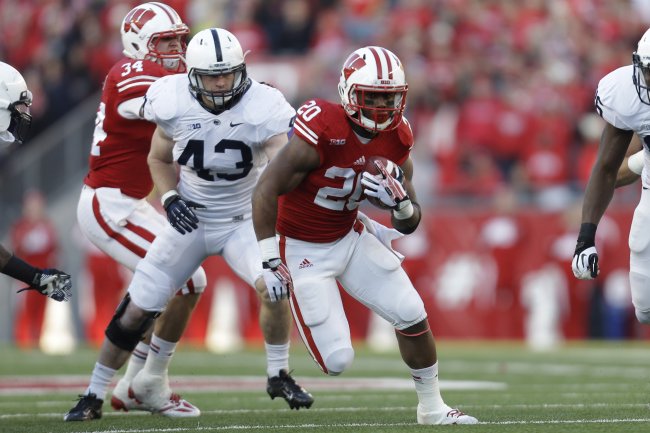 Mike McGinnis/Getty Images
Wisconsin boasts the eighth-best running game in the nation, checking in at 283 yards per contest. South Carolina's No. 13-ranked defense will need to play tough and prevent the Badgers from gaining yards after first contact when they run the ball.
The Wisconsin attack has been led by Melvin Gordon and James White. Gordon has gained 1,466 yards with 12 touchdowns while White has rushed for 1,337 yards and 13 touchdowns. Collectively, they have five more touchdowns than quarterback Joel Stave has passed for this season.
If that doesn't give you an indication of how the Badgers run their offense, then I don't know what does.
Chris Johnson of Sports Illustrated notes that the Gamecocks might have a defensive line talented enough to make things difficult for the Badgers:
The Gamecocks' defensive line boasts two future NFL draft picks in (Jadeveon) Clowney and tackle Kelcy Quarles (9.5 sacks, 13.5 tackles for loss), who should make things difficult for Wisconsin tailbacks Melvin Gordon (1,466 rushing yards, 12 touchdowns) and James White (1,337 rushing yards, 13 touchdowns).
The key to the @CapitalOneBowl according to @Melvingordon25 "The big-time players have to step up & make plays" http://t.co/hZ8h8UcjlT

— Badger Football (@BadgerFootball) December 27, 2013
Regardless, the Badgers running game still might be too much to handle. While the Gamecocks defense is solid overall, Gordon and White should be able to run for big yardage if they can get past the defensive line. South Carolina's linebacking corps and secondary are not nearly as polished—nor NFL-ready—as its defensive line.
Stopping the ground game will be the biggest key for South Carolina.
Prediction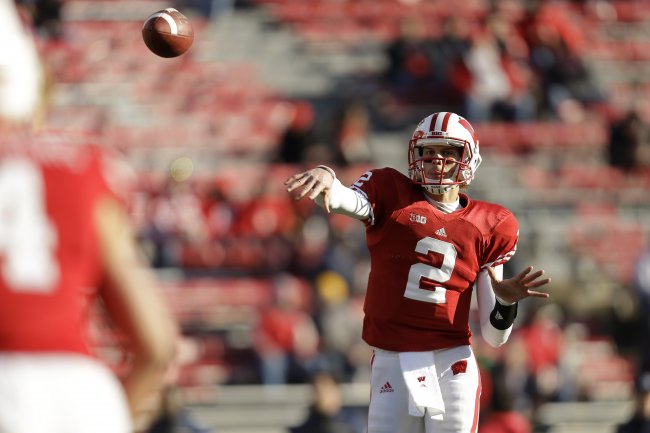 Mike McGinnis/Getty Images
The NFL draft hasn't distracted South Carolina's biggest star, and it's crucial that Clowney's head remains in the game at all times. On Dec. 17, Clowney told the AP that, "Right now, my mind's on the team, trying to finish the season off strong and win this game against Wisconsin."
Who takes care of business?
Without Clowney firing on all cylinders and focused throughout the game, the Gamecocks' chances for a win will suffer. Clowney is a dynamic playmaker on the defensive line, which is why he is a coveted NFL draft prospect.
Even so, a dynamic Clowney won't be enough to silence the Badgers. With the Wisconsin ground game working to move the chains, look for Stave to surprise the South Carolina defense with long plays over the top on play-action passes. Wide receiver Jared Abbrederis will be a key factor in the vertical passing attack.
Wisconsin will pick up an easy win, even if the score doesn't necessarily suggest such it.
Final score: Wisconsin 30, South Carolina 21