Ashes 2013/14: Player Ratings for Australia After 4th Test in Melbourne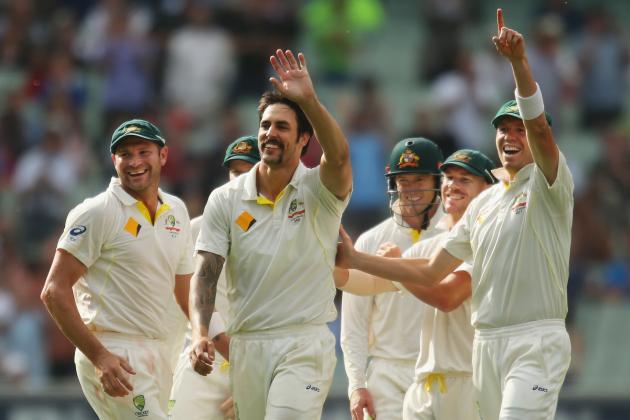 Scott Barbour/Getty Images

For a fourth consecutive match, Australia wrapped up another comprehensive victory over England, this time at the MCG in Melbourne.
Despite surrendering a first-innings lead after electing to bowl first, the home side blew their opposition away in the second innings, capturing England's final five wickets for six lonely runs to set up another cruise to the finish line.
Following their clinching of the urn in Perth, Australia could have been excused for dropping their standards somewhat, given the emotional expenditure seen at the WACA Ground.
However, this Australian side appears hell-bent on humiliating England, with their latest eight-wicket victory simply confirming the power shift that has occurred between the two teams.
Michael Clarke's side now head to Sydney for the final Test, looking to claim a 5-0 whitewash over their miserable-looking guests.
So after another lopsided Test, here's a look at the performances of each Australian player in Melbourne and how their efforts rated.
Begin Slideshow

»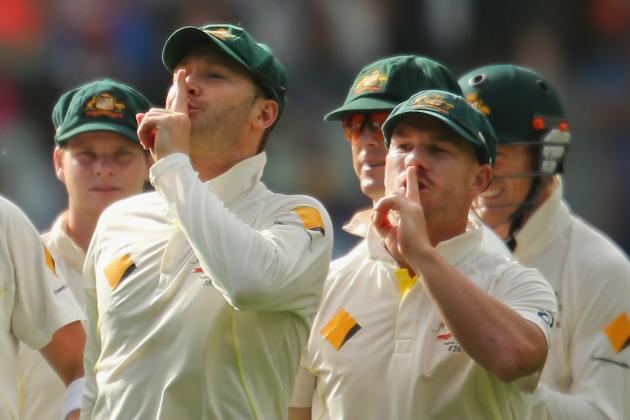 Scott Barbour/Getty Images

Before employing a rating system, it's important to outline the key criteria used to award those ratings.
Of course, sheer weight of runs and wickets will largely determine a player's match rating. However, the following factors also have a significant bearing on the rating of each player:
First-innings runs carry more weight than those scored in the second innings.
Runs scored in difficult situations are valued more highly than runs compiled when a team is well in front.
The captain will be judged on his performance in the field in addition to his other contributions with bat or ball.
Moments of brilliance or game-defining acts are looked upon favourably.
Performing to a high standard in conditions that don't suit a player's skill set boost a player's rating.
Acts of poor judgement, rather than poor execution, significantly hurt a player's rating.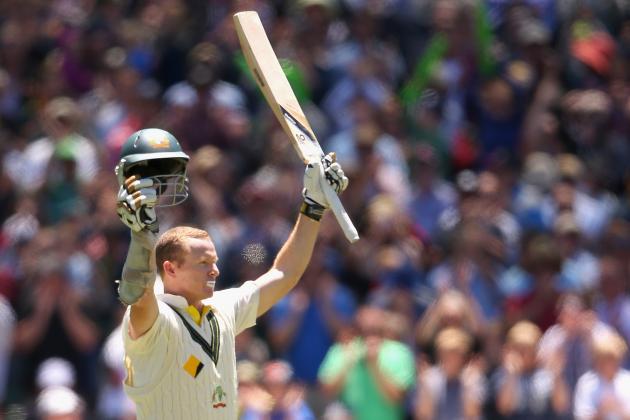 Quinn Rooney/Getty Images

With the bat: 61, 116
Rating: 8.5/10
Chris Rogers is perhaps the biggest feel-good story in this Australian side, coming from obscurity to land a prominent, vitally important role in the team at 36 years of age.
In Melbourne, the gritty left-hander was Australia's finest performer with the bat, compiling a steady 61 in the first innings as his teammates put together their worst effort of the series.
Without his contribution—made more impressive by the fact he was struck nastily on the head by Stuart Broad—Australia could have easy lost control of this match on the second day.
In the second innings, Rogers enjoyed the most significant innings of his career, cruising to fluent 116 to guide to his team home to a surprisingly comfortable victory.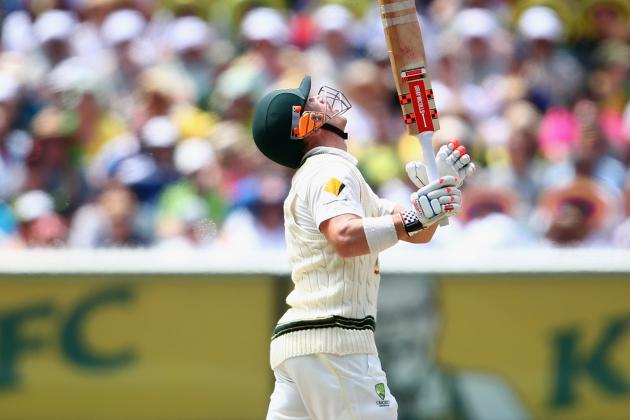 Ryan Pierse/Getty Images

With the bat: 9, 25
Rating: 2.5/10
Put simply, David Warner's first-innings effort at the MCG was one to forget.
After watching England fall for 255, Australia's blazing opener seemed to be in an inexplicable hurry to return to his old Twenty20 ways, offering a shot-a-minute showcase before top-edging a James Anderson delivery straight into the waiting hands of Jonny Bairstow.
While Warner is renowned for his attacking prowess, there appeared to be little in the way of measured thinking from the 27-year-old, as he gifted the visitors a wicket that helped them back into the match.
His performance in the second innings was more restrained, but he found himself caught behind just minutes after being dropped at first slip by Alastair Cook.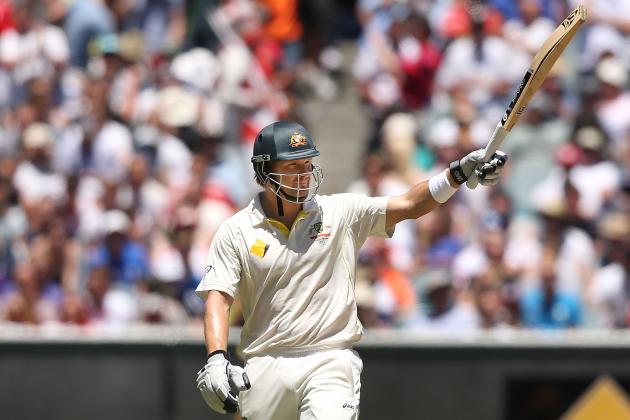 Michael Dodge/Getty Images

With the bat: 10, 83*
With the ball: 1/11, 0/13
Rating: 6.5/10
First-innings runs continue to elude Shane Watson, but his contribution alongside Rogers in Australia's successful second-innings chase can't be underestimated.
Had the bulky right-hander lost his wicket cheaply following Warner's dismissal, Australia might have felt a sudden sense of unease in their relatively small chase of 231.
However, Watson put together a fine 83 not out, not offering England the slightest chance to edge their way back into the contest.
Initially content to partner Rogers to his hundred, the all-rounder then powered Australia home with typically strong hitting.
Watson was also the man to remove Michael Carberry when the England opener appeared well set during the tourists' first innings.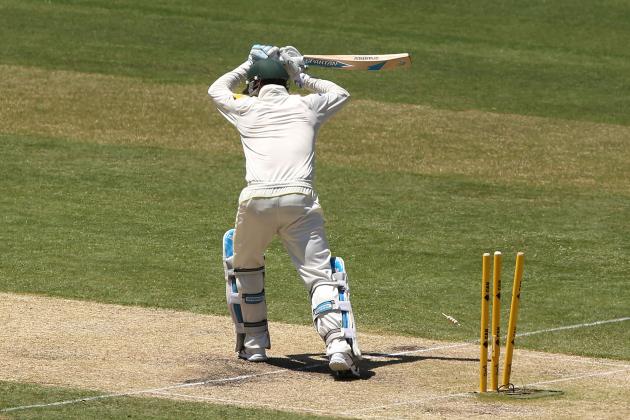 Michael Dodge/Getty Images

With the bat: 10, 6*
Rating: 4.5/10
Leaving a ball that cannons into your off-stump will never do wonders for your match rating.
In fact, when Michael Clarke erroneously left a hooping James Anderson delivery, England appeared to have wrestled control away from the dominant home side.
After dangerously electing to field, Clarke's dismissal highlighted the risk he took at the toss, given the pressures that are inherent when chasing a total of any size.
However, the Australian captain made up for his lack of runs and questionable decision at the toss by completing another masterful performance in the field.
His relentless pursuit of wickets, combined with an acute sense of where they might arrive, continues to elevate Clarke alongside the finest on-field tacticians the game has seen, which is evident in Australia's continual hammering of England's out-of-sorts tail.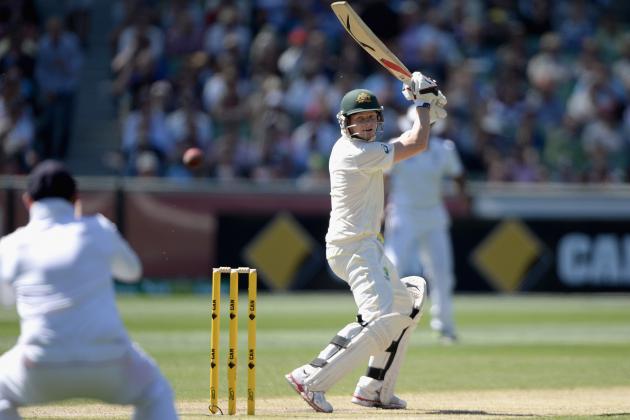 Gareth Copley/Getty Images

With the bat: 19, DNB
Rating: 4/10
Steven Smith will be bitterly disappointed with his first-innings dismissal, given that his wicket kick-started an Australian collapse on the second day of the Test.
After thriving in a pressure-packed situation in the third match in Perth, Smith appeared to be relishing the challenge again, steering the home side to 3-110 alongside the dependable Rogers.
Yet, just when Smith looked to have compiled a comfortable platform, the 24-year-old flashed at a wide one from Stuart Broad to hand a sharp catch to Ian Bell.
Like a lot of his teammates, Smith didn't get a chance to redeem himself in the second innings.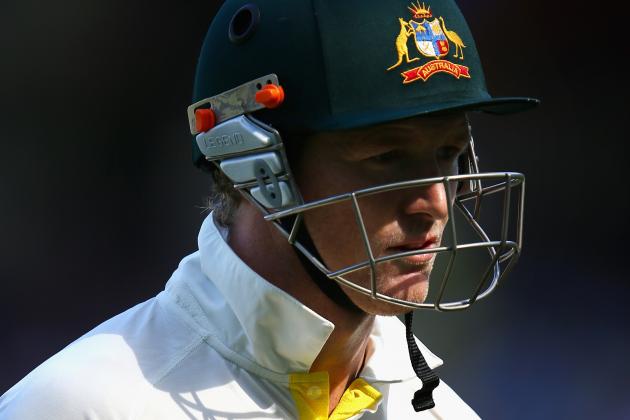 Ryan Pierse/Getty Images

With the bat: 0, DNB
Rating: 2/10
George Bailey's underwhelming performances in this Test series have been glossed over by the overall dominance of his team.
Yet, Bailey will begin to feel a degree of pressure, following another subpar performance in Melbourne.
Unable to break the shackles during his brief time at the crease, Bailey unconvincingly threw his willow at a ball outside off-stump, eventually being dismissed after a successful review by Alastair Cook.
While the right-hander has been a fortunate beneficiary of the complexion of the contest thus far, Australia's selectors will now have one eye ahead toward the tour to South Africa early in 2014.
Bailey will need runs in Sydney if he's any chance to maintain his place going forward.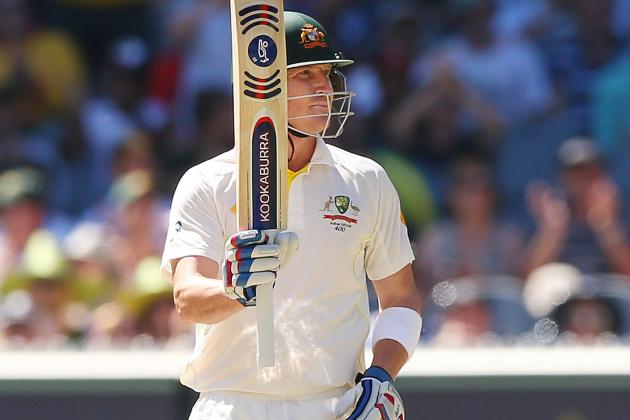 Michael Dodge/Getty Images

With the bat: 65, DNB
With the gloves: 3 dismissals
Rating: 7/10
Brad Haddin's ability to drag his side out of tricky situations is nothing short of remarkable.
With Australia desperately needing another rearguard action from their stubborn wicket-keeper, Haddin obliged once more, thumping 65 vital runs form just 68 balls to keep his side close enough to inflict later damage.
A final-wicket partnership of 40 with Nathan Lyon can be perhaps looked back upon as the defining period of the game, given the eventual result.
At 36 years of age, Haddin's time is approaching its end, making his late resurgence all the more incredible.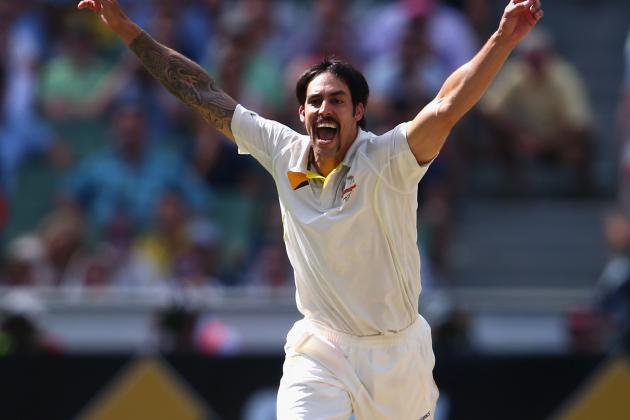 Ryan Pierse/Getty Images

With the ball: 5/63, 3/25
With the bat: 2, DNB
Rating: 8.5/10
Another Test, another Man of the Match award for Mitchell Johnson.
Now with 31 wickets from just four matches, Johnson again destroyed England in the first innings, obliterating the middle and lower order to reduce the visitors to a rather meagre total.
The savage left-armer also played a big part in England's second-innings collapse, claiming Jonny Bairstow to kick-start the tourists' surrender before wrapping it up with the wicket of Monty Panesar.
Although one Test still remains, it seems certain that Johnson will emphatically capture the Man of the Series award.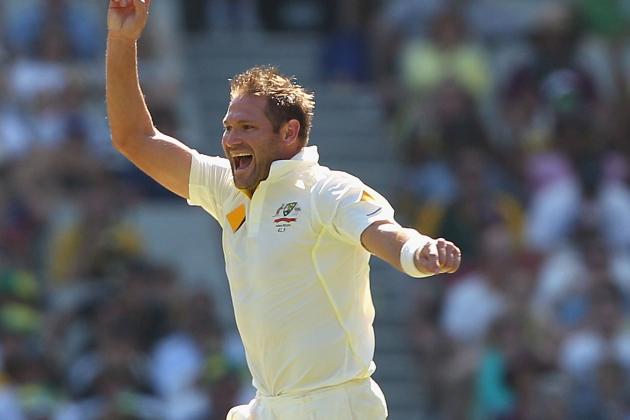 Robert Prezioso/Getty Images

With the ball: 2/47, 0/34
With the bat: 6, DNB
Rating: 5.5/10
Despite doubts over his fitness heading into the match, Ryan Harris was again a handful for England's batsmen in the first innings, claiming two wickets for 47 runs, from an impressive total of 24 overs.
Unrelenting in his impeccable line, England were never able to escape from Harris' grasp, as he put the clamps on to allow Johnson to perform the wrecking-ball duties at the other end.
However, Harris will be less than impressed with his performance in the second innings, which saw him quickly removed from the attack as Alastair Cook raced away in the early stages of the third day.
Although Harris will be desperate to play in the final match, selectors may consider resting the injury-prone speedster.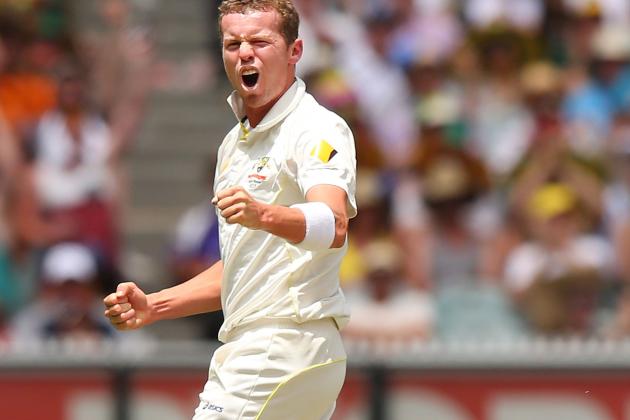 Michael Dodge/Getty Images

With the ball: 1/50, 1/46
With the bat: 0, DNB
Rating: 5/10
Peter Siddle, as he has done this whole series, completed another quietly effective performance in Melbourne, picking up key wickets in either innings while starving England of scoring opportunities.
In the first innings, he captured Cook caught behind after a bright start, while in the second innings he removed the stuttering Michael Carberry.
Although Siddle's efforts continue to be less than spectacular, his workman-like approach and unrelenting energy continue to aid the efforts of Australia's other bowlers, who are afforded the luxury of being able to continually attack.
Of course, Siddle will be desperate to claim the haul of wickets his performances have deserved, but with the lethal Johnson at the other end, he simply doesn't have to.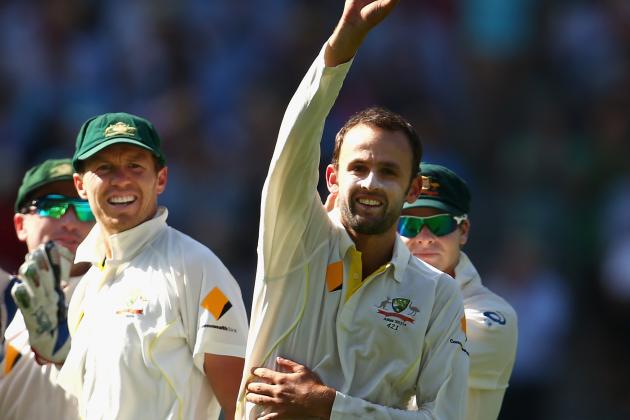 Ryan Pierse/Getty Images

With the ball: 1/67, 5/50
With the bat: 18*, DNB
Rating: 7.5/10
Nathan Lyon is unquestionably the most notable beneficiary of England's trepidation against Mitchell Johnson.
Time and time again, Lyon has unexpectedly picked up key wickets at crucial moments, resulting from Johnson's psychological hold over England.
Unable—or perhaps unwilling—to come out of their shells, Lyon can consistently probe away without the fear of being heavily targeted, seeing him restrict many of the visitors' batsmen before claiming their wicket.
That was again the case on the third day of this match, as England found themselves treading water, allowing Lyon to seize on their timid approach and claim an impressive haul of wickets.