Although the bigger matches of Week 19 do not take place until Sunday, there was plenty of action on Saturday to keep English Premier League fans satisfied.
Eight of the top 10 clubs in the league table entering the week are set to play each other on Dec. 29. This gave a few squads an opportunity to climb up the standings with favorable matchups against weaker opponents.
These contests were not always easy, but the better team came out on top in each case. The result is a league table that will look quite different when the week ends.
Here are the full scores from Saturday's action with a breakdown of the most important matches of the day.
English Premier League Results - Dec. 28

| | | |
| --- | --- | --- |
| Home | Score | Away |
| West Ham United | 3-3 | West Bromwich Albion |
| Aston Villa | 1-1 | Swansea City |
| Hull City | 6-0 | Fulham |
| Manchester City | 1-0 | Crystal Palace |
| Norwich City | 0-1 | Manchester United |
| Cardiff City | 2-2 | Sunderland |
via ESPN FC
Manchester City 1, Crystal Palace 0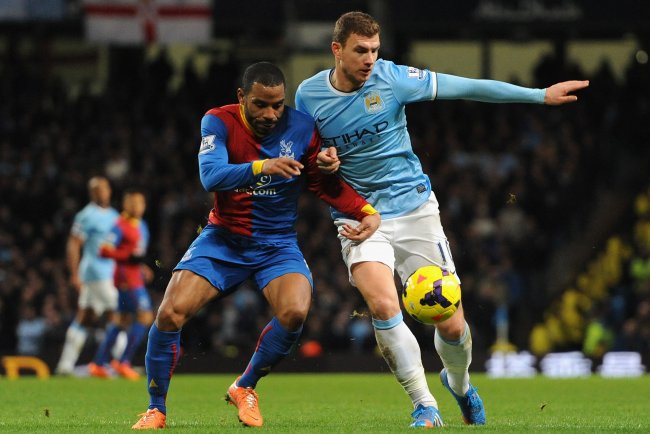 Clint Hughes/Getty Images
Heading into the match, this was expected to be the most one-sided battle of the week. Manchester City had a perfect mark at home with nine wins in nine matches and a goal differential of plus-31.
However, they had serious problems with Crystal Palace, which has not done much all year.
The first half ended scoreless, with the most notable event coming when goalkeeper Joe Hart received a gash outside of his eye on a collision early on:
PRIDE IN BATTLE: Joe Hart plays on despite receiving a cut eye in the first half #cityvpalace #mcfc pic.twitter.com/kDRVqkd9h4

— Manchester City FC (@MCFC) December 28, 2013
Hart remained in the match, and he was needed as the club could not afford any mistakes on defense. This was due to the struggles on offense, which could not score until Edin Dzeko came through with a score in the 66th minute:
Well, they took their time, but you knew it was coming. Navas spots Dzeko and it's a clinical finish with the side foot. Good stuff. 1-0

— FOX Soccer Trax (@FOXSoccerTrax) December 28, 2013
City could not get much else going as Crystal Palace were excellent defensively throughout the match.
Although the squad was able to earn three points in the match, Manchester City should be concerned about the inability to find the back of the net without leading scorer Sergio Aguero.
Manchester United 1, Norwich City 0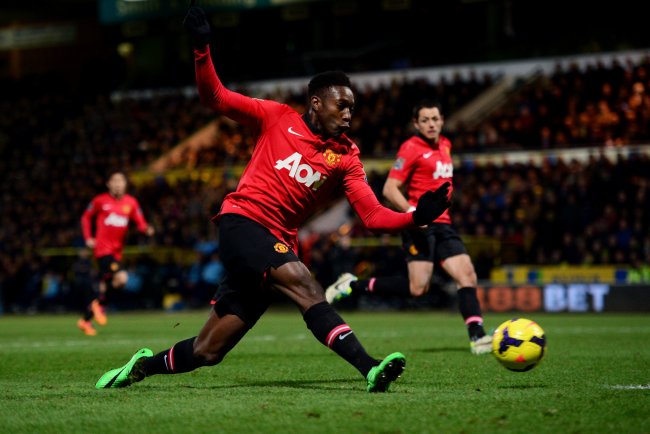 Jamie McDonald/Getty Images
Although Manchester United have not made things easy this year, they are slowly climbing up the table thanks to four wins in a row.
United held possession for the majority of the match, but they seemed to have little interest in attacking the net. A lot of this has to do with the tough schedule, as noted by Danny Welbeck:
Danny Welbeck tells #mutv: "It's hard physically and mentally to play twice in three days so we're really pleased to have got six points."

— Manchester United (@ManUtd) December 28, 2013
However, Welbeck ended up being the hero after coming off the bench in the second half. He scored the only goal of the match in the 57th minute, giving the road team a 1-0 lead. As OptaJoe points out, the forward has made a tremendous impact for his club as of late:
4 - Danny Welbeck has scored four times in his last four Premier League games for Manchester United. Impact.

— OptaJoe (@OptaJoe) December 28, 2013
Norwich City had plenty of opportunities to equalise, but they could not get their shots on the net, and it led to yet another loss. The club will remain on the bottom half of the table with a minus-16 goal differential that ranks among the worst in the league.
Hull City 6, Fulham 0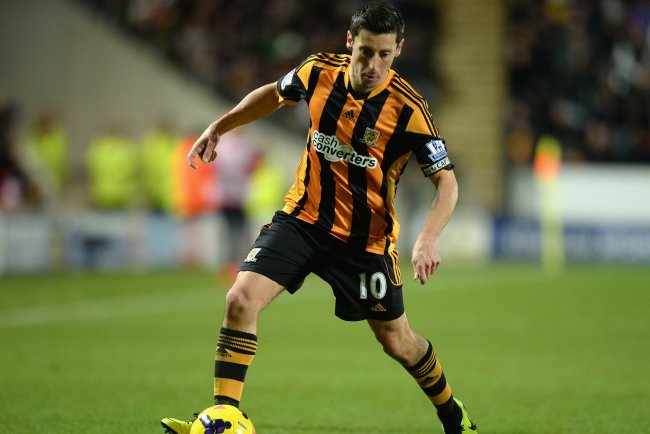 Tony Marshall/Getty Images
Over the course of the season, Hull City have had a couple of offensive outbursts, scoring three goals apiece in wins over Liverpool and Newcastle United. However, we have not seen anything like this all year.
Hull scored six goals with five different players to embarrass Fulham in a dominant effort. Robert Koren led the way with a brace while scoring the second and sixth goals.
Fox Soccer Trax piled on the mockery of Fulham:
FT Hull 6 (not a joke) Fulham 0 (kind of a joke)

— FOX Soccer Trax (@FOXSoccerTrax) December 28, 2013
Interestingly, this match was tied at halftime before the home side took over in the second half. The offense was able to do almost anything it wanted while getting 13 shots on goal.
Fulham have by far the worst defense in the EPL this season and have now allowed 41 goals in 19 matches. Unless something changes quickly, the once-proud squad could be heading toward relegation at season's end.
Follow Rob Goldberg on Twitter for the latest breaking news and analysis.