The Five Most Disappointing Moments in Carolina Panthers' History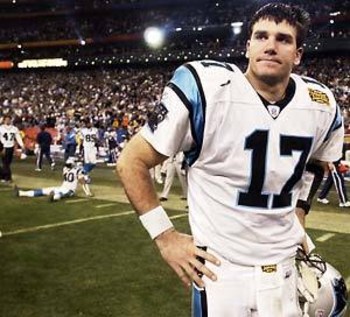 Sometimes I miss the dark ages between 1997 and 2001. When you have no reason to expect success, there's no reason to get disappointed.
However, with the arrival of coach John Fox in 2002, there's been an annual reason to be optimistic and plenty of instances of soul crushing disappointment.
That isn't to say there wasn't disappointment before Fox. This team has been ripping out my heart for the duration of its existence.
Here are the five moments that stand out most in my mind.
Wine and Cheese Crowd Loses to Cheese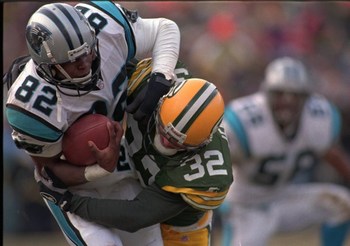 In the grand scheme of things, losing to the eventual Super Bowl champion in only your second year of existence as a team isn't too much to cry about.
In 1996, none of us understood how football was supposed to work. We didn't realize that the norm for the vast majority of teams was soul crushing defeat and unmet expectations.
We couldn't comprehend how incredible what the Panthers were doing truly was. We were spoiled out of our minds, and of course we expected the Packers to bow down to the mighty Panthers' defense and allow them into the Super Bowl.
That didn't happen.
The Panthers ran into a juggernaut that January day. They started well, ending the first quarter with a seven-point lead, but the Packers scored 17 in the second and didn't look back.
The Panthers' anemic offense, which consisted mainly of handing the ball off until they were in field goal range, was exposed.
Kerry Collins threw two interceptions and barely completed half of his passes.
Improbably, thousand yard Panther rusher Anthony Johnson and draft bust Winslow Oliver managed an embarrassing 46 yards on the ground.
On the other side of the line, the defense gave up 88 to Dorsey Levens and 99 to someone out of the stands named Edgar Bennett.
It shattered the spoiled hopes Panther fans had of a Super Bowl in their second year.
We were quickly consoled, however.
The Panthers were set up for a decade of dominance.
They had their young franchise quarterback in Kerry Collins, an explosive running back in Tsiamunga Biakabatuka waiting to come back in 1997, the brilliant Dom Capers, and a genius general manager Bill Polian who was committed to winning a championship in the Tarheel State.
Now excuse me while I go drink away the sorrows of my eleven-year-old self.
The Kick Off that Wasn't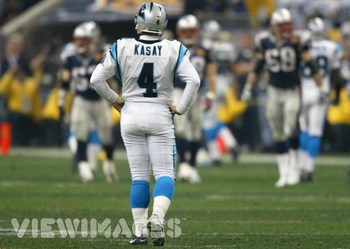 It'd be easy to cop out and say John Kasay kicking the fourth quarter kick off out of bounds was the worst moment in Panthers' history.
It'd be easy to pretend that the Panthers lost the Super Bowl because the Patriots only had to go fifty yards for their game winning field goal instead of seventy.
It'd be easy to lay the blame entirely on John Kasay's shoulders.
That isn't easy.
And it's certainly not a fun article to write.
The Panthers had no business being in the Super Bowl, let alone tied and in position to win it late in the fourth.
They had a miraculous run in the playoffs, preceded by a miraculous regular season that included Kasay winning four games with his foot in the final seconds.
The Panthers got nothing out of their running game that day with just 92 combined yards from Deshaun Foster and Stephen Davis.
Belichick completely befuddled the Panthers for the first three quarters, and if it weren't for a ludicrous 85 yard pass to Muhsin Muhammad it wouldn't have even been a game.
Two botched two-point conversions in the fourth still leave fans scratching their heads.
On New England's final drive, the Panthers coaching staff decided the best course of action was to completely open up underneath and let the Patriots walk into field goal range, apparently banking on either a blocked field goal and a win in overtime or a Rod Smart kick off return.
Let's not forget that Rod Smart did get a kickoff return. Instead of drawing up something creative, the coaching staff decided to let He Hate Me run right into a defender at the thirty.
As entertaining as the game was and as close as the Panthers ended up making it, hindsight reveals it as a horribly marred, poorly coached, and unlikely festival of big plays and even bigger blunders.
As far as the picture that accompanies the article, it's easier to find one of Kasay looking dejected than of Fox getting out coached.
The Vick Dive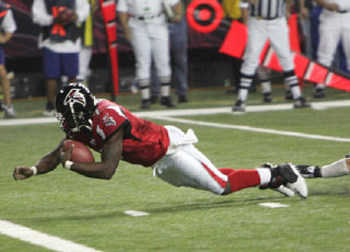 The Carolina Panther Ride managed to outdo itself in 2004, reaching gut wrenching lows and almost achieving staggering highs.
By the midway point, the Panthers were without their top four running backs, All Pro middle linebacker, All Pro defensive tackle, Pro Bowl wide receiver, and stood at 1-7 mere months after an improbable Super Bowl run.
Then Mark Fields hit his stride, Nick Goings went insane, and Muhsin Muhammad realized he was in a contract year.
Five wins later, the Panthers were the hottest team in the league, one game from .500, and in prime position to steal a wild card spot with games remaining against the pitiful Bucs and woeful Saints.
All that stood in their way were the cursed Falcons.
The game was incredible.
The Panthers got behind early but came back on the backs of Jake Delhomme and Julius Peppers. They finally tied the game after Peppers picked a loose ball out of the air and returned it 60 yards for a touchdown, and took the lead after Nick Goings ran it in from the five.
All they had to do was hold the Falcons in the final seconds of the fourth quarter, and for a moment it looked like they'd do it.
The Falcons had it at the Panther's ten, down seven, fourth down. The play quickly broke down, no receivers were open, and then IT happened.
http://www.youtube.com/watch?v=bKDEAx9Z3Q4#t=1m49s
Vick took off up the middle, dodged a couple of tacklers, then somehow levitated an inch off the ground for what seemed like thirty minutes before finally breaking the plane and tying the game.
The play was upheld after review.
Jake would then go on to throw a pick in overtime, and the Falcons would escape with a three point victory on their way to the NFC South crown.
The Panthers would beat the Bucs the following week before losing to a Saints team that put together a late season charge of their own, knocking the Panthers out of playoff contention.
It wouldn't have been necessary to beat the Saints at all if they'd simply remembered their kryptonite two weeks prior.
Stop Me Before I Get Picked Again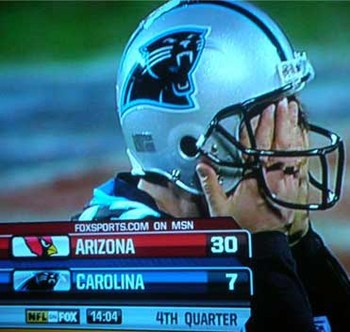 Generally, this game is completely verboten, but I can't write this article and not include it.
The Panthers rolled into the playoffs absolutely mauling people with their running game.
DeAngelo Williams had gone over 100 yards in six of their last eight games and scored a staggering 15 touchdowns in that same time span.
Stewart chipped in with five touchdowns and a stiff arm that Ronde Barber still has nightmares about.
Added to that, Delhomme had reached peak Jake.
He'd pulled out games against New Orleans and Green Bay with his typical "chuck and pray" passes to Steve Smith, and had the Panthers in position to beat the Giants in week 16 before an ill timed burst of wind sent John Kasay's game winning attempt wide right.
Surely they'd be able to beat a Cardinals team that moon walked into the playoffs that they'd already defeated in the regular season, right?
No.
Jake Delhomme had melted down twice in the regular season, (He threw four interceptions against the lowly Raiders and three against the Bucs) but tragedies occur in threes, and Jake decided to pick the playoffs to finish off his trilogy of ineptitude.
The Cardinals chose to sell out against the Panthers' running game, hoping they could cut off all the passes underneath and gambled against Jake's ability to beat them deep.
The strategy worked.
With the exception of the first drive, the Panthers' running game was kept mostly in check.
Bad Jake, however, was unleashed.
He threw five interceptions and lost a fumble inside his own ten. When the ball didn't hit Cardinals' defenders in the chest, it hit the grass.
He wasn't the only one who should have stayed in bed that day.
The Panthers' coaching staff dropped the ball in a way that Cardinals' cornerbacks didn't.
Larry Fitzgerald was allowed to run amok in the secondary, totaling eight receptions for 166 yards and a touchdown. It could have been worse if the Cardinals hadn't taken their foot off the gas in the third quarter.
In retrospect, we should have seen this game coming.
The Panthers' defense fell apart in the second half of the season. They were eaten alive by Aaron Rogers, Drew Brees, Matt Ryan, Jeff Garcia's corpse, and every running back on the Giants' roster.
The only thing that kept them from missing the playoffs entirely was DeAngelo Williams,their offensive line, and Steve Smith being Steve Smith.
Quarterbacks generally receive more blame and success than they deserve, and while Jake wasn't the only one at fault in this game, there was tons of blame to go around and he deserves a lot of it.
Now, let us never speak of this game again.
Concussions over Young Talent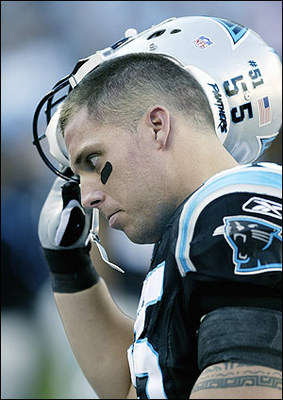 Let me just preface this by saying I have the utmost respect for Dan Morgan.
I do not want this to be at all misconstrued.
He was an absolute terror on the field, possessing a rare combination of cerebral acuity and savage brutality. He could diagnose an offense and lead a defense better than anyone.
The 2003 Super Bowl run and the 2005 NFC Championship appearance would not have been possible without him.
Unfortunately, he had the durability of a figure skater.
The problem came to a head after 2005, when the Panthers were faced with the choice between Morgan and Will Witherspoon—the young, talented, and versatile linebacker from Georgia.
Then, supposedly the Panthers offered contracts to both Morgan and Witherspoon, and Dan eagerly signed his.
Witherspoon declined, hit free agency, and found the Rams were willing to pay him slightly more than the Panthers.
The effect on the Panthers has been interesting.
I believe one of the reasons the Panthers allowed Witherspoon to walk was that they were confident 2005 first round pick Thomas Davis was capable of replacing him.
While it took Davis a while to adjust to the NFL and the linebacker position, (he mostly played safety in college) he has matured into a fine NFL linebacker.
An injury to Dan Morgan in 2006 prompted the Panthers to draft Jon Beason in 2007, who has quickly become arguably the best 4-3 middle linebacker in the league.
In 2008, the Panthers' linebacking corps is their deepest and possibly their best unit.
The immediate aftermath wasn't as pretty. 2006 was a disaster.
Dan Morgan made it all of 12 snaps before breaking himself. The eventual linebacking corps was a completely uninspiring combination of Na'Ill Diggs, Chris Draft, and a very raw Thomas Davis.
Even more interesting are the two defining factors we learned about the Panthers on that day. The first was the organization's preference for veterans.
This would rear its ugly head in 2007 with Fox's insistence of starting Mike Rucker, even when it was obvious to all observers that he could barely walk, let alone play defensive end.
More embarrassing and costly was Fox's refusal to start DeAngelo Williams over Deshaun Foster in 2006 and 2007.
DeAngelo was clearly the better player, both observably and statistically. Williams averaged 1.2 ypc more than Foster in 2007, for example, and had over 100 fewer carries.
On the plus side, Witherspoon is the only impact player drafted by the Panthers that has been allowed to hit free agency.
It's clear GM Marty Hurney learned his lesson.
Players like Chris Gamble, Jordan Gross, Julius Peppers, Steve Smith, and Chris Harris have all been locked up before they could hit the open market, even if the Panthers have had to slightly overpay.
Soon the Panthers will have to open up the checkbook again to lock up the next round of young talent, and the Panther fan in me hopes they're just as generous to Williams, Davis, center Ryan Kalil, and most importantly Jon Beason.
The key concern here is that Fox and Hurney's loyalty to Morgan—a player they didn't draft and couldn't be counted on—was given preference over a younger, more healthy, slightly more expensive player who was arguably just as good, if not certainly more versatile.
That's disappointing.
Keep Reading

Carolina Panthers: Like this team?