Tottenham look to get their Premier League campaign back on track when they take on an undermanned Stoke City.
The Potters will be without goalkeeper Asmir Begovic, who has a broken finger.
#SCFC Mark Hughes has just confirmed in his pre-match TV interview that Asmir Begovic broke a finger in training yesterday

— Stoke City FC (@stokecity) December 26, 2013
Hughes said: "A ball struck Asmir on the end a finger in the closing stages of training yesterday."

— Stoke City FC (@stokecity) December 26, 2013
Begovic has been one of the best keepers in the Premier League, so Stoke will be at a major disadvantage.
To make things worse, Glenn Whelan and Marc Wilson were sent off on Boxing Day against Newcastle United, so they'll be unavailable to Mark Hughes.
It's the exact kind of situation the sputtering Spurs need to get an extra boost heading into the match. They're five points off the top four, so it's not outside the realm of possibility they could sneak into the Champions League by the end of the season.
In order to do so, Tottenham need to find their form as soon as possible.
Getting three points on Sunday would be a great start.
When: Sunday, Dec. 29, at 11 a.m. ET; 4 p.m. GMT
Where: White Hart Lane, London
Watch
TV: Premier League Extra Time (US)
Live Stream: NBC Sports Live Extra (US)
Odds (courtesy of Bloomberg Sports)
Tottenham Win: 54.3 percent
Stoke City Win: 19.4 percent
Draw: 26.3 percent
Top Storyline: Will Tottenham show progress under Tim Sherwood?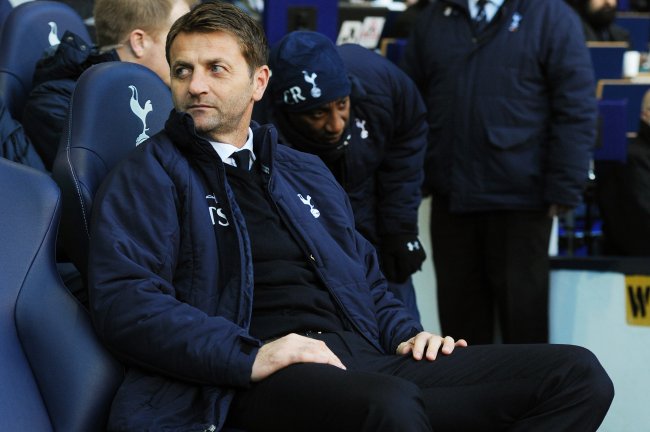 Steve Bardens/Getty Images
Many were surprised when Tim Sherwood was handed an 18-month contract so shortly after he had taken over for the sacked Andre Villas-Boas.
There's no doubt that hiring Sherwood on a full-time basis is a risk for Spurs. He's unproven as a senior-level manager, and his grasp on the tactical side of the game is rudimentary.
Regardless of the obstacles, the 44-year-old remains confident in his abilities, via Sky Sports:
It's a gamble because I've never done it before. But there are a lot of good managers who had never done it before and become a success. I was never a professional footballer until I stepped on to the field.
You could see where the more laid-back, casual approach of Sherwood is the perfect tonic following the siege mentality forged by Villas-Boas, coupled by his prickly demeanor.
Sometimes you need a manager to simply let the players play.
Harry Redknapp did that very well during his time at White Hart Lane. It's not a great long-term strategy, but it's helpful in the short term.
Roberto Di Matteo didn't try to reinvent the wheel when he replaced AVB at Chelsea. He gave his players more freedom on the pitch, and the Blues won the Champions League.
On talent alone, Spurs are a good side.
Bedding in so many players from the summer transfer window combined with Villas-Boas' high line and intricate buildup play have resulted in a Tottenham playing well below expectations.
You'd expect the first problem to be solved the longer the season goes on. The solution for the second one may come with Sherwood on the touchline.
Against a depleted Stoke, Spurs could well have the kind of encouraging result that sparks their season.
Prediction
Ian Horrocks/Getty Images
A full-strength Stoke side would have a hard time getting points against Tottenham. Away from the Britannia Stadium, the Potters have taken five out of a possible 27 points—the worst record in the league. Not having Begovic, Whelan and Wilson makes the job even more difficult.
Spurs should cruise to victory. They've never had a hard time keeping possession, and free from Villas-Boas' tactics, the players may be more willing to play a direct game and take more risks.
Stoke will get on the scoresheet, but the goal will come late, with the game already decided.
Tottenham 2, Stoke 1