NFL Playoff Predictions 2014: Projecting the Full Field After Week 17
Use your ← → (arrow) keys to browse more stories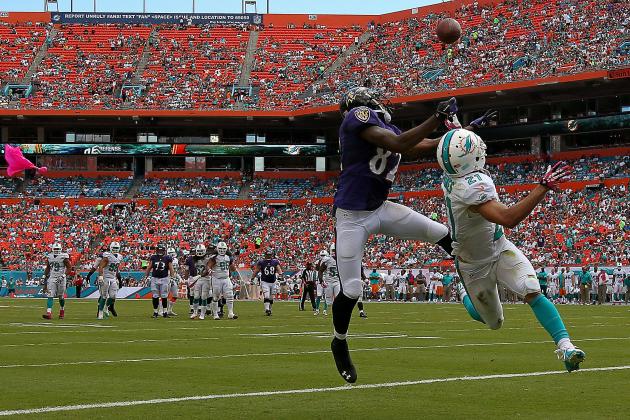 Mike Ehrmann/Getty Images
The AFC's final Wild Card is up for grabs.
With 13 of Week 17's 16-game slate holding playoff implications, there are still tons of potential postseason permutations. The playoff picture would actually look pretty simple if chalk holds this weekend, but being the NFL, that seems highly unlikely to occur.
Still, we will know the full postseason picture by the end of Sunday night, so it's worth trying to project what we might see in a week's time. It may be a foolish endeavor, but here's one prediction of what the final field will look like:
Playoff Field Projections After Week 17

| | |
| --- | --- |
| AFC | NFC |
| 1) Denver Broncos | 1) Seattle Seahawks |
| 2) New England Patriots | 2) Carolina Panthers |
| 3) Indianapolis Colts | 3) Philadelphia Eagles |
| 4) Cincinnati Bengals | 4) Green Bay Packers |
| 5) Kansas City Chiefs | 5) New Orleans Saints |
| 6) Miami Dolphins | 6) San Francisco 49ers |
via NFL.com
How exactly are we going to end up there? Let's try to rationalize some of these seedings based on Sunday's potential results.
Dolphins Earn Sixth Seed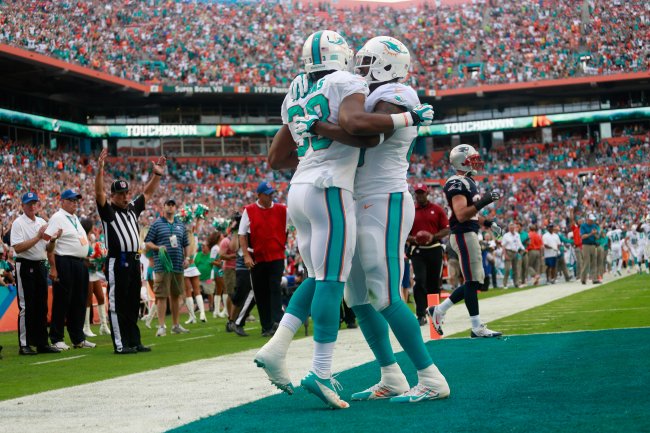 Chris Trotman/Getty Images
The race for the final AFC Wild Card is by far the most byzantine scenario, as none of the four contenders controls its own destiny. But long story short, the Dolphins would win any three-way tiebreaker between the three 8-7 teams: Miami, Baltimore and San Diego.
With their seasons on the line, all three teams should come through with wins. That would vault the Dolphins into the playoffs, where they would face off against the Indianapolis Colts instead of current third seed Cincinnati (more on that in a second).
The key for Miami's postseason hopes is its tenuous offensive line. In the 23-3 romp over the New York Jets four weeks ago, the unit played an excellent game, paving the way for 123 rushing yards against the league's top run defense. As David Neal of the Miami Herald elucidates, a similar effort will be critical against New York's tough front seven:
Dolphins coach Joe Philbin said he thought "the elimination of penetration" was the key factor in the Dolphins running the ball well on Dec. 1.

"We struggled early though," Sherman said. "In the first half, we were kind of back and forth, back and forth and didn't put up the points, or capitalize on some situations. They're a good run defense, they're a very good defense. We left that game, and we still felt like they were a good defense and looking at the tape again and they are a good defense. We have to go into this week and fix what was broke [Sunday] and come out snorting and ready to go against the Jets."
The Jets are playing better, but with the game in Miami, expect New York to wilt in the Florida sun as the Dolphins punch their first postseason ticket since 2008.
Packers and Eagles Win Do-or-Die Games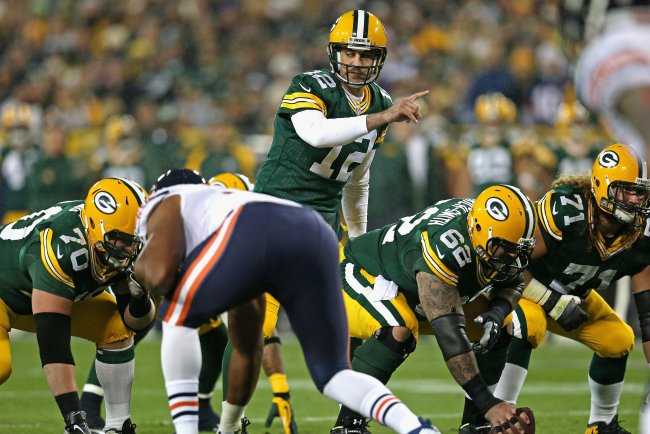 Jonathan Daniel/Getty Images
Green Bay and Philadelphia are both road favorites in their respective division championship contests on Sunday. The Eagles are a fairly solid bet to come through on that promise; they are clearly the better team, and with Tony Romo out for Dallas, that gap has only widened.
The Packers are a more dubious proposition. Aaron Rodgers will make his much-ballyhooed return to the field, but it's fair to question how effective he will be after seven weeks off. Fortunately for cheeseheads, the star quarterback will have help from his rookie running back:
McCarthy: I expect RB Eddie Lacy (ankle) to play.

— Tom Silverstein (@TomSilverstein) December 26, 2013
Eddie Lacy's availability is huge against a Chicago defense that has hemorrhaged yards in recent weeks. In the second half of the season, the Bears have conceded a ghastly 6.5 yards per carry, per Pro Football Reference. Green Bay is actually second on that list, yet it has only given up 5.2 yards per rush.
Chicago will need a better performance from Jay Cutler and the offensive line. The Bears should be able to put up points against a Packers defense that will not have Clay Matthews, but whether they can control the clock and score enough to keep up with Green Bay is a different matter. Ultimately, Chicago is far more flawed, and even with a rusty Rodgers, the Packers are the better squad and will earn the NFC's fourth seed.
Bengals and Colts Switch Places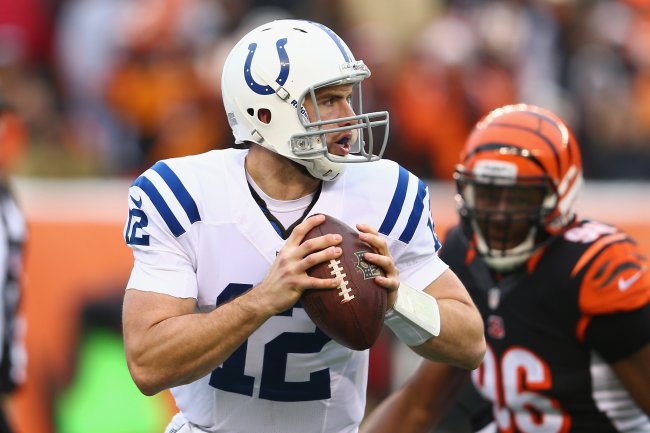 Andy Lyons/Getty Images
Those three games comprise the trio of playoff slots still up for grabs, but there are still some seeding implications to sort out. While the Denver Broncos are the only team to have clinched a first-round bye, the Seattle Seahawks, Carolina Panthers and New England Patriots should take care of their games to seal a weekend off.
That leaves Cincinnati and Indianapolis as the two playoff teams most likely to switch playoff spots. This is relatively simple—if the Bengals fall to the desperate Baltimore Ravens and the Colts brush off the moribund Jacksonville Jaguars, Indy will earn the third seed.
This potential switch is more than mere semantics, as Kansas City looms as the opponent for the fourth seed. The 11-4 Chiefs have slumped in the second half, but they still have dangerous playmakers who are capable of pulling off a road win. Unless the hard-charging Steelers or Chargers somehow sneak in, the Chiefs appear to be the most dangerous Wild Card squad.
Moreover, even if the fourth seed were to defeat Kansas City, a trip to Denver would threaten in the divisional round. Admittedly, Foxboro is no walk in the park, but the Patriots have shown a proclivity to play close games, regardless of the opponent. Playing New England offers the promise of at least a fourth-quarter opportunity, whereas the Broncos have won by an average of 12.5 points per game.