Teams that are hoping to qualify for the playoffs this season have one more hurdle to clear as Week 17 looms large. With so much left to be decided regarding the playoff picture, essentially every game on the slate figures to be both competitive and meaningful.
Some teams need to win more than others, though, and that has clearly been taken into account when it comes to the point spreads. Some of the spreads seem higher than usual due to the desperation that will be on display, but that doesn't mean that having a successful betting weekend is out of the question.
Here are three bets in particular that will prove to be savvy by the time Week 17 of the NFL season comes to a close and teams start preparing for the playoffs.
NFL Week 17 Picks Against the Spread

| | | | |
| --- | --- | --- | --- |
| Away Team | Home Team | Spread | Pick ATS |
| Carolina Panthers | Atlanta Falcons | CAR (-6.5) | ATL |
| Houston Texans | Tennessee Titans | TEN (-7) | HOU |
| Cleveland Browns | Pittsburgh Steelers | PIT (-7) | PIT |
| Washington Redskins | New York Giants | NYG (-3.5) | WAS |
| Baltimore Ravens | Cincinnati Bengals | CIN (-6.5) | BAL |
| Jacksonville Jaguars | Indianapolis Colts | IND (-10.5) | IND |
| New York Jets | Miami Dolphins | MIA (-5.5) | NYJ |
| Detroit Lions | Minnesota Vikings | MIN (-3) | MIN |
| Green Bay Packers | Chicago Bears | GB (-3) | GB |
| Buffalo Bills | New England Patriots | NE (-8) | BUF |
| Tampa Bay Buccaneers | New Orleans Saints | NO (-12) | NO |
| Denver Broncos | Oakland Raiders | DEN (-11) | DEN |
| San Francisco 49ers | Arizona Cardinals | SF (-1) | SF |
| Kansas City Chiefs | San Diego Chargers | SD (-10) | KC |
| St. Louis Rams | Seattle Seahawks | SEA (-11.5) | SEA |
| Philadelphia Eagles | Dallas Cowboys | PHI (-6.5) | PHI |
Spreads courtesy of Vegas Insider
New Orleans Saints (-12 vs. TB)
There is no question that Week 16 was disappointing for the New Orleans Saints and their fans, as a road loss to the Carolina Panthers knocked the Saints down to the No. 6 seed in the NFC.
New Orleans had been in firm control of the NFC South all season long. However, it no longer controls its own destiny in that regard. The Saints do control their own destiny in terms of reaching the playoffs, though; all they need to do is defeat the Tampa Bay Buccaneers at home, as pointed out by NFL Network's Rich Eisen.
Beat the 4-win Bucs at home is the easiest path. RT @antthebig: @richeisen scenarios for the saints to clinch a playoff spot?

— Rich Eisen (@richeisen) December 24, 2013
The Bucs have definitely been a much better team down the stretch compared to how they performed during the first half of the season, but this is a game that the Saints have no business losing.
New Orleans has had its issues on the road, and that is definitely a concern heading into the playoffs, but it is undefeated within the friendly confines of the Superdome. The Saints are a different team at home, and conventional wisdom suggests that the Buccaneers will be no match for them in Week 17.
Even though the Saints' Jekyll and Hyde nature might prevent them from enjoying playoff success, they should be able to provide some offensive fireworks against Tampa Bay. Quarterback Drew Brees has been dynamite at home this season, as has tight end Jimmy Graham.
Also, the Bucs don't have the horses necessary to run with New Orleans on the turf. Rookie quarterback Mike Glennon has definitely had his moments, but he can't go shot for shot with Brees. Although laying 12 points in a divisional game is tough, the Saints should roll in this one.
Kansas City Chiefs (+10 at SD)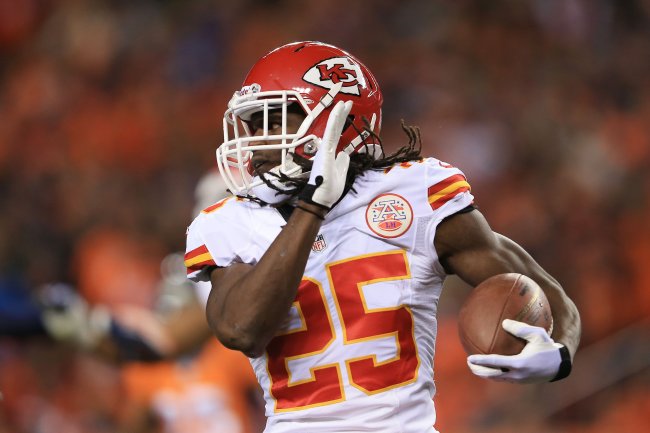 Doug Pensinger/Getty Images
The Kansas City Chiefs have been among the NFL's most pleasant surprises this season, and they'll have an opportunity to build upon that come playoff time. The Chiefs have already qualified for the postseason, and they are the one team that can't rise or fall in relation to their current standing.
KC is locked in as the No. 5 seed in the AFC, which means it will face either the Indianapolis Colts or Cincinnati Bengals on the road in the first round of the playoffs. That also means that the Chiefs can afford to rest their starters in Week 17 if they so choose.
Head coach Andy Reid has remained coy about his intentions regarding how much his starters will play. According to KCChiefs.com, Reid would only say that everyone will be ready when called upon.
I'm going to play them. We're going to play. That's what we're going to do. We're coming to play. Everybody got themselves ready to work. I'll make that decision when we get there. Right now, everybody is practiced and ready to play.
The San Diego Chargers are certainly hoping that Reid decides to pull his starters early. The Bolts are still in playoff contention, but they need to win in Week 17, and they need some outside help as well. The oddsmakers clearly expect the Chargers to take care of business, and they expect to Reid to play conservative too, as evidenced by this information, courtesy of CSNBayArea.com's Ray Ratto.
Actually opened at 7 1/2, and then went to 10. RT @DavidJGascon: Hmmmm Chargers open up week as 10pt favorites against Chiefs

— Ray Ratto (@RattoCSN) December 23, 2013
It is obvious that the Chargers have more motivation to win, but it's difficult to imagine the Chiefs simply allowing San Diego to roll over them. Reid's team definitely has pride, and there is no reason why it can't stay within 10 points regardless of how long the starters play. There is a lot of uncertainty surrounding this game, but taking the Chiefs receiving 10 points is simply too good to pass up.
Atlanta Falcons (+6.5 vs. CAR)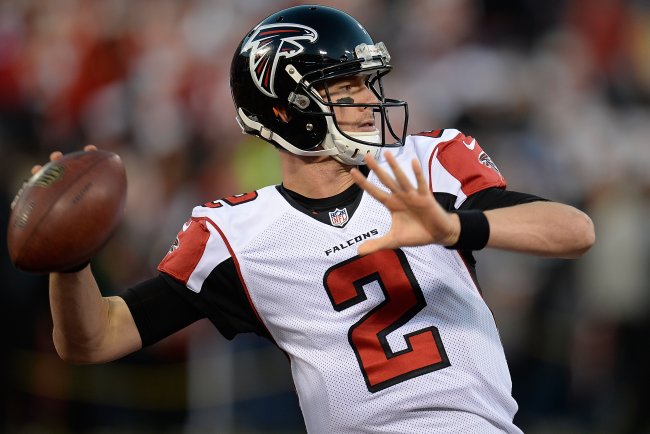 Thearon W. Henderson/Getty Images
Which team is most likely to cover the spread in Week 17?
After scoring an emotional victory over the Saints in Week 16, the Panthers are one win away from clinching the NFC South as well as a first-round bye in the playoffs. In order to do so, they must beat the 4-11 Atlanta Falcons, which doesn't seem like a particularly difficult task on the surface.
The Falcons are still a very talented team that came extremely close to reaching the Super Bowl one year ago, though, and they have been playing much better football over the past month. With that in mind, Carolina won't be able to waltz into Atlanta and leave with a win without fighting for it.
For starters, the Falcons have been a far more dangerous team at home this season. Their 3-4 home record leaves something to be desired, but they have stayed within at least one score of the opposition in every home game except one. That would seem to suggest that giving Atlanta 6.5 points is quite generous. That is especially true when you consider the fact that Panthers wide receiver Steve Smith almost certainly won't play, according to ESPN's Adam Schefter.
Panthers HC Ron Rivera said WR Steve Smith has a PCL sprain and is highly doubtful for Sunday's game at Atlanta.

— Adam Schefter (@AdamSchefter) December 23, 2013
Smith hasn't had a great season by any means, but his absence really hurts the Panthers' offensive depth. The Falcons are 2-2 in their past four games, including a one-point loss to the Green Bay Packers along with a near miss against the San Francisco 49ers in Week 17.
The Panthers are likely to win this game since they need it badly, but Atlanta's recent play suggests that it will be much closer than the 6.5-point spread.
Follow @MikeChiari on Twitter