While NFL fans are currently concerned with the "who" in terms of teams that will fill out the postseason field, it's not too early to start thinking about the "what" and "when" of the 2014 playoffs.
The matchups are not set yet, but the schedule and game times have already been in place for months. If you're unfamiliar with the format, there will once again be a Saturday-Sunday four-game feast through the first two rounds, with 4:30 and 8:00 games on the first day, and 1:00 and 4:30 games the following afternoon. Below are all the dates to know for each round:
NFL Playoff Schedule

| | |
| --- | --- |
| Round | Date(s) |
| Wild Card | Jan. 4-5 |
| Divisional | Jan. 11-12 |
| Conference Championship | Jan. 19 |
| Super Bowl XLVIII | Feb. 2 |
via NFL.com
So what are the most likely matchups that fans will end up seeing? Here are a few predictions and previews for potential games we might see.
Wild Card Round: San Francisco 49ers @ Philadelphia Eagles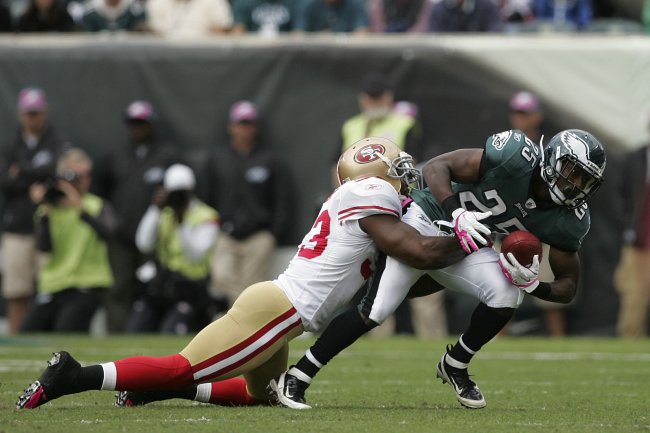 Rich Schultz/Getty Images
A Niners-Eagles first-round game might showcase a throwback to the days when running the ball was the primary catalyst for a successful offense. Both teams are in the top five of rushing attempts per game and yards per game, and in the top 10 of yards per attempt.
LeSean McCoy: 3rd player in Eagles history with 2,000 yards from scrimmage in single season (Brian Westbrook, Wilbert Montgomery)

— ESPN Stats & Info (@ESPNStatsInfo) December 23, 2013
The funnest chess match would pit dynamic Philly back LeSean McCoy against San Francisco's roaming middle linebacker tackling machines, Patrick Willis and NaVorro Bowman. After some early struggles, the 49ers have not allowed more than 114 yards rushing to any opponent since their Week 9 bye. Conversely, the Eagles have hit that mark in 10 of their 15 games this season.
And though the Eagles defense does not hold the same reputation, they've steadily improved in Chip Kelly's new 3-4 system—a 48-point debacle against Minnesota notwithstanding.
After conceding at least 350 total yards in each of their first seven games, the Eagles have held opponents below that threshold in four of their past seven contests. They would present an underrated challenge to Frank Gore, Colin Kaepernick and the rest of an improving Niners offense, especially at home.
Divisional Round: New Orleans Saints @ Seattle Seahawks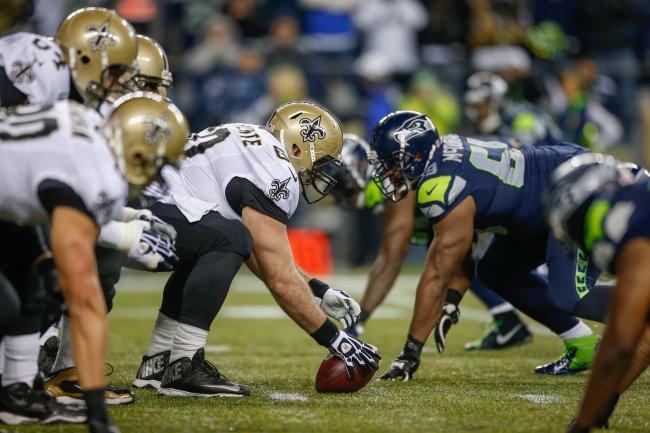 Otto Greule Jr/Getty Images
We've already seen this matchup, and it wasn't pretty when the Seahawks pasted the Saints on Monday Night Football by a humiliating 34-7 tally. Despite that game, though, these teams are a lot more similar and evenly matched than the aforementioned score would indicate.
For one, both offenses are limited by weak and/or injury-plagued offensive lines, which have stifled their dynamic quarterbacks in recent weeks. In spite of that, Drew Brees and Russell Wilson have managed to post fantastic seasons, earning Pro Bowl berths through a spread-the-wealth passing mentality.
The teams even have similar roster construction philosophies, per SI.com's Doug Farrar:
"I've asked Carroll and Schneider about that philosophy several times over the last four seasons, and two main points keep coming up—be sure that you're matching your roster to your overall schematic philosophy, and focus more on what your players can do than what they can't. That second point is subtle and underrated, but the list of general managers and coaches throughout history who become risk-averse and profoundly negative about prospect talent as a result is long, sad and usually not long for the position. When I asked Payton about the Saints' philosophy this week, the same things came out."
Given another chance, it seems unlikely Brees and the Saints would replicate their prime-time ignominy of the regular season. Even with undeniable road woes, New Orleans is a lot closer to Seattle than many may perceive.
Conference Championship: New England Patriots @ Denver Broncos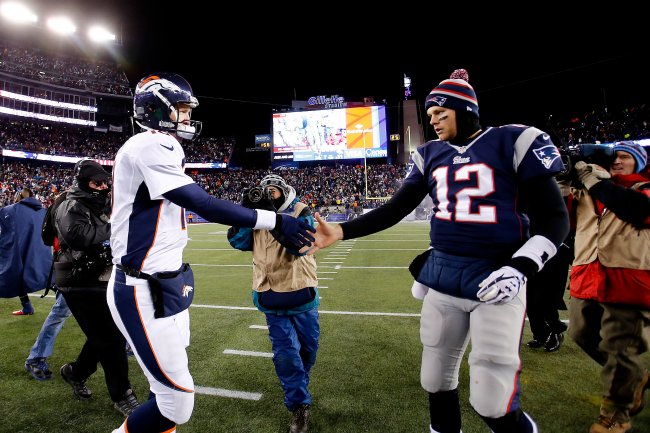 Jim Rogash/Getty Images
Tom Brady-Peyton Manning XIV certainly did not disappoint, giving us a bizarre turnover-filled overtime classic. A rematch in the AFC Championship looks likely, as both teams are in position to earn first-round byes against underwhelming conference competition.
The fourth playoff meeting between Brady and Manning would likely be a barnburner. Even with an astounding seven combined turnovers, the teams still combined to produce 65 points and 852 yards combined.
Furthermore, with injuries plaguing each of their respective defenses, it's hard to imagine those units forging much resistance:
Highest Team PPG in QB Starts (since 1950) - Aaron Rodgers 28.2, Tom Brady 28.0, Peyton Manning 27.2 (via @eliassports)

— ESPN Stats & Info (@ESPNStatsInfo) December 27, 2013
The rivalry has always been about supremely talented quarterbacks one-upping each other.
After Brady dominated the head-to-head win tally early, Manning rallied in the middle of the aughts. When Peyton set the touchdown record in 2004, Tom broke it three years later, only to see Manning set the record anew this past Sunday. For his part, Brady was nothing but congratulatory, per WEEI's Jerry Spar:
"It's a lot of touchdown passes. It's hard to throw one in a game. To throw four or five or six, like what he's done over this year...I remember in 2007 we were throwing them and it was like, 'Oh, my God.' You play all these years where you have not a lot of touchdown passes and all of a sudden you're just throwing four a game. It's pretty incredible. Like I said, it's a credit to that offense. And certainly, Peyton is one of the greatest ever to play the game. And you see what he's capable of. They've just done a great job offensively."
And yet, as openly competitive as Brady is, he is undoubtedly looking for a way to usurp his biggest rival's best statistical season. Eliminating him from the postseason for a third time would certainly accomplish that.