Ranking the NBA's Best 2nd Units in 2013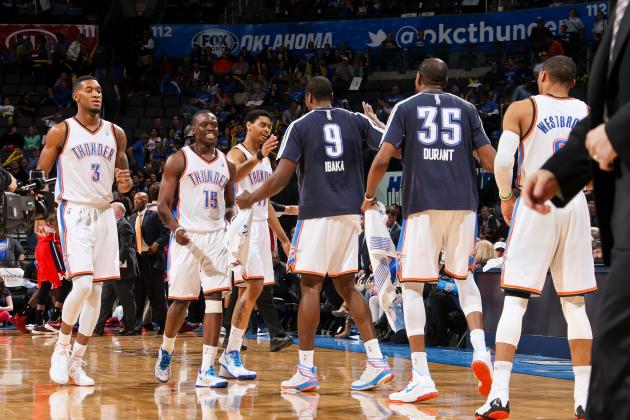 Layne Murdoch/Getty Images
The Thunder stars are very thankful for their bench's performance this year.
It has been a disappointing year for a lot of major bench players from last season. However, that makes it all the more important for teams' second units to separate themselves from the pack.
The league's best reserve crews are going to help their teams through the grueling schedule coming up, having honed and adjusted themselves through the final months of 2013.
These groups not only feature strong individual players earning big minutes, but they also form a cohesive unit. That allows larger groups of starters to get regular rest in games. In turn, that is going to keep a good team successful in the long run.
Begin Slideshow

»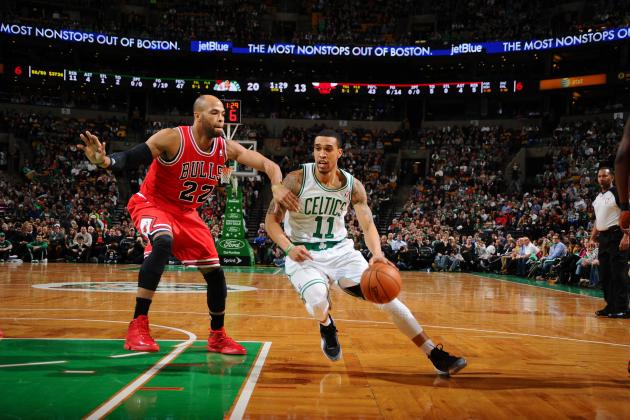 Brian Babineau/Getty Images

13. Chicago Bulls
It is tough to decipher who is a reserve on a team plagued by injuries, but Taj Gibson and Mike Dunleavy are living up to their duties nicely. Even freshly acquired D.J. Augustin has been a pleasant surprise.
12. Minnesota Timberwolves
We've only had a small sample size, but Luc Richard Mbah a Moute has brought more consistency than Derrick Williams. Pairing him with J.J. Barea and Dante Cunningham could prove fruitful down the line, especially when Chase Budinger finally returns.
11. Memphis Grizzlies
If it weren't for Jerryd Bayless bringing the unit down, this might be a top second unit. Mike Miller has been great, though he may be playing too many minutes. Kosta Koufos has been excellent as a reserve big as well.
10. Portland Trail Blazers
When assembled, this unit looked very good on paper, but we've yet to see it all come together. Mo Williams is having a solid individual year, but overall, this group is being saved by an outstanding starting five.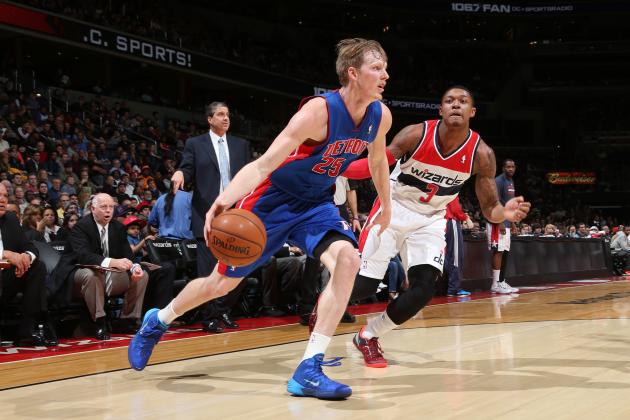 Ned Dishman/Getty Images

The Detroit Pistons haven't gotten off to such a hot start as a team, sitting at 14-18 on the year.
However, a lot of that can be pawned off on the starting backcourt's troubles. Their bench has actually been satisfactory.
Rodney Stuckey leads a fairly productive crew of reserves for the Pistons, serving as Detroit's third guard. In 27 games off the bench, Stuckey is posting 14 points on 45.3 percent shooting in 26.3 minutes. Compare that to starting point guard Brandon Jennings' 39.7 percent clip. A volume scorer having a good shooting season is a scary prospect.
"You see the first couple go in and you just go from there," said Stuckey to MLive.com's Brendan Savage after a recent win. "Just happy we came out with the victory."
Kyle Singler is another major contributor off the bench. He has played in all 32 of the Pistons' games, starting just once. The second-year man out of Duke is a hard worker, averaging 8.2 points and 3.3 rebounds in his allotted 23.1 minutes a night.
Will Bynum has been just average while backing up the point guard spot, seeing his numbers inflated by a handful of good starts.
The reserve crew in Detroit doesn't boast a ton of height, and doesn't need to due to their starting frontcourt, but Jonas Jerebko and Josh Harrellson have been solid when given the opportunity to play.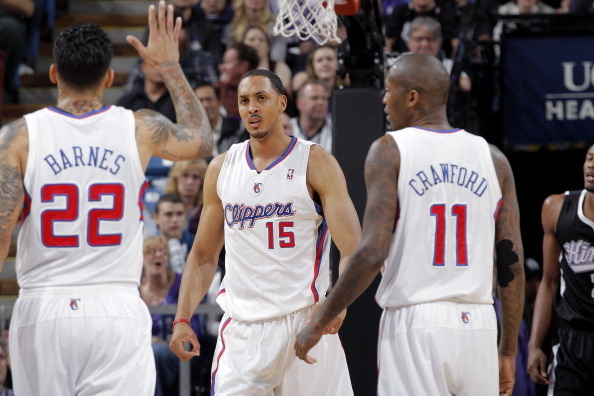 Rocky Widner/Getty Images

The Los Angeles Clippers bench is having a wide array of varying individual seasons.
For the most part, it hasn't been all that impressive, but a few players go a long way in the NBA.
Jamal Crawford has had to replace an injured J.J. Redick in the starting lineup but was a very productive backup yet again for much of 2013.
In 24 games off the bench, Crawford was averaging 16 points and 2.5 assists, business as usual for the veteran. He is much more suited to that type of controlled-minute role, shooting 43.4 percent from the field. That number drops below the 40-percent mark when Crawford suits up to start.
We're also giving Matt Barnes the benefit of the doubt, while the veteran wing works himself back into the fold. He has played in only 13 of the Clippers' 32 games thus far, coming off the bench in each one. His overall numbers aren't great, but in five games since returning from retinal surgery, he has been much better.
"It's been hard for me to catch a rhythm all season, being hurt during the summer time, training camp and up to now," Barnes told Broderick Turner of the Los Angeles Times.

Other Clippers have been varying levels of disappointing or forgettable. Willie Green hasn't amounted to much more than a liability, while Darren Collison and Ryan Hollins are marginal contributors at best. However, if Barnes makes a full recovery and Crawford can slide back to the bench, LA only needs one other to step up every so often.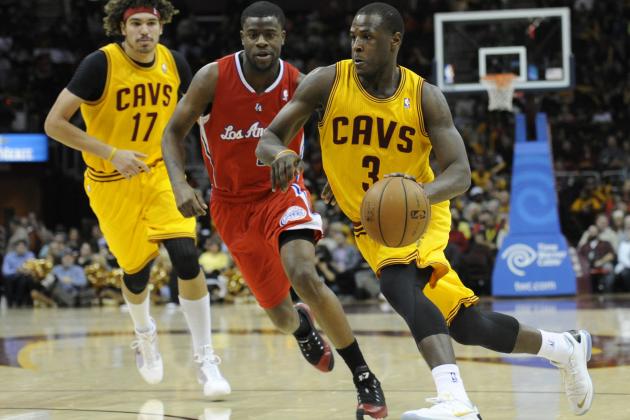 David Richard-USA TODAY Sports

Unfortunately, due to a lack of health and talent in their starting lineup, this quality bench created by the Cleveland Cavaliers has recently been dismantled.
However, for most of 2013, Dion Waiters and Anderson Varejao were reserves for Cleveland, along with Jarrett Jack and others.
With C.J. Miles having a rough go of it as the starting shooting guard, Cleveland was forced to move Waiters back alongside Kyrie Irving for stretches of the year. Waiters has stood tall as a third guard, though, averaging 16.3 points in 29.6 minutes a night. He is shooting 46.2 percent off the bench, which has plummeted in games he starts.
Varejao has had to replace a disinterested and suspended Andrew Bynum, but he has averaged 7.2 points and 9.4 rebounds per game off the bench. He has worked his way back into shape after returning from a long injury absence and is potentially one of the best backup bigs in the NBA.
"To have the right balance for our group, it would be best if [Varejao] played with the second unit," MIke Brown told Bob Finnan of The News-Herald. "He brings so much to the table as a veteran for us. In terms of starting the game or being a mainstay with the second unit, Andy was the best big for that."
Jack earned a ton of respect for his performance on the Golden State Warriors' second unit last season. While he hasn't totally lived up to the big contract Cleveland awarded him, he has been a productive reserve. In 29 games, he is posting 10 points and 3.7 assists in 27.2 minutes. He isn't shooting particularly well, but 41.8 percent is acceptable given the leadership and steadying hand he gives.
Tyler Zeller hasn't been utilized much by Brown after a solid rookie season but should be in line for more minutes with Bynum out.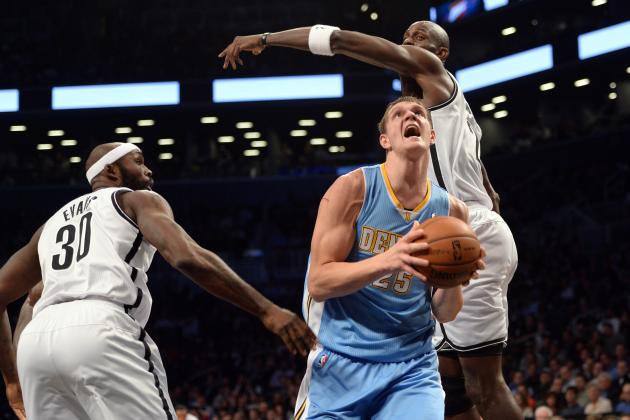 Joe Camporeale-USA TODAY Sports

As some of their starters struggle and the team waits to get fully healthy, the Denver Nuggets' bench has helped keep them alive in the Western Conference.
The Nuggets have been without both Danilo Gallinari and JaVale McGee for essentially the entire season, forcing reserves to start. However, the second unit has maintained its productivity despite pieces being taken away.
Timofey Mozgov has been the unit's standout, as the big center seems to be putting things together in his fourth season. At 7'1", Mozgov has the opportunity to be a dominating force, and he has been exerting some of that on second units throughout the league.
"Timofey Mozgov has been playing lights out, rebounding the ball, scoring the ball," head coach Brian Shaw told NBA.com's Aaron J. Lopez. "We're coming along. I'm happy at the progress that we're making, especially in light of the fact of how we started out the season at 0-3."
He is averaging 8.4 points and 6.2 rebounds in his 20 minutes per game. Mozgov has played in 29 games, earning three starts.
Free-agent acquisition Nate Robinson has been typically unpredictable for Denver but has definitely had a hand in winning the team some games. The journeyman guard is posting 10.5 points in 20 minutes per game, coming off the bench in all 29 of his appearances.
Andre Miller is a steadying influence as always, contributing six points and 3.4 assists to the second unit. Jordan Hamilton and Anthony Randolph have also added athleticism to the wing position.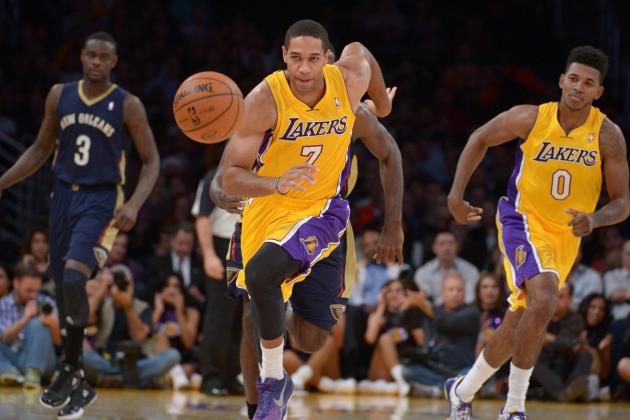 Kirby Lee-USA TODAY Sports

Ideally, Nick Young and Xavier Henry are second-unit players for the Los Angeles Lakers. Unfortunately, circumstances like injuries to Kobe Bryant, Steve Nash and others have periodically forced the two into the starting lineup.
However, for the majority of 2013, both have been incredibly productive bench players. In 24 games off the bench, Young was averaging 17.5 points in 28.9 minutes. Overall, he is having what could be a career year, shooting 43.7 percent from the field and popping nearly two threes (1.7) a game.
Perhaps Young's best trait this season has been a willingness to listen and learn. According to Bleacher Report's Kevin Ding, Young has been taking advice from Kobe Bryant.
"Kobe's been helping me out with it," Young told Ding. "Me just learning, getting older, finding out how to do everything out there on the court."
Henry is still on the bench but earned a few starts earlier in the year. In 25 games as a reserve, Henry is averaging 9.7 points in 20.4 very efficient minutes. In those games he is 40.5 percent from outside, and 45.8 percent overall.
Beyond those two, the bench is tough to predict on a nightly basis because of all the injuries and moving parts. Jordan Hill has started 16 of his 30 games but was just as productive off the bench, posting 8.1 points and 7.1 rebounds in just 17.4 minutes. Jordan Farmar has been in and out of the lineup but is a consistent producer on the second line.
Chris Kaman may not always be happy about his role, but he does his job when coming off the bench, along with Shawne Williams. They help to form a tough, physical backup frontcourt when healthy.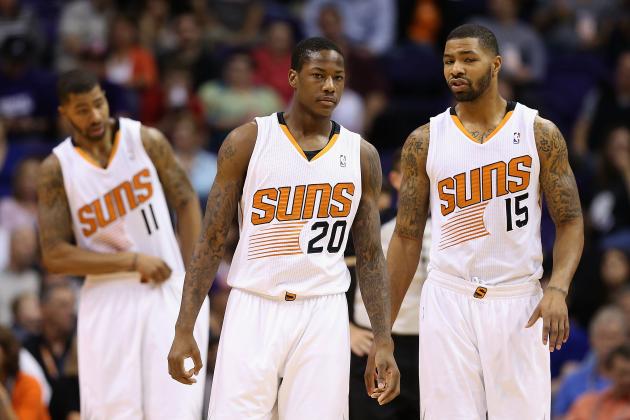 Christian Petersen/Getty Images

There are a few reasons as to why the Phoenix Suns have been one of the league's most surprising teams, and their bench unit is definitely one of them.
Led by the Morris twins, Markieff and Marcus, this unit brings well-rounded balance to the Suns' overall proceedings. There is little established star power on the roster, allowing everyone to contribute and making the second unit immensely important.
Markieff is posting 12.3 points and 6.4 rebounds in just 25.5 minutes per game, thanks to efficient offense and free-throw abilities. He has also wildly improved defensively, as head coach Jeff Hornacek told AZCentral's Paul Coro.
"He's focusing on his defense earlier," he said. "In the past, to me it looked like he didn't want to play defense. He just wanted to be out there and kind of get by. Then all of a sudden, you get yourself in bad situations and you have to foul somebody."
Marcus is also in double-figures with 11.1 points and 4.4 rebounds per game. Gerald Green has come off the bench 17 times but is filling in as a part-time starter on the wing. Off the pine, Green has averaged 10.9 points in 22.6 fairly efficient minutes
The Suns reserve crew doesn't go all that deep, due to the minutes being given to their top eight, but rookie Archie Goodwin has seen time in 28 games, averaging 10.3 minutes and hitting a couple of shots.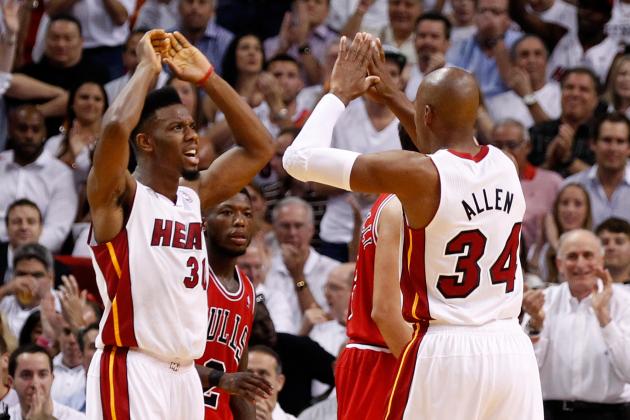 Robert Mayer-USA TODAY Sports

At age 38, Ray Allen keeps on trucking ahead. He is leading the Miami Heat's second unit and not giving opposing defenses any time to sit back while the defending champion's starters are on the sideline.
Allen is averaging 10.5 points per game, his 16th consecutive season in double-figures. He is giving 1.5 threes per game on 38.1 percent outside shooting, and hitting 48 percent overall.
Joining Allen off the pine is third-year point guard Norris Cole. Miami's 2011 first-rounder has made incremental improvements each year and is now playing a major role for the Heat. He plays 24.7 minutes per game, averaging 7.3 points and 3.3 assists. Cole is quickly becoming one of the better backup points in the league.
The Heat are also still reaping the benefits of prior secondary pickups like Chris Andersen and Rashard Lewis. Both players see about 18 minutes a night and are efficiently productive.
"I'm everywhere," Andersen told Bleacher Report's Ethan Skolnik about his job on the second unit. "If it's the guys finding me around the basket, and me helping guys on the defensive end."
The unit has also been accentuated at times by newcomer Michael Beasley, who can add some some scoring punch to an occasionally laboring group.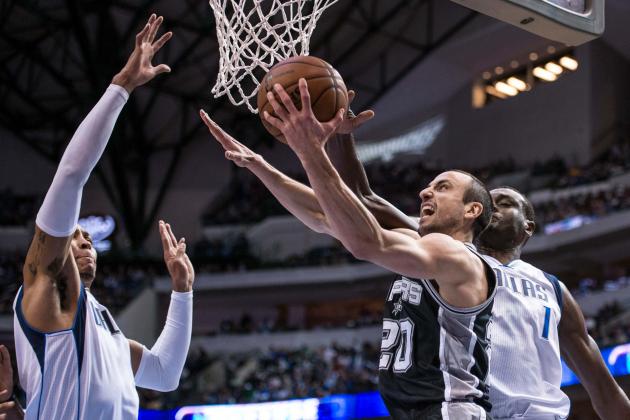 Jerome Miron-USA TODAY Sports

The San Antonio Spurs have yet again re-tooled their second unit to help get their starters significant rest throughout the season.
Not only has the addition of Marco Belinelli helped, but Manu Ginobili is having a bounce-back year.
Belinelli has injected more outside shooting into a lineup that thrives on inside-out play. He is shooting 49 percent from downtown, averaging 1.6 threes in his 22.6 minutes per game.
Ginobili stumbled a bit, particularly in last year's playoffs, but has re-established himself as one of the league's perennial best sixth-men. He is averaging 12 points and 4.4 assists in 23.6 minutes per game. A lot of this has to do with a return to full health, even at age 36.
"I just feel fresher, feel better, feel like I can do all of the things on the floor that I want to do without worrying about injuries or something that restricts me after recovering from a surgery," Ginobili told Fran Blinebury of NBA.com.
Joining those two off the bench are the usual suspects of Boris Diaw and Matt Bonner, who are both having typically productive seasons aiding the frontcourt. Patty Mills has also joined the fray as a more regular contributor than last season, posting eight points per game in just 16.8 minutes.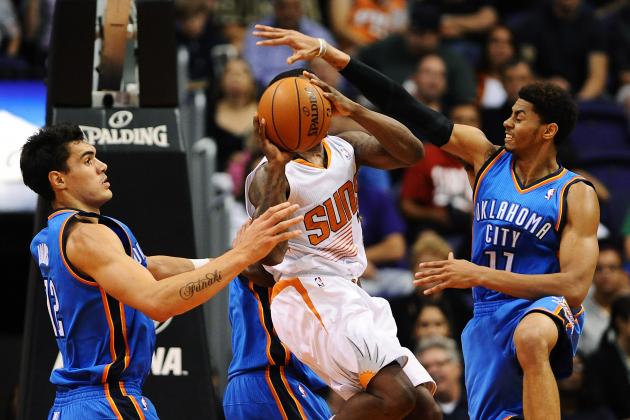 Jennifer Stewart-USA TODAY Sport

The Oklahoma City Thunder have suffered some major losses recently. James Harden became Kevin Martin, who left with no compensation in free agency. Then Russell Westbrook suffered two major injuries.
Yet, the Thunder cling to that No. 1 seed in the Western Conference, thanks to some crafty development of young players.
With Westbrook sidelined, Reggie Jackson has had to move into the starting unit. Prior to that, though, OKC's 2011 first-rounder was posting 12.8 points, 3.8 rebounds and 3.3 assists in 24.5 minutes off the bench. His speed and fearlessness are very similar to Westbrook's, though the talent level is still a drop-off.
In return for Harden, the Thunder picked up pieces that are now major bench contributors or the team. Jeremy Lamb is growing slowly into his own, after being taken No. 12 overall in 2012 by the Houston Rockets. The pick Oklahoma City received in that trade became Steven Adams, now averaging 16.1 important bench minutes each night and picking up 3.9 points, 4.7 rebounds and a block.
Lamb has boosted the Thunder's offense as a change-of-pace from the defensive-minded Thabo Sefolosha. In 20.9 minutes per game, Lamb is putting up 9.6 points and hitting 1.3 threes.
"My teammates trust me, my coach trusts me," Lamb told NewsOK.com's Anthony Slater of his increasing comfort level. "I have no choice but to get more comfortable and get more confident."
Also contributing off the bench are veterans Nick Collison and Derek Fisher, who have a great presence but offer minimal production.