If some of the results from early bowl games are any indication of what's to come, then college football fans better get ready for the upcoming matchups.
The bowl season started off right on Dec. 21, when Colorado State won a thrilling matchup against Washington State, 48-45, and the excitement has continued through the most recent clash of Utah State and Northern Illinois. Utah was victorious, 21-14, and Jordan Lynch showed that he may not be ready for the big show after all.
The biggest matchups of the bowl season are still to come, and the slate of January affairs will help college football fans to start the new year and finish their season on a high note.
The Remaining Schedule
Military Bowl Presented by Northrop Grumman
Marshall vs. Maryland
Dec. 27 @ 2:30 p.m.
ESPN
Texas
Syracuse vs. Minnesota
Dec. 27 @ 6 p.m.
ESPN
Fight Hunger
BYU vs. Washington
Dec. 27 @ 9:30 p.m.
ESPN
New Era Pinstripe
Rutgers vs. Notre Dame
Dec. 28 @ Noon
ESPN

Belk

Cincinnati vs. North Carolina
Dec. 28 @ 3:20 p.m.
ESPN
Russell Athletic
Louisville vs. Miami
Dec. 28 @ 6:45 p.m.
ESPN
Buffalo Wild Wings
Kansas St. vs. Michigan
Dec. 28 @ 10:15 p.m.
ESPN
Bell Helicopter Armed Forces
Middle Tennessee vs. Navy
Dec. 30 @ 11:45 a.m.
ESPN
Franklin American Mortgage Music City
Ole Miss vs. Georgia Tech
Dec. 30 @ 3:15 p.m.
ESPN

Valero

Alamo
Texas vs. Oregon
Dec. 30 @ 6:45 p.m.
ESPN
National University Holiday
Texas Tech vs. Arizona St.
Dec. 30 @ 10:15 p.m.
ESPN

AdvoCare

V100
Boston College vs. Arizona
Dec. 31 @ 12:30 p.m.
ESPN
Hyundai Sun
Virginia Tech vs. UCLA
Dec. 31 @ 2 p.m.
CBS

AutoZone

Liberty
Rice vs. Mississippi St.
Dec. 31 @ 4 p.m.
ESPN
Chick-fil-A
Duke vs. Texas A&M
Dec. 31 @ 8 p.m.
ESPN

TaxSlayer

.com Gator
Georgia vs. Nebraska
Jan. 1 @ Noon
ESPN2
Heart of Dallas
North Texas vs. UNLV
Jan. 1 @ Noon

ESPNU

Capital One
Wisconsin vs. South Carolina
Jan. 1 @ 1 p.m.
ABC
Outback
LSU vs. Iowa
Jan. 1 @ 1 p.m.
ESPN
Rose Bowl Game presented by

VIZIO

Michigan St. vs. Stanford
Jan. 1 @ 5 p.m.
ESPN

Tostitos

Fiesta
Baylor vs. UCF
Jan. 1 @ 8:30 p.m.
ESPN
Allstate Sugar
Alabama vs. Oklahoma
Jan. 2 @ 8:30 p.m.
ESPN
Discover Orange
Clemson vs. Ohio St.
Jan. 3 @

TBD

ESPN
AT&T Cotton
Missouri vs. Oklahoma St.
Jan. 3 @ 7:30 p.m.
FOX

BBA

Compass
Houston vs. Vanderbilt
Jan. 4 @ 1 p.m.
ESPN

GoDaddy

Arkansas St. vs. Ball St.
Jan. 5 @ 9 p.m.
ESPN

VIZIO

BCS

National Championship
Florida St. vs. Auburn
Jan. 6 @ 8:30 p.m.
ESPN
Capital One Bowl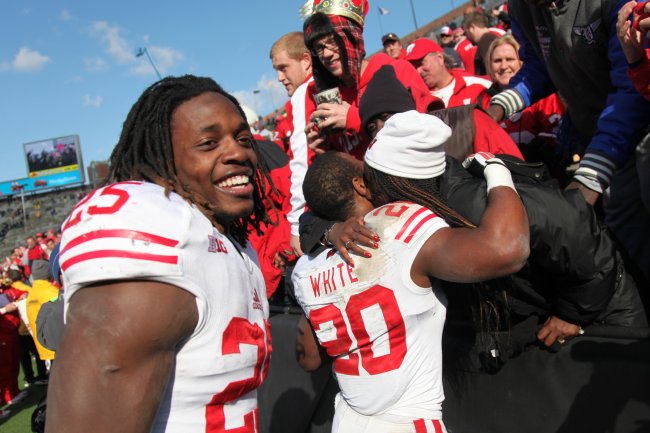 Matthew Holst/Getty Images
Wisconsin and South Carolina figure to compete in one of the more competitive games of the bowl season, but the Capital One Bowl should be won by the Badgers.
The New Year's Day matchup features one of the premier rushing teams in the country in Wisconsin and one of the more clutch teams in South Carolina. Sure, a loss to Georgia early in the season wasn't good for the perception of the team, but a double-overtime win against Missouri and a convincing win against Clemson on Nov. 30 have put the Gamecocks in good position entering their Jan. 1 contest.
That being said, Wisconsin has too much firepower in the run game to be taken down by South Carolina's No. 14-ranked defense.
The key to the @CapitalOneBowl according to @Melvingordon25 "The big-time players have to step up & make plays" http://t.co/hZ8h8UcjlT

— Badger Football (@BadgerFootball) December 27, 2013
Melvin Gordon and James White headline the attack. Both have run for at least 1,300 yards and combine for 25 touchdowns. Corey Clement and Jared Abbrederis combine for over 600 more yards and nine more touchdowns.
The Gamecocks will try to force Joel Stave to become the offensive leader. If they can do that, then they stand a good chance of winning. If not, then Wisconsin will rack up yards on the ground and win.
Discover Orange Bowl
Braxton Miller can't be a one-dimensional quarterback against Clemson; otherwise Ohio State will come up short in this year's Discover Orange Bowl.
Primarily a threat on the ground, Miller showed off his legs against Michigan State in the Big Ten Championship game. He rushed for 142 yards and two touchdowns, but the Spartans held him to just eight completions and 101 yards through the air. He completed just 38.1 percent of his passes and averaged 4.8 yards per completion.
That type of production won't get it done against a top-notch Clemson defense.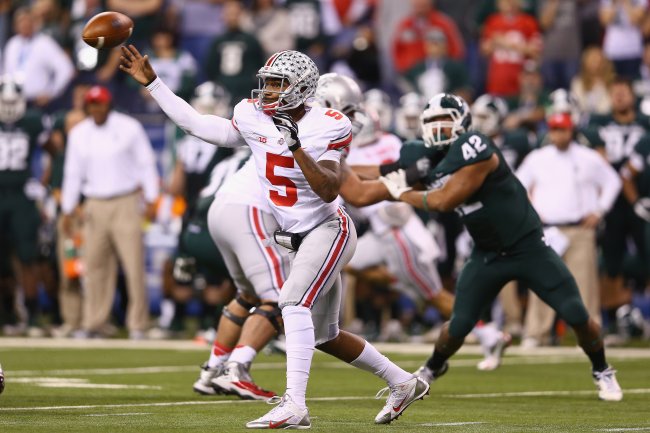 Andy Lyons/Getty Images
Brandon Rink of TheState.com provides interesting statistics in regards to Clemson's defensive pressure:
Clemson makes no bones about its pressure prowess: No. 1 in tackles for loss (113) and No. 22 in sacks (33). But facing this kind of attack throws a wrench into the typical plan.
The attack Rink is referring to is the dual-threat ability of Miller. If Clemson can contain his run game and force him to be a pocket passer, then its chances of success in the Orange Bowl go up—way up. Watching their game plan unfold on the gridiron will be exciting to watch.
VIZIO BCS National Championship Game
No breakdown of compelling January matchups would be complete without the BCS title game, pitting undefeated Florida State against Cinderella-story Auburn.
Via Daniel Uthman of USA TODAY Sports:
"We've gotten the matchup everybody wants to see," said Bill Hancock, the BCS executive director. "We felt we'd get the two best teams, and we did."
It took the Tigers two spectacular victories against Alabama and Missouri to make it to the final BCS title game in college football history, and they appear to be the team of destiny. Heisman finalist Tre Mason has carried them over the past several games, and his performance on the ground against an aggressive Seminoles defense will dictate how well the offense performs.
The Seminoles' offensive game plan begins and ends with Heisman winner Jameis Winston. If he can pick apart the Tigers defense, then Florida State should win. He's simply too good and too consistent to pick against.
Then again, teams of destiny often overcome a ton of obstacles on their way to titles. Auburn started that journey with a game-ending miracle against the Crimson Tide in the Iron Bowl, so maybe we'll see more of the same in this one.
This game has too much potential to pass over.