Tottenham Hotspur vs. Stoke City: 6 Things We Learned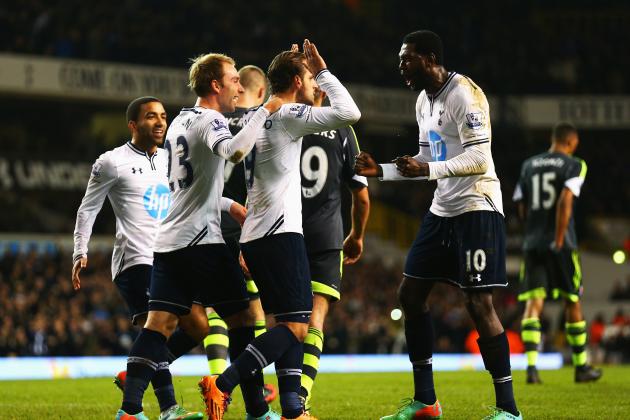 Paul Gilham/Getty Images
Roberto Soldado's Tottenham teammates congratulate him after he opened the scoring in their 3-0 win over Stoke City.
Tottenham Hotspur will head into the new year on a high after beating Stoke City 3-0 at White Hart Lane in their final Premier League game of 2013.
The win breaks a run of four home league matches without a win since late October, moving Tim Sherwood's side up into seventh place. Stoke sit in 12th, five points clear of the relegation zone.
After dominating the early going, Tottenham took the lead through a Roberto Soldado penalty—Stoke captain Ryan Shawcross having been penalised for blocking Emmanuel Adebayor's scissor kick with his arms.
Mousa Dembele extended Spurs' lead 20 minutes into the second half. Patiently sizing up his options, he drove leftwards at the Stoke defence and swiftly fired back across goal, beyond the reach of Thomas Sorensen.
A fine team move sealed Spurs' victory soon after. Christian Eriksen won the ball back off Stoke, leaving it to Adebayor, who charged forward and played it wide left to Soldado. The Spaniard's ball across the edge of the box was almost stopped by his striker partner, but it managed to reach its intended target of Aaron Lennon, who delicately directed it into the far side of the net.
Read on for a few things we learned from this year-ending Premier League clash.
Begin Slideshow

»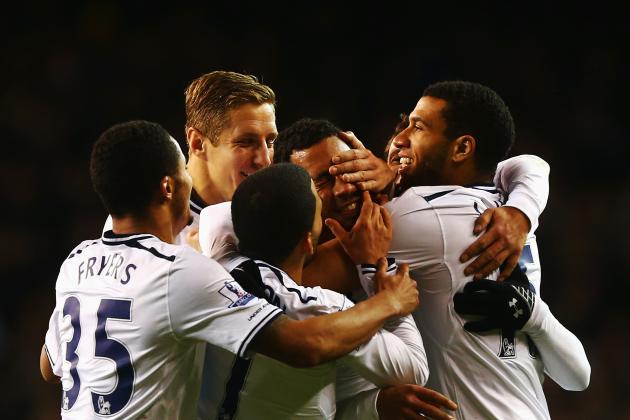 Paul Gilham/Getty Images
Zeki Fryers (far left) joins his teammates in congratulating Mousa Dembele.
Without the suspended Kyle Walker and Danny Rose (the reason for the latter's absence was not clear at the time of writing), Tim Sherwood was forced into changing two of the most successful aspects of his early tenure as Tottenham manager.
Kyle Naughton and Zeki Fryers deputised at right-back and left-back respectively, with the latter especially indicating Spurs might have more depth in that position than had been recognised.
Rose was not missed at either end of the pitch as Fryers enjoyed his first start a lot more than his previous Premier League appearance in the 5-0 loss to Liverpool.
Within the first five minutes, the 21-year-old maneuvered Jonathan Walters off the ball after he had raced through on goal. The Stoke wide-man was his team's main threat in the first-half but was largely dealt with.
Fryers was equally confident in attack. He was frequently seen galloping up that left flank, providing a regular option for Emmanuel Adebayor and Christian Eriksen in particular. His best moment came just after 30 minutes when he picked out Roberto Soldado, who headed just wide from his teammate's cross.
It is early days for Fryers in his attempts to earn recognition as a legitimate option for Spurs. He did his chances of playing again at left-back no harm here.
Naughton was picked ahead of Ryan Fredericks as cover for Walker and repaid his manager's show of faith with a solid outing.
After he let Oussama Assaidi run behind him just prior to the half-hour mark, he upped his concentration levels significantly. It showed in the second half when he was alert to further threatening positioning from the on-loan Liverpool winger. He also had a couple of expertly timed tackles to snuff out Stoke attacks later on.
Though less prominent than Fryers going forward, he still got himself involved as Spurs upped the pressure on the visitors. The highlight came in the form of an excellent through ball to Lennon 14 minutes in.
We know Naughton is much better on his natural right side than on his weaker left, but his good work here was a timely reminder of the job he can do.
Sherwood was certainly pleased with the performances of his full-backs.
"Zeki Fryers came in for his full debut and was excellent and Kyle Naughton didn't put a foot wrong," he told Tottenham's official Twitter page.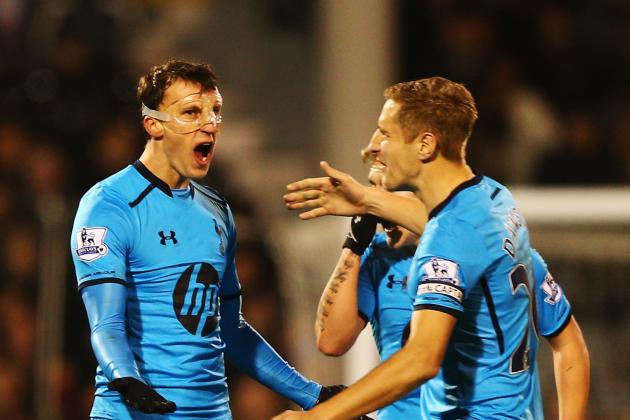 Paul Gilham/Getty Images
Vlad Chiriches and Michael Dawson have helped Spurs tighten up in defence since the Liverpool loss.
The aforementioned full-backs were part of an overall sound defensive display from the Tottenham back four.
Stoke struggled to get the ball forward to a rather lonesome Peter Crouch, but they may have struggled regardless against a defence who were on their game.
The restoration of the Vlad Chiriches-Michael Dawson partnership has played a large part in Spurs' improvement at the back since being torn apart by Liverpool.
Neither fared too well alongside the willing but inexperienced makeshift centre-back Etienne Capoue. Together they look far more comfortable, and it has shown in the happy balance the Romanian and his captain have struck together (as a partnership, they have only lost one game so far).
Chiriches cost Spurs in the goal they conceded against West Bromwich Albion on Boxing Day when he let Jonas Olsson go unmarked. Here he was altogether more alert, winning the better percentage of his attempted challenges on the ground and in the air. He was faultless in his clearances and completed 49 of his 50 passes (98 percent, as tallied by Squawka.com).
Dawson was less impressive statistically but equally commanding. He was quick to put Stoke back under pressure with several headers back from their long balls forward.
On the occasion when Oussama Assaidi broke through as a result of Kyle Naughton's lapse in concentration, Dawson covered well in helping dispossess him when he cut inside.
Though not flawless in the win and draw over Southampton and West Brom respectively, the pair have joined their full-backs in tightening things up again. Tim Sherwood could not have hoped for much more from them all.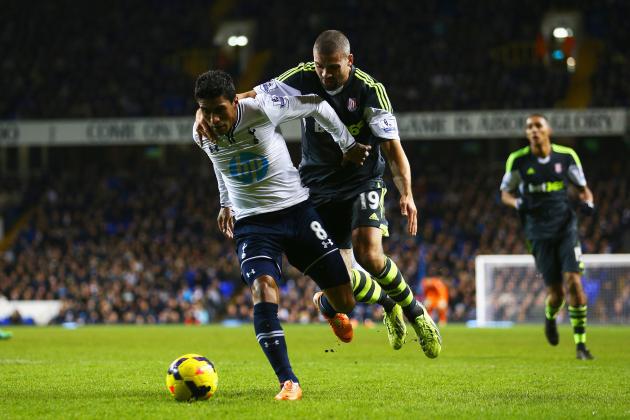 Paul Gilham/Getty Images
The skillful Paulinho holds off Jonathan Walters.
Through his own words and various tales told from White Hart Lane, Harry Redknapp garnered a reputation as Tottenham manager of essentially letting his team get on with it.
There was obviously more to his management than that, but it is fair to say he trusted in the ability of players like Luka Modric and Rafael van der Vaart to do their jobs within the relatively simple parameters of football.
An element of that was apparent in the midfield Tim Sherwood fielded on Sunday. Mousa Dembele held the fort behind, but beyond him the trio of Christian Eriksen, Paulinho and Aaron Lennon were given license to attack Stoke and embrace their creative instincts.
Returning from suspension, Paulinho ran the Potters ragged at times. His early exchanges with his fellow attackers were marked by a sublime flick over the top of Stoke's defence 15 minutes in, which almost freed Roberto Soldado.
Thereafter Paulinho's control and skill were similarly immaculate as he shone in possession. His finishing let him down, but the initial positioning (particularly in an effort just prior to half-time) showed the Brazilian at his dangerous best.
Lennon was a constant threat down the right wing. He got his reward for a performance that saw the quality of his contributions increasingly match his efforts with his terrific goal.
Positioned slightly more to the left than in his previous two games, Eriksen still benefited from being in the thick of the action. The Dane's passing became sloppy late-on, but in the first half, his movement and purposeful passing helped conduct some wonderful triangles with Emmanuel Adebayor particularly.
Reserved through requirement for most of the match, Dembele got in on the act for his goal. It showed good judgement from the Belgian, getting forward naturally as part of a move and patiently working an opening for his shot.
Spurs' win emphasised the quality they have in their midfield ranks. Giving them license to really have a go at Stoke paid off, and you imagine it could work again in the future.
The challenge that is forthcoming for Tim Sherwood is getting a similar performance against even better teams. Speaking of which...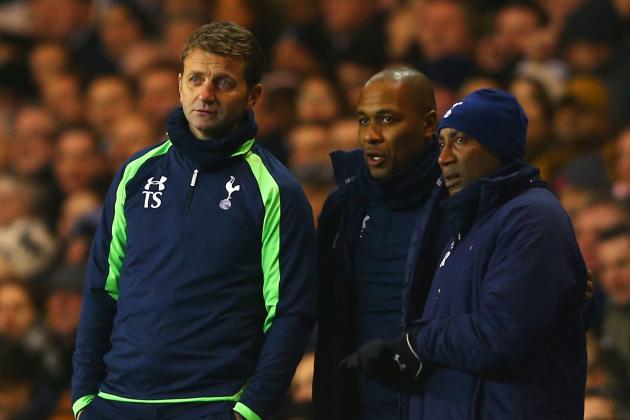 Paul Gilham/Getty Images
Tim Sherwood and fellow coaches Les Ferdinand and Chris Ramsey watch on against Stoke.
Regardless of who was managing the club, Tottenham would have been facing a heck of a start to 2014.
As it is, they have a new man in charge for the upcoming games at Manchester United and Arsenal. For Tim Sherwood, that means a substantial test of the team under his leadership.
Since the Liverpool loss that cost Andre Villas-Boas his job, Spurs have negotiated the bulk of the festive period well. The Capital One Cup loss to West Ham United stung, but the seven points from three league games has kept them in touch with their season's target of a top-four place.
Trips to Old Trafford and across North London now offer him the chance to put his methods into practice against clubs he will hope to be counting as genuine Champions League-place rivals as the season progresses.
The defence that has steadied since Liverpool ripped it to shreds will face similarly daunting attacking threats in the likes of Wayne Rooney and Olivier Giroud. The attack—led by a restored front two—and its supporting midfield will try and overcome stiffer resistance than that provided by the Saints, Baggies and Potters.
How Spurs perform versus United will leave us with a truer idea of how they have come out of the Christmas and New Year's fixtures.
In that game, and the FA Cup third-round tie with Arsenal, they have a chance to re-ignite their season. Ensure the fireworks last beyond New Year's Eve, and Spurs will have every right to feel confident about moving forward under Sherwood. Anything less will ensure the changing of some priorities for the remainder of the season.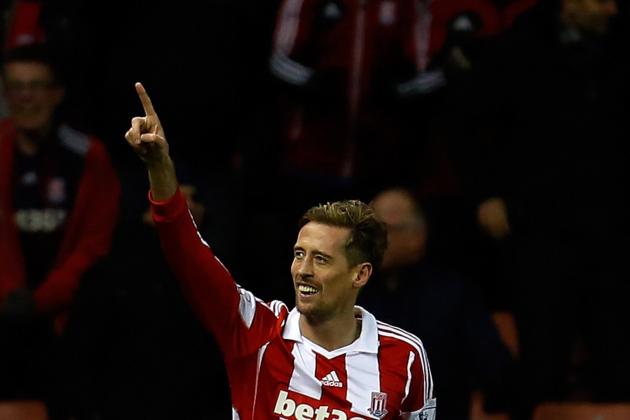 Paul Thomas/Getty Images
Peter Crouch is one of Stoke's few genuine goal threats.
Good home wins in December over Chelsea and Aston Villa somewhat masked the issue, but Stoke City are in big need of reinforcements in attack.
Peter Crouch scored in both those games and has proved his enduring usefulness since being restored to the team. Against his former club, he mustered their only effort on target with a header late in the second half.
Oussama Assaidi offers them real zest from the left, while the aggressiveness of Jonathan Walters is still a useful weapon to be harnessed. But they found it hard to get involved versus Tottenham, and anyway, it was unlikely to prove much against a defence that had their number.
There are issues of creativity in midfield, where Stephen Ireland (though ill here) continues to be reliably inconsistent while Charlie Adam does not offer too much against tougher teams.
But finding the players who can make a short-term change here is likely to prove difficult, leaving bringing in a goalscorer Mark Hughes' one main hope of improving his team.
With limited funds at the Britannia Stadium, this will be easier said than done. However, it is a position they are more likely to be able to find someone in.
James Beattie did it for them midway through the 2008-09 season with seven goals following his transfer from Sheffield United. In the past, others have provided similar midseason boosts elsewhere too, including Jermain Defoe for Tottenham in 2004 and Nikica Jelavic for Everton in 2012.
In fact, a move for the Spurs striker might not be a bad idea should he come available.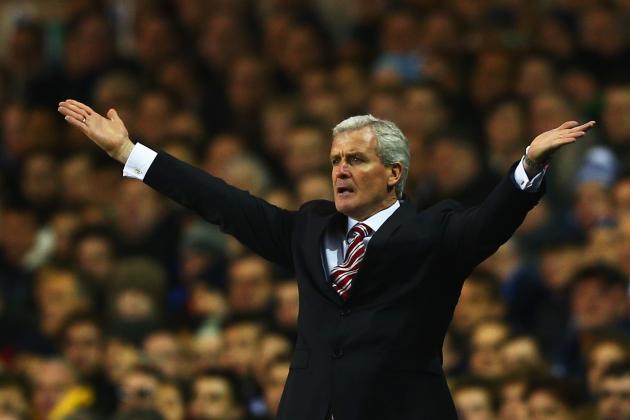 Paul Gilham/Getty Images
Mark Hughes cut a frustrated figure on the White Hart Lane sideline.
Despite losing 3-0 to Tottenham and 5-1 to Newcastle United in their last two games, Mark Hughes will point to the fact that his team still sit only two points off of 10th place Hull City.
The nature of these last two defeats may initially suggest otherwise, but it has not all been doom-and-gloom at Stoke.
It is important for the Potters boss now to quickly refocus his team following the recent disappointments.
Though they are back at home for their next two Premier League games, it is hardly a respite considering they are welcoming visits from Everton and Liverpool. Even their FA Cup game with Leicester City cannot be regarded as a weekend off given the Foxes' table-topping form in the Championship.
Nonetheless, Stoke will feel more confident of recording positive results in these games backed by the raucous Britannia Stadium crowd.
Eleven points from their last five Premier League games there has shown this is where their strength lies.