At UFC 168, Anderson Silva will be facing Chris Weidman as a challenger for the first time since he took the belt at UFC 64. It's been over seven years since Silva knew what it felt like to be coming into the Octagon first, waiting for the champion to arrive, and that is due a moment of reflection.
The events of UFC 162 are ancient history; Weidman isn't using them as a basis for this fight, and Silva cannot afford to do so, either. It's a totally different animal this time around, and if Silva really wants to be champion again, the good news is that he has a lot he can improve upon from his last performance.
Silva didn't show much in his last fight; he was looking to counter off Weidman, and Weidman seemed tentative and unsure. While he was waiting and trying to goad the challenger into some course of action, he ended up getting tangled in his own web and knocked out in the process.
To be honest, neither man looked great the last time around; the bout was decided by the sum total of their lesser parts, not their greatest weapons. This time around, I believe it will be an actual fight that gives us a result we can stand on—who really is the better fighter?
And this time, Silva knows he's got a serious threat in front of him. Nothing gives a fighter greater focus than defeat; with one momentary lapse of judgment, Silva had everything he was as a fighter swept off the table.
Where once he was the champion, now he is the challenger; where once he had never been knocked out, now he has—all of those records and winning streaks came to an end at UFC 162, and in essence, Silva is starting over.
Now, all that is left is the fight; as BJ Penn says: "The belt is just an accessory."
Here are the keys to victory for Anderson Silva at UFC 168.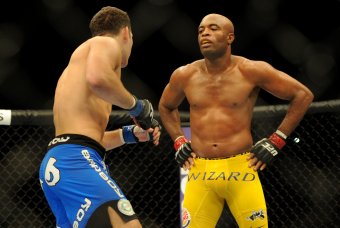 Jayne Kamin-Oncea-USA TODAY Spor
Don't Stand Still
Up to his fight with Weidman, Silva had made a policy of providing a stationary target to his opponents; this seemed to coax them into a one-dimensional attack that he could see coming and thus counter with shocking results.
But that isn't going to work against a motivated Weidman.
Silva needs to give the champ constant angles to worry about while looking for an opening to strike. They say that good fighters take advantage of opportunities while great fighters make them, and Silva is a great fighter.
But he won't be making any opportunities if he is standing still—he'll be a target and nothing more.
Work That Jab
When he wants to, Silva can employ an excellent jab that can snap an opponent's head back and offset their attacks, forcing them to reset.
The jab has long been one of the most rudimentary and effective tools in a striker's arsenal because it not only does damage but can stun an opponent just long enough to land another shot they don't see coming.
In the hands of a man like Silva, it can be the bridge across dangerous water that leads to any number of damaging combinations and to defeat Weidman, Silva needs to do as much damage as he can at every opportunity.
Feint High, Kick Low
In their last fight, one of the things Silva did manage to do is land biting kicks to the legs of Weidman. That is one thread he needs to pick up in this fight, and if he is persistent enough, he can sew Weidman up and make him a very stationary target.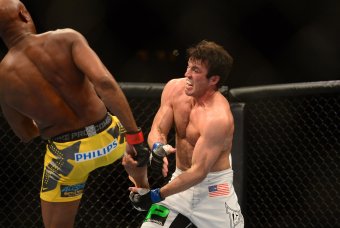 Mark J. Rebilas-USA TODAY Sports
One way he can make the landing of such kicks easier is by feinting high then opening his hips and letting that shin fly. Few men in the sport kick as well as Silva; if he can land five or six meaningful kicks to one leg, Weidman could be in serious trouble.
Employing a feint first will also give him the time he needs to land the kick and pull it back before the champion can snatch his leg for a takedown.
When coupled with a stiff and frequent jab, Silva could keep Weidman on his heels all night long.
Stuff Those Takedowns
While Weidman may have won the last fight standing, his real game plan is to take Silva down and work from the top position. It's unlikely that plan has changed.
Silva needs to be ready and committed to stuffing every takedown Weidman throws his way; he cannot afford to give any up. The champ can be a monster if he gets a fighter down; that is one of his biggest strengths, and men like Weidman are smart enough to play to their strengths.
The man who decides where this fight is fought is going to be the victor. Silva needs to keep this fight standing for as long as possible, and that means fighting to remain upright with every ounce of energy he has.
If he does not, the Chael Sonnen strategy of UFC 117 could end up serving Silva his second loss in a row.
Make Him Miss, Make Him Pay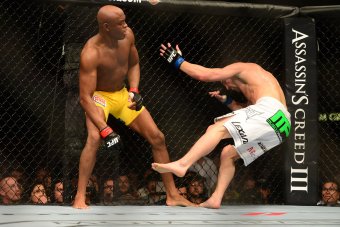 Mark J. Rebilas-USA TODAY Sports
Make no mistake about it, Weidman is going to engage Silva on the feet, and he's going to be letting his punches fly with bad intentions.
It's not that he honestly believes he's better than Silva just because he caught him last time; Weidman knows he's not the better striker, but he's going to throw punches anyway, for obvious reasons.
The more Weidman lets his hands go, the more Silva must react to them, and that can help set up a takedown given Silva's history of moving his upper body to avoid punches while keeping his feet planted.
Silva must use his incredible reflexes and sense of timing to avoid the blows and then step in from angles with crushing counters. Anytime Weidman misses with a significant blow, Silva needs to tax him heavily with two and three shots at a time.
Silva is the master in the stand up, and the sooner he proves that to Weidman, the more desperate, predictable and one-dimensional the champion will become.
Don't Get Cute
This would seem an obvious area of concern for Silva, but is he honestly aware of the pitfalls that come with showboating at all the wrong times?
He should be, of course.
But then again, the latter stages of his career have been made out of taunting opponents into lashing out predictably, and one loss alone may not have convinced him of this error.
Standing just outside of an opponent's range and doing a little taunting can be forgiven because it's a recoverable position, but standing in the pocket after you've already been punched once, doing the wobbly-knee and then still keeping your hands down while your opponent is swinging for your head?
Sooner or later, that get's you knocked out. It's already happened to Silva once; he doesn't need to see it happen twice.
Weidman is dangerous enough as it is; there's really no need to make it easier for him.
Silva needs to go in there, all about the business of getting the title. He's the challenger now, and he needs to fight like it.