Breaking Down the Best and Worst of the WWE for Week of Dec. 23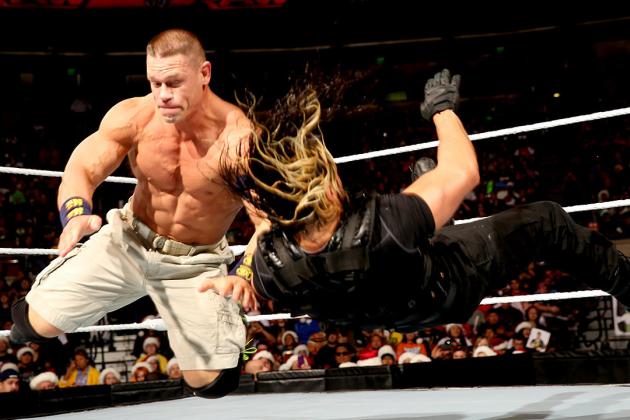 WWE.com

With Santas scuffling and tag team excellence, highs and lows made up the WWE action on Christmas week.
The typically slow holiday season didn't prevent The Wyatt Family, Antonio Cesaro and Roman Reigns from providing stellar entertainment. For every highlight those men provided, though, WWE countered with Christmas-themed junk and a lack of following up on a promising story.
The company announced a big star's return date and pitted two mat technicians against each other on an episode of NXT light on new material.
What thrilled and what bored WWE fans this week? Let's start with two beasts battling two champions on SmackDown.
Begin Slideshow

»
Erick Rowan and Luke Harper left the tag team champs bruised, drained and perhaps uncertain if they would retain the titles against these beasts.
The Dec. 20 SmackDown featured the most hard-hitting, compelling match of the week. Cody Rhodes and Goldust used their speed and athletic skill to combat Rowan and Harper, but it wasn't enough.
The Wyatt Family continues to impress, delivering a standout performance opposite a team that has spearheaded the latest tag team division renaissance.
The bout created a number of striking images including Bray Wyatt glaring from his rocking chair, Harper dragging Rhodes by his ears and Rowan's unsettling expression when his masked was removed. WWE showed us a glimpse of just how great of a pay-per-view match this could be and how must-see this rivalry is going to be.
As vicious as The Wyatt Family has been made to look in the ring, WWE too often undermines their attacks outside of it.
On the Dec. 20 edition of SmackDown, Bray Wyatt and his followers ambushed Daniel Bryan. Erick Rowan and Luke Harper dragged him to a ledge in the back of the arena and threw him off. Here was a chance to make The Wyatt Family look like destructive, heartless men.
Instead, WWE downplayed the effect of the attack.
Bryan missed no time and there was little focus on the medical attention he received afterward. He wasn't even wearing tape around his ribs when he was in action on Monday's Raw.
WWE continues to be creative with the cause part of The Wyatt Family's story, but fails to produce the effect element.
There's no need to wonder if the circulating rumors are true; Batista's return is official.
WWE announced that the former world champ will be back powerbombing folks on Jan. 20. As amazing a surprise as it would have been to see Batista appear unannounced at the Royal Rumble, this way allows fans to build anticipation.
When Rob Van Dam came back at Money in the Bank, the buzz and energy surrounding that moment built as the event neared. Expect the same result for Batista's comeback.
He'll be one of the favorites to win the Rumble and a possible opponent for Brock Lesnar or The Undertaker at WrestleMania. The myriad of possibilities of where he goes and who he takes on makes the last Raw before the Royal Rumble one teeming with electricity.
Fans expect some holiday-themed silliness when Christmas nears, but the rancid jetsam just kept washing up on the TV screen during Monday's Raw.
Damien Sandow and Mark Henry battled as Santas with the fate of Christmas at stake, Santino Marella and The Great Khali won a caroling contest, Fandango won a Present on a Pole match and the Divas flopped around in Christmas costumes.
It was a hard episode to sit through, even after several glasses of egg nog.
WWE so often treats these shows as throwaway episodes, and the result is an underwhelming, yawn-inducing mess. Hopefully, the New Year's Raw is less cheesy, though the image of Big Show dressed as a baby promises otherwise.
Two excellent six-man tag team matches rewarded fans who suffered through the Christmas junk on Monday's Raw.
The Wyatt Family took on Daniel Bryan, Goldust and Cody Rhodes in a fantastic match that saw Erick Rowan bring back the claw hold, Bryan go on a mesmerizing offensive burst and Bray Wyatt growl from the apron. Intensity fueled the last third of the bout.
It combined The Wyatt Family's two feuds and teased that both are still charging forward.
The night's main event featured The Shield clashing with John Cena, CM Punk and Big E Langston. WWE did well to make both Langston and Roman Reigns look like human wrecking balls. Both men provided memorable highlights when they are on the attack.
The rest of the contest had a big-fight feel to it, doing its best to erase the memories of caroling, toilets as weapons and one of the worst Divas matches of the year.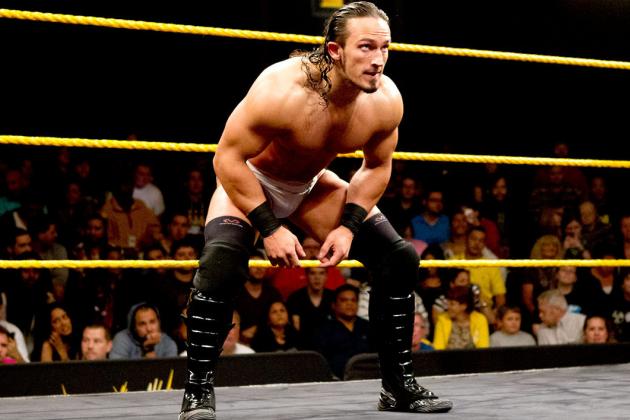 WWE.com
Adrian Neville
Fans excited about opening the present that was the Christmas night edition of NXT felt the sting of disappointment.
There was only a single match on the episode, one that featured Renee Young wrapping up the year's highlights. As enjoyable as Young's presence is and as rewatchable as the Sami Zayn vs. Antonio Cesaro highlights are, the show was a letdown.
Raw's Christmas theme dragged that show down, and a great episode of NXT would have been the perfect cure for that.
Instead, Adrian Neville, Zayn, Paige, Alexander Rusev, Tyler Breeze and Enzo Amore were only seen in clip form. Fans will just have to wait until the next episode to get their fill of NXT's rising stars.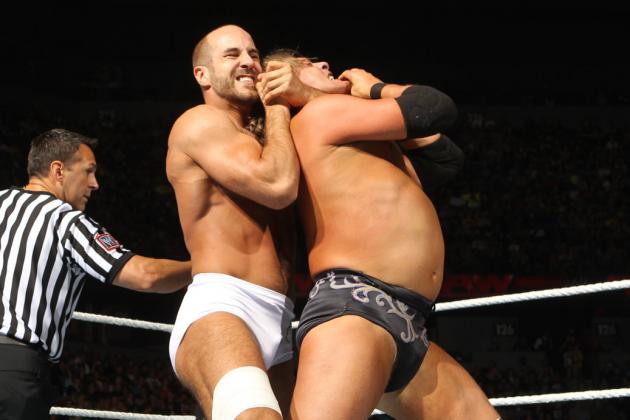 WWE.com
Antonio Cesaro clamps a hold on William Regal.
The single match featured on this week's NXT was built around an excellent story and featured two great talents.
Antonio Cesaro challenged his mentor William Regal. The bout was a tale of a young lion destroying the old lion to claim his crown as king of the jungle.
The action was slow and the spots were minimal, but purist fans had a wealth of mat wrestling and a compelling in-ring narrative to savor. Cesaro looked to crush Regal, tearing off his knee pad and putting him in a modified version of the Brock Lock.
He was briefly hesitant to finish off his foe, respect distracting him from his predatory desires. In the end, he pinned Regal and the two shook hands. Both Regal and Cesaro have had better bouts, but this one had a special feel to it, a passing-of-the-torch moment that hints a big future for the Swiss Superstar.