With the January transfer window right around the corner and a busy slate of holiday-season football on every team's plate, managers everywhere are getting a good indication of where their clubs might need help.
However, winter transfers need come with a warning. Prices soar as teams are forced to panic-buy, and young talent rarely swaps hands during the midway point of the season.
Liverpool are currently ranked fourth in the Premier League table and are enjoying one of their best seasons in recent memory, trailing league leaders Arsenal by a mere three points.
Manager Brendan Rodgers will look at the January transfer window as an opportunity to strengthen what is already an excellent squad, but there is no need for the team to go overboard with their spending.
The following three players have all been linked to Liverpool, but for a variety of reasons, they're all players Rodgers should avoid.
Martin Rose/Getty Images
Javier Pastore
Alex Richards of the Mirror reports Liverpool are set to battle AS Roma and Olympique Lyonnais for Javier Pastore's signature.
The former Palermo man is currently not good enough to start for Paris-Saint Germain. He's been outplayed by Marco Verratti, an Italian youngster who doesn't even appear old enough to shave yet, and PSG are looking into Juventus starlet Paul Pogba to reinforce their midfield, according to Nick Lustig from the Daily Star.
If he's not good enough for PSG, why would Pastore be of an acceptable standard for Liverpool?
Pastore was a star during his time in Serie A, but at Palermo he was put into a position to shine. He controlled the Rosanero midfield and was allowed to contribute in front of goal as he pleased.
In Paris however, he's just another player, and during his two seasons at the City of Light he's failed to impress. He doesn't offer enough as an attacking option, having failed to score a single goal this season, and he's never been particularly strong defensively either.
According to WhoScored.com, Pastore averages fewer than 1.5 tackles per game.
ESPN's Jonathan Johnson sums up Pastore's recent outings for PSG perfectly:
Where to now for PSG & Pastore? Another dreadful showing (even if he was a sub). Woeful & massive concern. Impossible to shift in this form.

— Jonathan Johnson (@Jon_LeGossip) December 22, 2013
He also lacks any form of physicality, a prerequisite to play in the EPL.
Pastore has the potential to be a good player, and maybe even a great player. But he needs a move to a team where he can once again assume the mantle of top dog, and that's not Liverpool.
When tasked with the responsibility of helping a team as storied and thirsty for trophies as Liverpool win a championship, he may prove a luxury the Reds can ill afford.
Koke
Alex Richards of the Mirror reports Liverpool will face stiff competition from Barcelona and Manchester United for Koke's signature.
The Reds have been heavily linked with Atletico Madrid star Koke, and for good reason. The crafty midfielder has been in sensational form all year and is a big reason for Atletico's rise to dominance in Spain.
He already has seven caps for the Spanish national team under his belt, but herein lies the problem.
Koke wants to go to next year's World Cup, and he faces a lot of competition in a Spanish midfield that is already crowded by the likes of Xavi, Andres Iniesta and Isco, to name a few. He's been playing excellent football for a team that is in position to finish above the mighty Real Madrid in La Liga, a team that makes him look good every week.
It simply makes no sense for Koke to risk all of that by making the move abroad to a league he doesn't know. Not in a World Cup year.
Koke is a great player, and Liverpool should do everything in their power to bring him to Anfield when the time is right. But the 21-year-old midfielder won't make the move in January.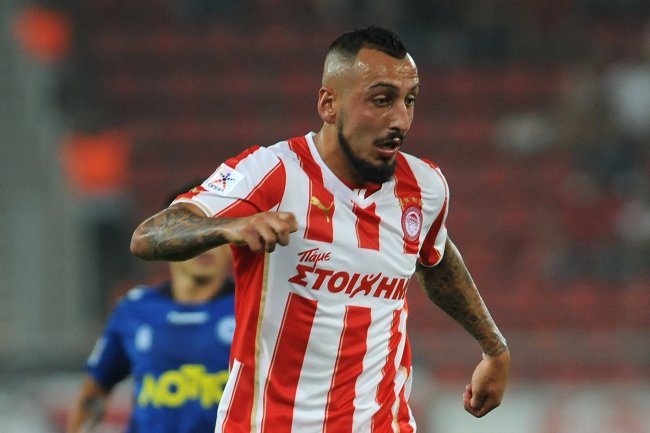 Valerio Pennicino/Getty Images
Konstantinos Mitroglou
Colin Harvey of the Express reports Liverpool target Konstantinos Mitroglou has signed a new deal with his current club, Greek outfit Olympiacos.
Mitroglou carries the image of a Greek demigod who looks like he should be on the cast of Spartacus rather than a football pitch, and his production for Olympiacos has been excellent this season. In 15 total appearances, Mitroglou has managed to find the back of the net 16 times, according to WhoScored.com.
But is he really as good as his reputation suggests?
The Greek Superleague is no joke, but it's far inferior to the EPL. Mitroglou gets to feast on mediocre defences week in and week out, and he has a bunch of teammates that will feed him the ball constantly, knowing what he can do.
Which of these three players would you rather see at Liverpool next year?
But what did the Greek international do in the UEFA Champions League? He dominated against Anderlecht, a team that had no business being in the UCL to begin with, and looked so-so in his other matchups.
Mitroglou just signed a new deal with Olympiacos that reportedly includes a hefty buyout clause, because Olympiacos know teams will come calling and are looking to cash in.
Is he worth it? He very well might be, but should Rodgers risk it? He already has a demigod that seems to score at will in Luis Suarez, and if there's one thing Liverpool are good at, it's scoring goals.
There's a long list of strikers that seemed to score at will in their respective leagues but couldn't cut it at a higher level—Andy Carroll is a fine example. January is not the time to invest in big signings that have a high risk of not working out.