If you're looking for old-school football with plenty of defense and physicality, Week 17 will have some low-scoring affairs for you.
Not every team that does play that way will do so willingly. Some teams will force their opponent into a slugfest, with the game turning on just a few total scores. Others match up squads struggling on the offensive end of late, making them focus on keeping points off the board.
With the playoffs looming, buckling down on defense will be essential. Bending on that side of the ball in Week 17 could dash everything a team has worked for up to this point; fighting to prevent that will produce some tough, classic contests.
NFL Week 17 Picks

| | | |
| --- | --- | --- |
| AWAY | HOME | PICK |
| Cleveland Browns | Pittsburgh Steelers | PIT |
| Washington Redskins | New York Giants | NYG |
| Baltimore Ravens | Cincinnati Bengals | CIN |
| Houston Texans | Tennessee Titans | TEN |
| Jacksonville Jaguars | Indianapolis Colts | IND |
| New York Jets | Miami Dolphins | NYJ |
| Detroit Lions | Minnesota Vikings | MIN |
| Carolina Panthers | Atlanta Falcons | ATL |
| Tampa Bay Buccaneers | New Orleans Saints | NO |
| Buffalo Bills | New England Patriots | NE |
| St. Louis Rams | Seattle Seahawks | SEA |
| Green Bay Packers | Chicago Bears | CHI |
| San Francisco 49ers | Arizona Cardinals | ARI |
| Denver Broncos | Oakland Raiders | DEN |
| Kansas City Chiefs | San Diego Chargers | SD |
| Philadelphia Eagles | Dallas Cowboys | PHI |
NFL.com
New York Jets at Miami Dolphins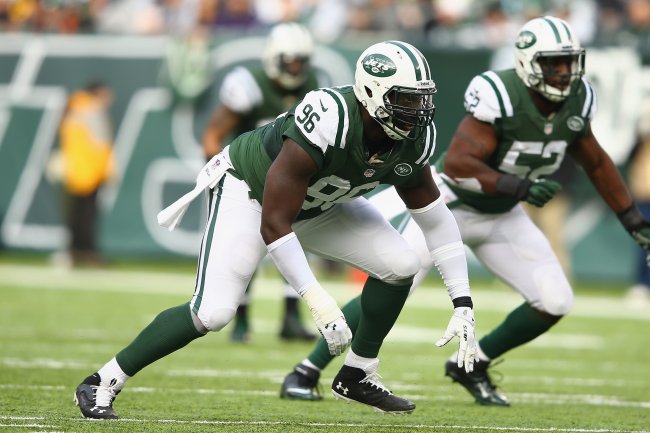 Al Bello/Getty Images
The Buffalo Bills didn't just shut out the Miami Dolphins because it was rainy in upstate New York. Buffalo capitalized on Miami's main weaknesses on offense, executing a formula the New York Jets are fully equipped to replicate.
Ryan Tannehill fell victim to seven sacks against the Bills, which is not news for him. He has taken 58 sacks this season, 12 more than the next closest quarterback in that painful metric.
Buffalo's D also leads the league in getting to the QB, making that a nightmare matchup for Tannehill, but the Jets still rank 11th and feature Muhammad Wilkerson and Sheldon Richardson, so Miami will still have its hands full.
With 10 sacks this season, @mowilkerson could be on pace to have a record-setting year: http://t.co/j6nzFcD2Oa

— New York Jets (@nyjets) November 29, 2013
If Tannehill is under pressure, the deep attack with Mike Wallace and Brian Hartline won't be so effective. That will leave the Fins with Lamar Miller and the ground game, which is exactly how New York wants them to play; no team has allowed fewer than Gang Green's 3.3 yards per carry.
That leaves Geno Smith and the Jets offense to put up enough points to get by. Expect a lot of Chris Ivory runs up the middle and limited doses of Geno Smith, as a one-dimensional unit attempts to control the clock and end the season with an upset.
A loss knocks the Dolphins out of playoff contention, as New York plays spoiler with its physicality.
Green Bay Packers at Chicago Bears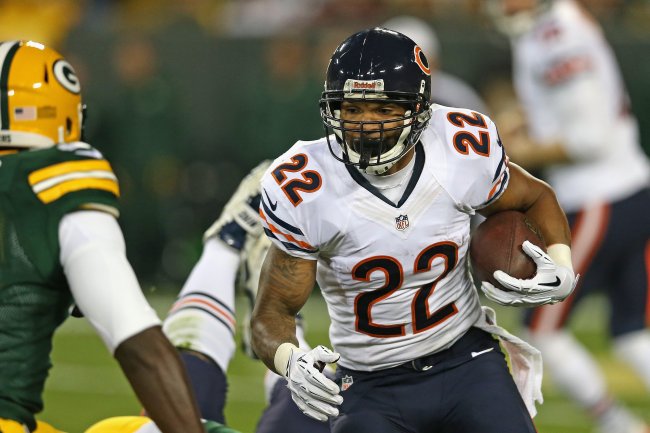 Jonathan Daniel/Getty Images
Both the Chicago Bears and Green Bay Packers sport bottom-10 defenses, so who's going to stop them from piling up points in pursuit of the NFC North title?
Mother Nature, that's who.
The Weather Channel is predicting unforgiving conditions for Sunday's clash at Soldier Field. With a high of 29 degrees, a low of 4 and 19 mile-per-hour winds, this game is sure to be frigid and blustery; tack on a 40 percent chance of snow, and passing should be very difficult.
Each team can lean on a bell cow running back to carry the offensive load, but neither Matt Forte nor Eddie Lacy is an explosive rusher who will pick up big chunks of yardage.
Lacy has just three runs of 20 or more yards on the season; Forte has eight, but he won't be able to turn the corner as well if Jay Cutler can't pass effectively in that weather.
So Green Bay and Chicago will pound the ball at each other; whoever wears down first will stay home in January.
San Francisco 49ers at Arizona Cardinals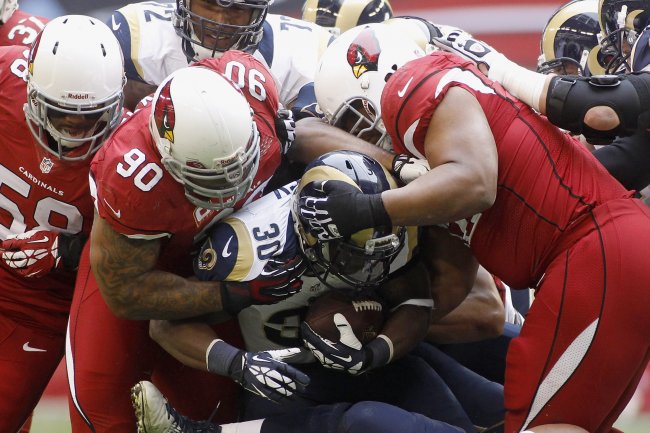 Ralph Freso/Getty Images
This is the matchup defense junkies have circled on their schedules.
The San Francisco 49ers rank third in the league in points allowed, with the Arizona Cardinals right behind them in seventh. They both run 3-4 defenses that are loaded with athletes, leaving their respective offenses with the unenviable task of solving those units.
SF will naturally dictate the style of play in this matchup because of the clear edge at the quarterback position. Colin Kaepernick is a much more versatile, explosive player than Carson Palmer, and is a dual threat QB capable of beating Arizona's staunch defense and making the Cardinals match him.
Cardinals think they can get even better on defense http://t.co/CgscGXhXHE

— ProFootballTalk (@ProFootballTalk) December 26, 2013
However, the Niners will likely be conservative with Kaepernick on Sunday.
They have already earned their playoff berth, only winning the NFC West with an unlikely loss by the Seattle Seahawks. Since Seattle and SF play at the same time, this will require some scoreboard watching, but Kaepernick could get pulled if the Seahawks blow out the St. Louis Rams.
Either way, San Francisco will want to limit the hits he takes, destining this game to have a scoring scarcity.
St. Louis Rams at Seattle Seahawks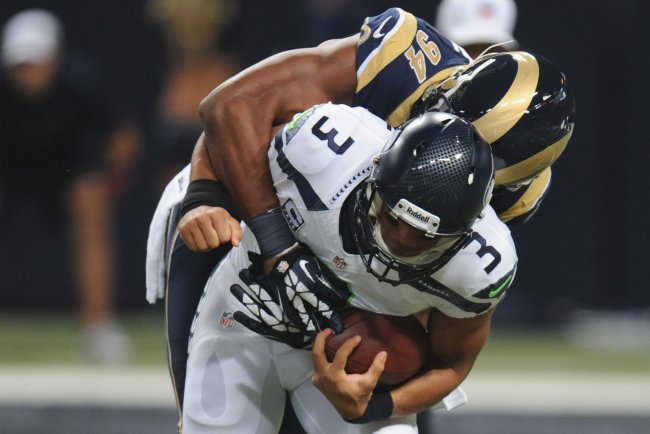 Michael Thomas/Getty Images
Like the 49ers and their signal-caller, the Seahawks will want to protect Russell Wilson in anticipation of the postseason, but they can also lose the NFC West to SF with a loss and a 49er win. So Seattle will have to play Wilson early, but would prefer not to do so late.
After all, the Seahawks will want to keep Wilson as far from Robert Quinn as possible.
Robert Quinn leads the league with one sack for every 30.4 pass attempts faced by his team pic.twitter.com/MmD2j6GGeT

— Chase Stuart (@fbgchase) December 25, 2013
Quinn leads the league with 18.0 sacks himself this season, while Chris Long tacks on 7.5 from the other side of the line. St. Louis' pass-rushing threat will keep the Seahawks honest; at risk of bodily harm, they won't try to run up the score.
That's fine, since they can safely rest the offense with a double-digit lead.
While Zac Stacy has emerged as a nice rookie running back, there's nothing the second-best scoring defense in football has to fear from Kellen Clemens. He has been fine under center for the Rams, throwing just five interceptions against his seven touchdowns, but that's not going to come close to solving Seattle.
The Seahawks might throw early to try to build a quick lead, but they'll ease off after that. They'll trust their defense to stifle St. Louis and allow them to win with as few points as possible.