At the beginning of December Marca, a notoriously pro-Real Madrid newspaper, said that the scales were tipped in the favour of Gareth Bale when comparing Madrid's expensive summer signing with Barcelona's Neymar.
"It is early to compare just yet," they said, despite the fact they had already cast their thoughts:
"The difference between Bale and Neymar Jr. is that the Welshman can win a game in the blink of an eye when Cristiano Ronaldo isn't playing. The same cannot be said for Neymar."
Marca weren't the only ones making that point though. Strangely enough, Gerardo Martino made similar comments ahead of Barca's Champions League tie with Celtic.
"[Neymar] should score more goals," Tata told a press conference, via FourFourTwo. "At the moment the only question is about his finishing. He is not a goalscorer in the way that Leo Messi is, but he can score a lot of goals for us like Pedro, Alexis Sanchez and Cesc Fabregas do."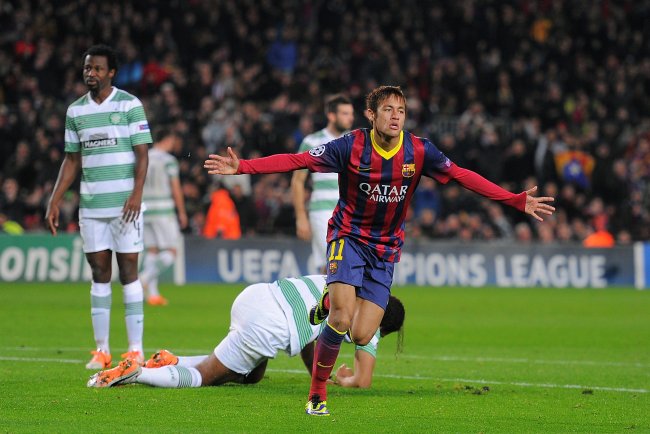 Denis Doyle/Getty Images
Possibly spurred on by Marca's aspersions and his own manager's words, Neymar spent the rest of December cutting the stats gap between himself and Madrid's glamour signing—who cost almost double what the Brazilian did.
So now, as the two players enjoy their winter break, seems as good a time as any to analyse how the pair have settled into their new lives in Spain.
It has to be said that, circumstances considered, Bale's start at the Bernabeu has been largely impressive.
The drawn-out transfer saga between Madrid and Tottenham eliminated the Welshman's pre-season, while injuries have also plagued him getting off the ground in the Spanish capital.
Despite those factors though, he has managed to directly contribute to a goal every 65.9 minutes during his 15 appearances for Los Blancos—four of which have come from the substitutes' bench.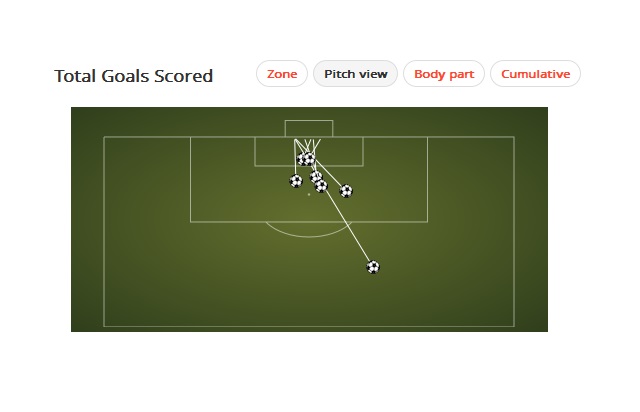 via Squawka
A goal on his debut away at Villarreal was just the start for the 24-year-old. He has since gone on to contribute a total of nine goals and six assists as Madrid progressed in the Champions League, while hanging on to Barca and Atletico Madrid's coats tails in the league.
"I've only been here two to three months so being able to score a hat-trick at the Bernabeu is special for me and it's something that will always stay with me," Bale told The Telegraph's Richard Martin of his crowning moment in a Madrid shirt so far—his treble against Real Valladolid.
Bale and Neymar so far...

| | | |
| --- | --- | --- |
| | Neymar Jr. | Gareth Bale |
| Appearances | 19 (3) | 11 (4) |
| Minutes | 1689 | 989 |
| Goals | 10 | 9 |
| Assists | 9 | 6 |
| Goal/Assist Ratio | 88.8 | 65.9 |
B/R
But while his ratio of involvement in goals betters Neymar's contribution of scoring or creating a goal every 88.8 minutes, Bale's yet to have the big moment which the Brazilian enjoyed when the pair met in October.
The 21-year-old's recent spurt of goals against Celtic and Villarreal have improved his figures to 10 goals and nine assists in just 22 appearances, but it is his Clasico performance which his colleague Xavi suggests make him the better of last summer's big signings, via The Daily Mail:
"For me Neymar is clearly the best. He hasn't just shown his quality but he has showed it in the big games like against Real Madrid—and that is where the big players really prove themselves."
Neymar scored the opener and created the second goal as Barca beat Madrid, who carried a half-fit Bale for around an hour at Camp Nou.
Perhaps that was a symptom of an easier adaption period to life in Spain for Neymar. He arrived earlier, has remained injury free and will have found the Spanish—or Catalan—language much easier than Bale.
The Madrid performance and his recent burst of goals are just the carrots of what was already an impressive start to life in Catalunya for Neymar though.
From Barca's left he was already regularly terrorising right-backs with his pace and ability to stop-start his runs, while he was constantly creating chances and providing goals for his stellar team-mates—he scored the goal which won the Supercopa against Atletico as well.
The truth is that both players have already began to justify the hefty price tags their clubs forked out for them.
It is also true that both only look like getting better in 2014.
With the addition of more goals to his game in a Blaugrana shirt, Neymar is beginning to look every bit a Ballon d'Or winner in waiting.
And he's bound to face competition for the award from Bale in the coming years—it's tempting to wonder how good the Welshman can become for Real Madrid once he's 100 percent fit and integrated into life with Los Blancos.
So, in a contradiction of this article, let's make a promise not to compare the two in the New Year—let's just continue to enjoy watching what they bring to the beautiful game.
Gareth Bale stats via Squawka here.
Neymar stats via Squawka here.