Arsenal fans may have grown tired of waiting for their club's title drought to end, but Arsene Wenger believes his team's comeback win over West Ham on Boxing Day proves the wait could soon be over.
As reported by Sami Mokbel of the Daily Mail, Wenger commented on his team's character in the face of adversity and confirmed he believes his side to be very much in the running for the Premier League title.
Responding to a question from a reporter on whether he thought his team were genuine contenders, Wenger responded:
Does this performance prove you are genuine title contenders? Yes. The team wants to do well and the character is great.

Our concentration is top.

We've answered some big questions. If we hadn't won we would have had to answer many questions. It was the kind of game that many people would have questioned us if we had not won and even more if we'd lost.

The Gunners had been unable to come away with a victory in their four previous fixtures in all competitions and their situation once again looked grim when West Ham's Carlton Cole opened the scoring right before half-time.
However, a brace from Theo Walcott and a late goal from Lukas Podolski helped turn the tide and ensured Arsenal top the league table going into the next round of fixtures.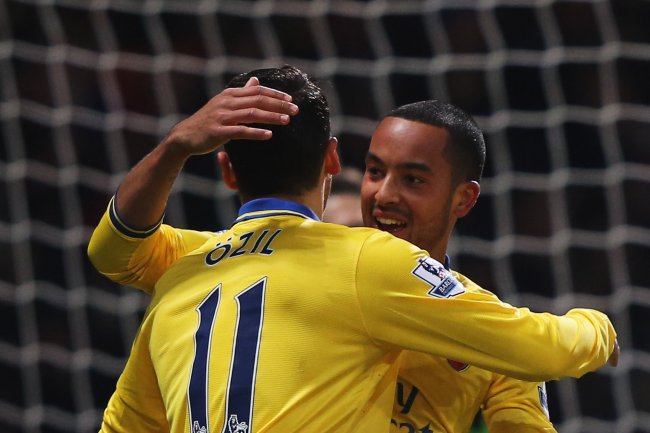 Ian Walton/Getty Images
While pundits will be quick to point to the fact that West Ham aren't exactly world-beaters (following the loss, the Hammers find themselves near the bottom of the table) this game was as close to a must-win as it gets for Arsenal following a string of poor results.
When asked, Wenger blamed the schedule makers for his team's recent struggles:
We have had a difficult period but, honestly, that's mainly down to the schedule we have had.

I completely think that the schedule was absolutely horrendous.

When you do not win for four games it is important to come back for the confidence level and win.
The last part of his statement is key. With the busiest part of the team's schedule in full swing, Arsenal needed a confidence boost as badly as the three points they took from Upton Park.
Are Arsenal genuine title contenders?
Despite the recent run of bad results and the greatly improved performances of rival contenders Manchester City and Liverpool, the Gunners still lead a title race that looks set to become one of the tightest we've seen in years.
Fans clamouring for reinforcements in the striker department must have been delighted to see Podolski bag his first goal since picking up an injury that sidelined him for over four months. With fellow striker Olivier Giroud struggling to put the ball in the back of the net in recent weeks, the German international's return was badly needed.
Football Focus' Dan Walker believes the return of Podolski will have a big impact on the title race:
Lovely to see an old 'bash it into the floor' finish from Podolski. Could be pivotal for #Arsenal between now and May.

— Dan Walker (@mrdanwalker) December 26, 2013
Not everything went Arsenal's way however, as Aaron Ramsey was forced to leave the pitch during the second half with what appeared to be a thigh injury. ITV reports the young midfielder will miss the remainder of the year:
Arsenal midfielder Aaron Ramsey ruled out for the remainder of the festive season #afc http://t.co/uxC2qIL1uq

— ITV Football (@itvfootball) December 27, 2013
The Welsh youngster has been one of the team's most influential players so far this season and his production will be hard to replace. The loss of Ramsey will, however, be offset by the return of Jack Wilshere, who was suspended for the trip to West Ham.
Arsenal will now look to build on their win over West Ham when they travel to St James' Park to take on Newcastle United on Sunday, in a game that will go a long way to determining whether Wenger's belief in his team is justified.
The Magpies are coming off a 5-1 trashing of Stoke City and will be looking to close the gap with the Gunners to just three points.