The Friday Clock-Watcher's Guide to NFL Week 17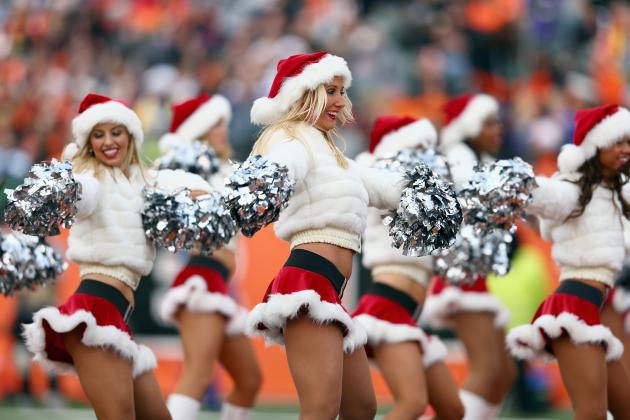 Andy Lyons/Getty Images

If you're at the office today, I offer my condolences.
What could possibly be worse than working in between Christmas and New Year's Eve? Think about it: Earlier this week, you probably stuffed your face with delicious food and drank yourself into a merry state. You got to spend time with people you love. And now, you're bloated, hungover and depressed at the office. Loved ones have been replaced by the guy from IT with the sweaty palms. It's a raw deal.
Making matters worse is that New Year's Eve is right around the corner, meaning that while you wait to soak your liver in liquor, the clock seems soaked in molasses, ticking ever-so-slowly towards the holiday.
But fret not, cube monkey. Week 17 of the NFL is right around the corner, and it's the very best Sunday of games all year. Thirteen of the 16 games have playoff or seeding implications, meaning the entertainment value with be through the roof.
So put down that TPS report and tell the guy from IT with the sweaty palms that you aren't interested in hearing how much eggnog he drank this week, and feast your eyes on the Friday clock-watcher's guide to NFL Week 17.
Begin Slideshow

»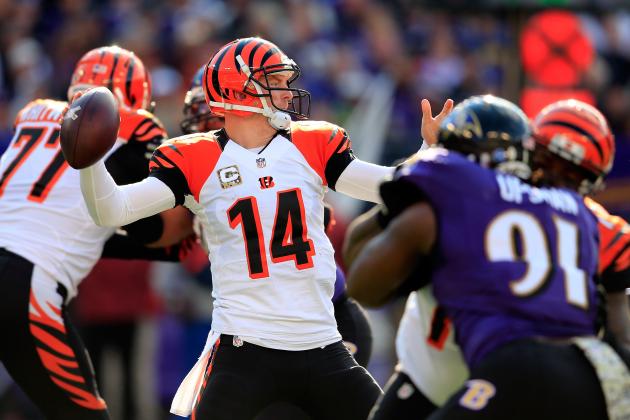 Rob Carr/Getty Images

One of the most common and popular themes of holiday movies features the underdog—whether it be the little brother (Home Alone), insecure adult (The Santa Clause) or innocent elf (Elf, naturally)—overcoming the odds, triumphing over the bully and celebrating Christmas in style.
On Sunday, the Cincinnati Bengals are Kevin McCallister in Home Alone, and the Baltimore Ravens are big brother Buzz and the Wet Bandits all rolled into one. The Bengals are desperately looking to beat down their tormentors and exorcise some demons on the way to the postseason.
While the Bengals have made the playoffs the past two seasons, Baltimore (along with Pittsburgh) has mostly owned them over the past 20 years. Cincinnati hasn't won a playoff game since the year Home Alone was released (1990), while the Ravens are in it seemingly every year and are coming off a Super Bowl title this past February.
And yeah, to everyone reading who was a kid when Home Alone came outyes, we're old. Yeah, I'm depressed about it, too.

The Bengals have already clinched the AFC North, but will play all their starters on Sunday in an attempt to knock their division rivals out of the postseason hunt.
Like Kevin McCallister, it's not enough to just win. The Bengals must torture the Ravens along the way, turning Paul Brown Stadium into a sociopathic funhouse.
Whether or not the Bengals can beat down their long-time bully is one of the most fascinating Week 17 subplots.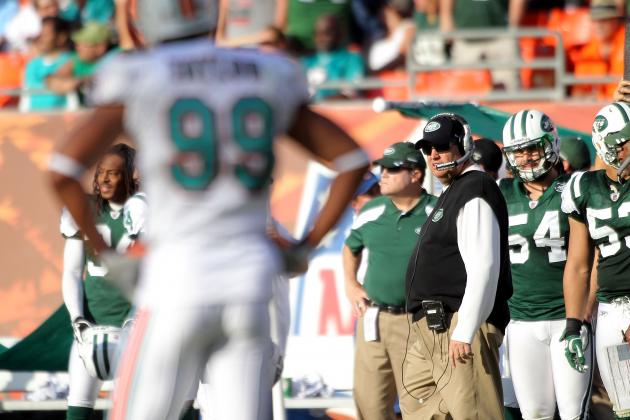 Marc Serota/Getty Images

Have you ever gone into a situation thinking that literally every outcome was possible?
I've gone to parties before with the intention of hooking up with a specific female, and there are times where no outcome would surprise me. Would I be shocked if I succeeded? No. Would I be stunned if she turned me down in epic fashion? No. Sometimes, you just get the feeling that literally anything could happen.
That's the way I feel about the Jets-Dolphins game in South Beach this Sunday. I wouldn't be shocked by any result.
The Jets are coming off a needed win over the Browns, and they could be playing for coach Rex Ryan's job. They're out of the playoff hunt, but have the added bonus of being able to knock Miami out of it with a win. But then again, they're still the Jets, and their roster is only a little bit better than Alabama's.
The Dolphins won back-to-back games over Pittsburgh and New England, so they of course followed that up by getting shut out in Buffalo. They've been a team in turmoil for much of the season (Richie Incognito says hello). But the Dolphins are a talented team, significantly more so than the Jets.
Would you be shocked if the Jets won by three? I wouldn't. How about if the Jets won by 17 and the Dolphins collapsed like last week? I could see it. What about the Dolphins winning a close one, or even blowing out Gang Green? You could literally make the case for any outcome.
Those kinds of games and situations make for the best time. Not knowing is so much more fun than being sure.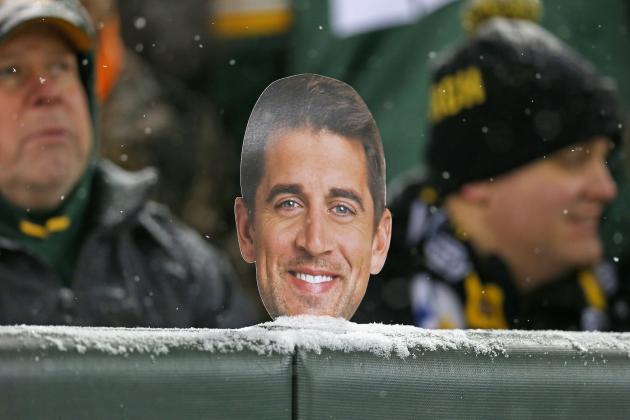 Jonathan Daniel/Getty Images

When Packers quarterback Aaron Rodgers broke his collarbone in Week 9's loss to Chicago, it was as if something in every football fan (well, maybe not the fans of NFC contenders) broke as well.
Rodgers is the best player in the league, regardless of position. He is #TheMaestro, the single most fun quarterback to watch. His decision-making? Uncanny. His arm strength? Howitzer-like. His accuracy? Preposterous.
It's been a real bummer having to watch the Packers be quarterbacked by the likes of Seneca Wallace, Scott Tolzien and Matt Flynn. It'd be like if Bryan Cranston couldn't film episodes of Breaking Bad and he was replaced by Tom Arnold, David Arquette and Dane Cook.
But in a plot twist worthy of NFL Week 17, Rodgers will be back under center this Sunday when the Packers take on the Bears, the team that injured him originally, in a game where the winner claims the NFC North title and the loser goes home.
So this Sunday, put your feet up, grab a can of Milwaukee's Best and watch #TheMaestro go to work. His return will buoy the spirits of even the most jaded, holiday-hating football fan.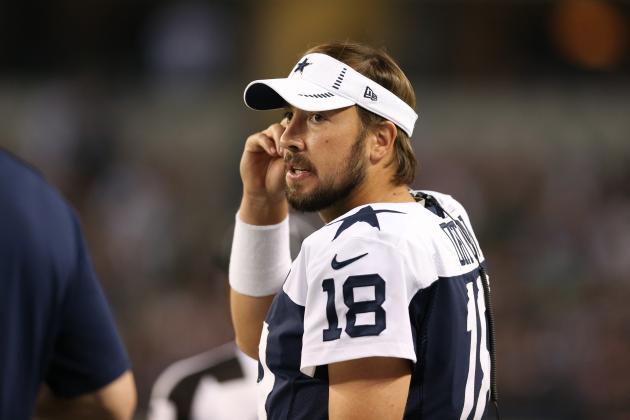 Matthew Emmons-USA TODAY Sports

It looks as if Cowboys quarterback Tony Romo will miss Sunday night's NFC East title game against the Philadelphia Eagles, and let's be honest: Unless you're an Eagles fan, this particular development is absolutely horrendous. The public is being deprived of watching Romo in a clutch spot, which ranks up there with the best guilty pleasures afforded to us.
But there is a silver lining. Actually, it's more like a hairy monstrosity.
Take a look at the picture above. That's Cowboys backup quarterback Kyle Orton, the man who will start if Romo indeed can't go.
Forget about the fact that Orton isn't half the player that Romo is, and that the Eagles will likely blow out the Cowboys if and when he starts. That is one hell of a neckbeard he's sporting.
The neckbeard is like the black-sheep cousin of facial hair. Almost any other form is considered more acceptable. There are porn-star mustaches that are better received than the neckbeard. It's simultaneously gross and inexplicable.
Seriously, what's the point of the neckbeard? To keep your neck warm? Ever hear of a scarf, slappy? When you grow a neckbeard and look at yourself in the mirror before you go out, you are making the conscious statement that you want to be disliked and looked upon like a leper in the Old Testament.
So even if Orton fails in spectacular fashion on Sunday night, robbing us of a potentially classic game, it won't all be for naught. After all, we'll get to laugh at his neckbeard for three hours, and that definitely counts for something.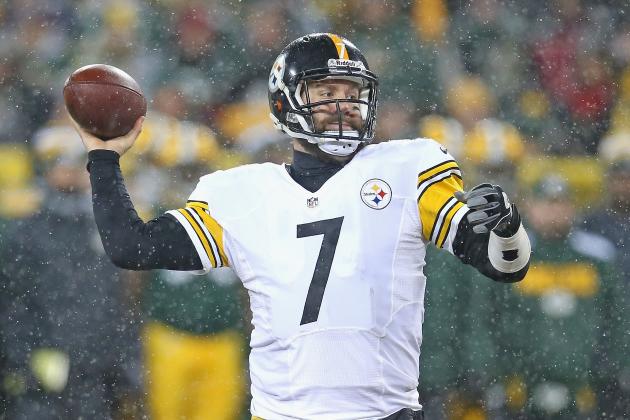 Jonathan Daniel/Getty Images

Here we are, fellow degenerates. Week 17 of the NFL season. It's around this time every year that I like to take inventory of how much cash I've won or lost along the way. And by that, I mean take inventory of how much I've lost.
I'd imagine most of us have lost money this season. After all, the casinos in Vegas didn't build themselves, and I'm quite certain that the new additions to the various hotels didn't just magically appear, either.
But fret not, fellow degenerates. It's now officially money-making season. With seasons on the line, you can strip everything away and just focus on taking the better team.
I am obsessed with the Green Bay Packers laying 2.5 points in their NFC North title game in Chicago. Yes, it's a road game, but I don't care. Aaron Rodgers is back under center for the Packers, and if there's one thing Rodgers does with aplomb, it's beat Jay Cutler and the Bears like a drum. Green Bay is the better team, period, end of story. Lay Rodgers and the Packers with confidence.
Another team fighting for its playoff life is Pittsburgh. It's unlikely that the Steelers will make the postseason, but in order to give themselves a shot, they must beat the Browns, losers of six consecutive games. Even the most optimistic Browns fan (is there such a thing as an optimistic Browns fan?) probably thinks the sky is going to fall on Sunday. The Steelers will easily cover the seven-point spread.
And lastly, I'm digging the Baltimore Ravens getting 6.5 points in Cincinnati. The Bengals might be 7-0 at home and motivated by knocking their rivals out of the playoffs, but these are the Ravens we're talking about. The John Harbaugh, Joe Flacco-led Ravens that haven't missed the postseason since both men came to town in 2008. The same Ravens that won a Super Bowl title in this calendar year. You're telling me Marvin Lewis and Andy Dalton are going to win by a touchdown when the Ravens are fighting for their playoff lives?
To quote the great "Stone Cold" Steve Austin: Eh eh!
As always: Good luck and godspeed. And remember that even if you lose in Week 17, the playoffs are just around the corner.
It's money-making season. I can't wait.