Boxers Facing the Most Pressure in 2014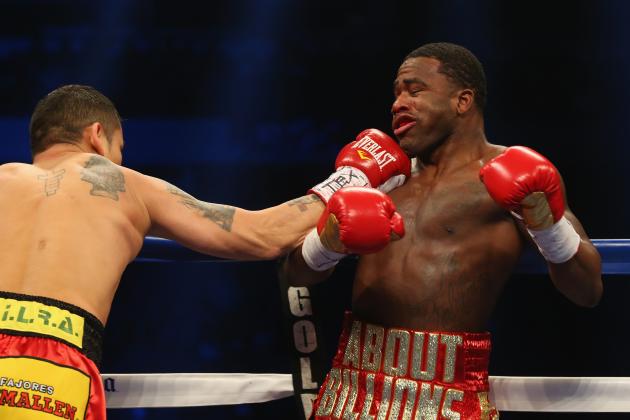 Ronald Martinez/Getty Images

Adrien Broner and Saul Alvarez entered 2013 as two of boxing's fastest rising young stars. Both were ranked inside the pound-for-pound top 10 by the The Ring, the magazine owned by their promoter, Golden Boy.
But in their most important outings of the year, both anointed stars showed they had a lot of work left to do.
So they top the list of stars facing the most pressure in 2014. But it's a list filled with big names. In boxing, the fighters at the top sit perched on a high cliff, with a steep pitch waiting below.
Begin Slideshow

»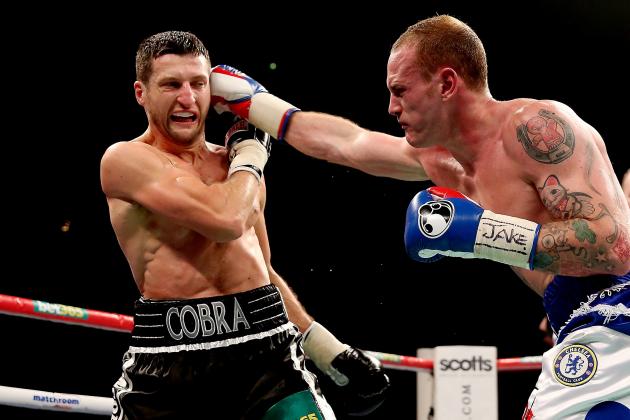 Scott Heavey/Getty Images

Carl Froch spent much of 2013 solidifying his place at the top of the boxing pyramid in Great Britain. When he won a hard-fought but clear decision over Mikkel Kessler in May in front of a sold-out crowd at O2 Arena, it had the feel of a coronation.
But undefeated British super middleweight George Groves asserted his own claim to the domestic throne in November, giving Froch all he could handle for the first nine rounds of the fight.
In the end, Froch pulled out a TKO victory. It will be one of the year's most criticized stoppages.
I say the referee deserves credit for making the judgment he felt was necessary, and Froch deserves credit for turning the fight around to preserve the victory.
But he's going to be closely watched in his next performance. And many fans will insist that his next fight should be a rematch with Groves.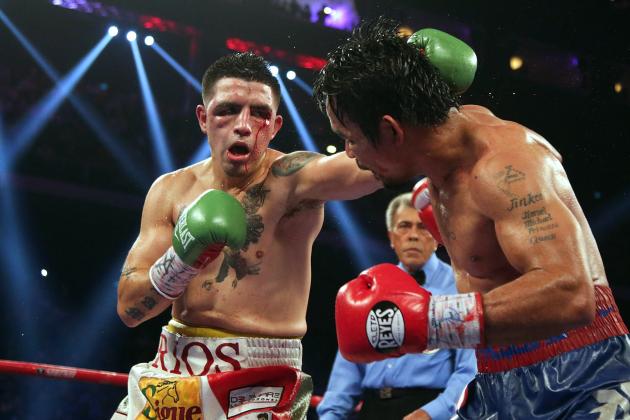 Nicky Loh/Getty Images

By turning in a one-sided thumping of Brandon Rios in November, Manny Pacquiao took some of the pressure off himself that was lingering from his dramatic KO loss to Juan Manuel Marquez in December 2012.
But the performance didn't prove much beyond establishing the fact that Pacquiao is not completely done.
Brandon Rios was an aggressive, come-forward fighter, and the quick and agile Pacman was expected to dismantle him.
The pressure will be on Pacquiao in 2014 to do his part by stepping up to call for the long-awaited superfight between him and Floyd Mayweather.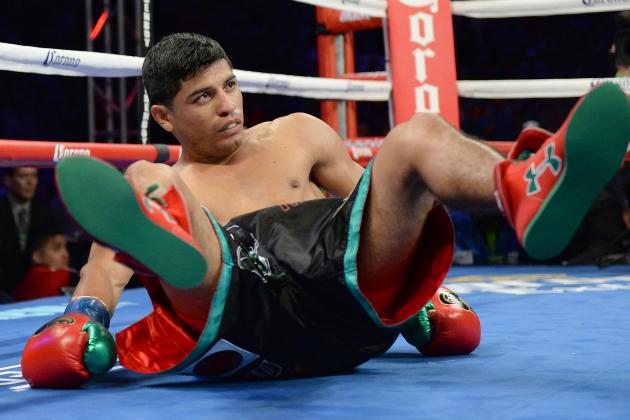 Harry How/Getty Images

There was a time last August, prior to his showdown with Jhonny Gonzalez, when Golden Boy CEO Richard Schaefer was giving interviews proclaiming the undefeated Mares the No. 2 pound-for-pound fighter in the world behind only Floyd Mayweather.
All that changed in less than a round. Gonzalez blitzed the three-division champion and knocked him out in the first.
Mares truly is a talented fighter and should not be written off for getting caught quickly one time. But when he faces Gonzalez in a rematch next February, the pressure will certainly be on.
Jeff Bottari/Getty Images

Sergio Martinez fought just once in 2013, defending the lineal middleweight title against Martin Murray in his native Argentina last April.
Martinez was hardly spectacular in his homecoming.
He was knocked down once, and if a later slip had been properly ruled as a knockdown, Martinez would not have escaped with a unanimous decision.
Martinez went in for another round of surgeries following the fight. When he returns in 2014, it's been widely speculated that his opponent will be Miguel Cotto.
What Cotto has done to rank as a legitimate contender for the middleweight champion is hard for me to puzzle out. But Cotto and Martinez are both big stars, and I don't begrudge them a big event that is sure to provide an exciting fight.
But before the end of next year, the pressure is going to be on Martinez to finally face off with WBA middleweight champion Gennady Golovkin.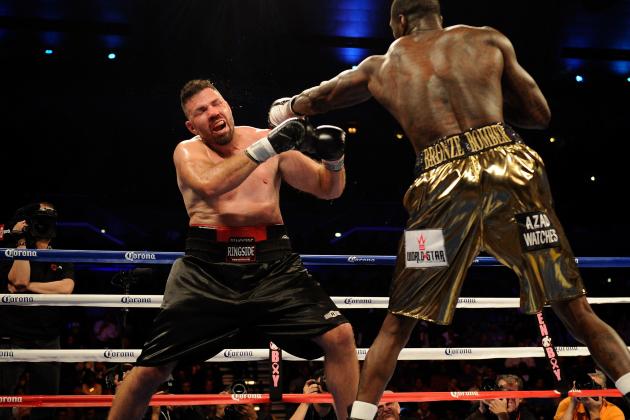 Maddie Meyer/Getty Images

In the past two years, Deontay Wilder has returned excitement to the heavyweight scene in North America. The 2008 Olympic bronze medalist has run his record to a perfect 30-0 with 30 KOs.
Nobody has made it past Round 4 against Wilder.
But Wilder has also begun to hear criticism for taking too long to step up his level of competition.
Nobody is arguing about whether or not Wilder could knock down a barn with his overhand right. But folks are starting to wonder when he will step up and fight another top contender. With Vitali Klitschko now vacating the WBC heavyweight belt, the pressure will be on Wilder in 2014 to step up and demand his shot at the belt.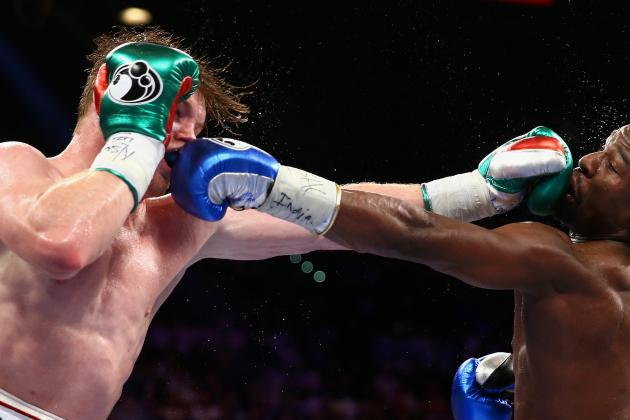 Al Bello/Getty Images

Floyd Mayweather fought twice in 2013, establishing himself as the No. 1 fighter in the world at both welterweight and junior middleweight. He should get serious consideration for Fighter of the Year honors.
But being at the very top means the pressure never stops. In 2014, Mayweather will once again face the pressure of trying to find opponents who can help him sell a pay-per-view in a stagnant entertainment market.
Fans will be unlikely to order Mayweather vs. Amir Khan in large numbers. I'd like to see Mayweather vs. Erislandy Lara, but I'm not sure how well it would sell.
The only opponent left who would guarantee Mayweather a monster payday is Manny Pacquiao. The pressure will be on Mayweather in 2014 to finally get this fight made.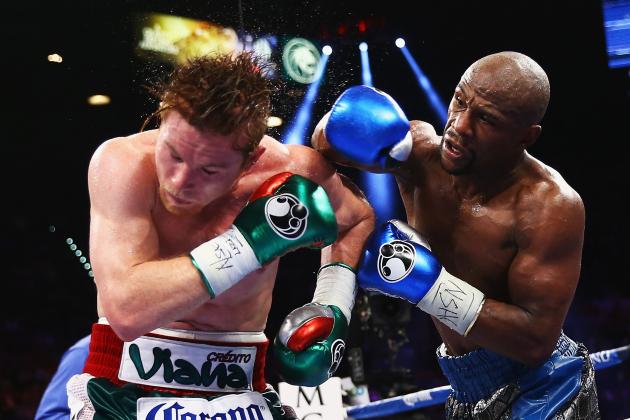 Al Bello/Getty Images

Last September, at just 23, Saul Alvarez helped sell a record-breaking pay-per-view with Floyd Mayweather. In a lot of ways, Canelo has already handled some of the most important aspects of "prize" fighting.
But in the ring, Alvarez's performance was a disappointment to his hardcore fans, even if it was not a tremendous surprise to unbiased observers. Alvarez gave Mayweather far less trouble than Miguel Cotto did in 2012.
It was probably unrealistic to expect Alvarez to get through a year like 2013 with the same luster going out that he had coming in. But the pressure will be on the charismatic red-headed star to get some of that glitter back in 2014.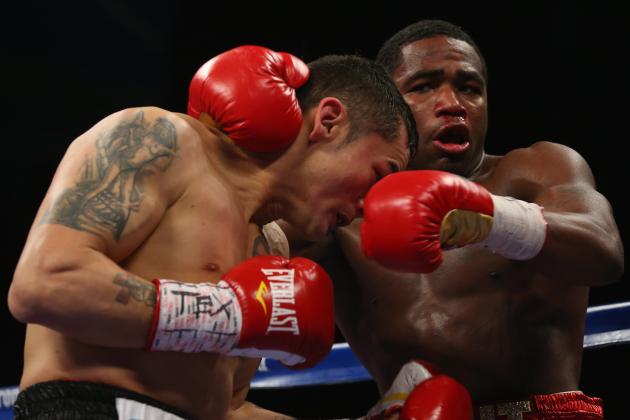 Ronald Martinez/Getty Images

Adrien Broner spent much of 2013 turning off fans with his antics outside of the ring and failing to back up his tremendous arrogance once he got inside of it. In June, he escaped with a close split decision against the light-hitting Paulie Malignaggi.
I thought he deserved to win the fight, but it also proved Broner had no business appearing inside of the pound-for-pound top 10 rankings, no matter what his promoter's magazine, The Ring, was saying.
In December Broner faced rough-and-ready Marcos Maidana of Argentina and got pounded. Maidana knocked him down twice en route to an easy unanimous decision.
Broner has vowed to come back, and he has too much talent to write off based on one stumble. I thought he showed guts when he was hurt during the fight.
He just didn't show good ring IQ or ability to adjust.
Broner is a young fighter, and he might be better off fighting at 140 pounds rather than full welterweight.
But after all the smack he has talked in recent years, the pressure will be on him big-time to come back in 2014.