In most seasons, Week 17 is usually just a time for teams to rest their players before the playoffs. That is not the case this season as almost every game will affect the postseason in some way.
Four of the 12 playoff spots are still up for grabs on the final day of the season, with 10 teams battling for these positions. Meanwhile, only the Kansas City Chiefs are locked into their seed, which means that everyone will be competing for byes and home-field advantage.
This creates a number of games on Sunday where both teams will be fighting their hardest for a spot in the postseason and possibly more.
Here is a full look at the biggest matchups of the week along with predictions for every contest in Week 17.
Full NFL Week 17 Predictions

| | | |
| --- | --- | --- |
| Away | Home | Pick |
| Carolina Panthers | Atlanta Falcons | Panthers |
| Baltimore Ravens | Cincinnati Bengals | Bengals |
| Houston Texans | Tennessee Titans | Titans |
| Jacksonville Jaguars | Indianapolis Colts | Colts |
| New York Jets | Miami Dolphins | Dolphins |
| Detroit Lions | Minnesota Vikings | Vikings |
| Washington Redskins | New York Giants | Redskins |
| Cleveland Browns | Pittsburgh Steelers | Steelers |
| Green Bay Packers | Chicago Bears | Packers |
| Denver Broncos | Oakland Raiders | Broncos |
| Buffalo Bills | New England Patriots | Patriots |
| Tampa Bay Buccaneers | New Orleans Saints | Saints |
| Kansas City Chiefs | San Diego Chargers | Chargers |
| St. Louis Rams | Seattle Seahawks | Seahawks |
| San Francisco 49ers | Arizona Cardinals | Cardinals |
| Philadelphia Eagles | Dallas Cowboys | Eagles |
Philadelphia Eagles at Dallas Cowboys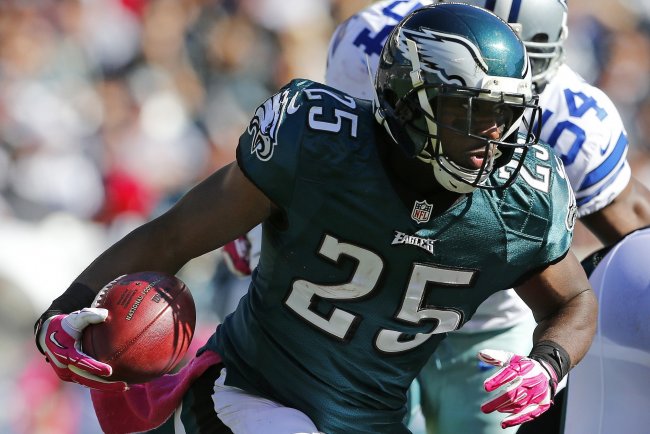 Rich Schultz/Getty Images
After it was originally reported that Cowboys quarterback Tony Romo would miss the game and the rest of the season with a back injury, he is still questionable for Sunday's game, according to Josh Katzowitz of CBS Sports.
Jason Witten was confident that his teammate would try his hardest to compete, according to Reuben Frank of CSN Philadelphia:
"If there's any possible way for him to do it, I know he'll do it. If he's able at all, I know he'll be out there" Jason Witten on Tony Romo

— Reuben Frank (@RoobCSN) December 26, 2013
However, the reality is that it does not matter much who is starting at quarterback for Dallas. The difference in this game will be on the defensive side of the football.
The Cowboys have allowed the most yards in the NFL this season while struggling to defend either the run or the pass. Meanwhile, the Eagles have showcased a balanced attack on offense that should be able to pile up plenty of points in this game, especially after scoring 54 points against the Chicago Bears.
Dallas has enough playmakers on offense to get onto the scoreboard, but it will not be able to keep up with Philadelphia.
Prediction: Eagles 38, Cowboys 27
Green Bay Packers at Chicago Bears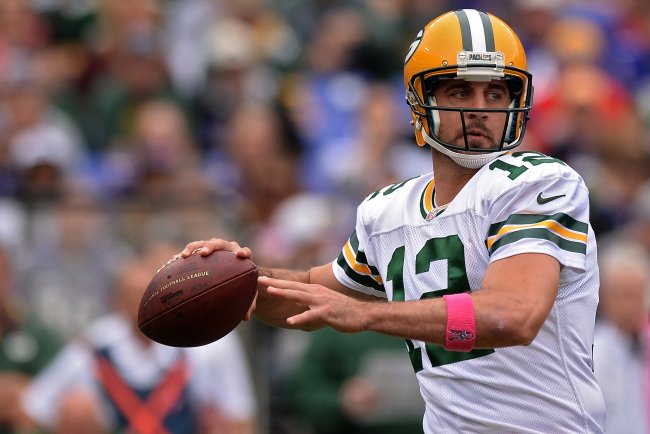 Patrick Smith/Getty Images
After missing two months with a broken collarbone, Aaron Rodgers will finally return to the field for the Packers, according to Jason La Canfora of CBS Sports:
The Packers have announced that Aaron Rodgers is back. will start Sunday in must-win game vs. Chicago

— Jason La Canfora (@JasonLaCanfora) December 26, 2013
Scott Kacsmar of Football Outsiders provides a look at the all of the storylines involved in this matchup:
With division on the line, Aaron Rodgers returns against the team who injured him and GB's most hated rival. You can't make this stuff up...

— Scott Kacsmar (@FO_ScottKacsmar) December 26, 2013
This should be bad for the Bears, who already rank 30th in the league in points allowed per game. If Rodgers comes back sharp, he should be able to move the ball efficiently against this poor-tackling unit.
On the other side of the ball, Chicago's offensive line has been a serious problem in recent weeks. In the last two games, Jay Cutler has been sacked seven times and suffered 13 quarterback hits.
Green Bay has a strong enough pass rush to force Cutler into mistakes, and it will be enough for the Packers to leave with a road victory to make the playoffs.
Prediction: Packers 31, Bears 17
Baltimore Ravens at Cincinnati Bengals
The battle between the San Francisco 49ers and Arizona Cardinals has plenty of importance, but it could end up meaning nothing based on what the Seattle Seahawks and New Orleans Saints accomplish.
On the other hand, there will be a lot of teams in the AFC looking at this matchup to see how it turns out. A Ravens win or loss can decide the fates of the Miami Dolphins, San Diego Chargers and Pittsburgh Steelers, while the Bengals can affect the seeds of the New England Patriots and Indianapolis Colts.
While both teams are expecting a strong effort, Baltimore running back Ray Rice had some motivating words for his squad, via Jamison Hensley of ESPN:
#Ravens RB Ray Rice: "I take a lot of pride being in the playoffs every year. Quite frankly, I'm not looking forward for it to change."

— Jamison Hensley (@jamisonhensley) December 26, 2013
Unfortunately, Rice and the rest of the Ravens offense has been held in check recently with only one touchdown in the past two games. This will make it hard to keep up with Cincinnati considering the squad has scored more than 40 points in each of the last four home games.
The Bengals should move to 8-0 on the season while the Ravens lose out on a chance to reach the playoffs.
Prediction: Bengals 28, Ravens 20
Follow Rob Goldberg on Twitter for the latest breaking news and analysis.