College football fans are in for a treat when Miami (9-3) and Louisville (11-1) take the field on Saturday, Dec. 28, in the 2013 Russell Athletic Bowl in Orlando, Fla.
The game is of particular interest to NFL scouts and draftniks, as Louisville quarterback Teddy Bridgewater could potentially be playing in his final college game before heading to the 2014 NFL draft. He's told the media that he'll "evaluate everything" after the bowl game, as noted by College Football 24/7:
Teddy Bridgewater says he could go either way with his draft decision and wants to 'evaluate everything' after bowl. http://t.co/zfz7jzSwmi

— CollegeFootball 24/7 (@NFL_CFB) December 23, 2013
Bridgewater's Cardinals lost but one game in 2013—the only loss coming against UCF back in mid-October, which made its way to the Fiesta Bowl. After that loss, Louisville won five games in a row to finish the regular season.
Miami comes into the game on a two-game winning streak, having knocked off Virginia and Pittsburgh to close out the season. However, before getting spanked 41-14 by Florida State, the Hurricanes were unbeaten, and the big loss was the first of three in a row.
Head coach Al Golden knows his defense is in for a huge challenge against Bridgewater, per the Associated Press via CBS Miami:
This is a very talented young man. He has great command on the offense. ... He has speed, good corps of receivers, knows how to distribute the football, doesn't make many mistakes with the football, can move in the pocket. It's going to be a great challenge for our corners and safeties.
Here's a look at when and where you can catch the upcoming bowl game, along with betting information and injury reports for both teams.
When: Saturday, Dec. 28, at 6:45 p.m. ET
Where: Florida Citrus Bowl, Orlando, Fla.
Watch: ESPN
Live Stream: Watch ESPN
Betting Lines (via Covers)
Over/Under: 57 points
Spread: Louisville (-3.5)
Team Injury Reports (via USA Today)
Louisville

| | | |
| --- | --- | --- |
| Player | Position | Status/Updated |
| Abraham Garcia | OL | Questionable (knee), Dec. 22 |
| Michael Dyer | RB | Questionable (groin), Dec. 22 |
| Kamran Joyer | OL | Questionable (ankle), Dec. 22 |
| Joe Manley | OL | Questionable (ankle), Dec. 22 |
| Senorise Perry | RB | Questionable (undisclosed), Dec. 22 |
| Kai De La Cruz | WR | Questionable (groin), Dec. 22 |
| Keith Brown | LB | Questionable (knee), Dec. 22 |
| Corvin Lamb | RB | Out (knee), Sept. 3 |
| Hunter Bowles | TE | Out (neck), Sept. 3 |
USA Today
Miami

| | | |
| --- | --- | --- |
| Player | Position | Status/Updated |
| Herb Waters | WR | Questionable (knee), Dec. 25 |
| Alex Figueroa | LB | Questionable (shoulder), Dec. 22 |
| Standish Dobard | TE | Questionable (knee), Dec. 22 |
| Ladarius Gunter | DB | Questionable (neck), Dec. 22 |
| Preston Dewey | QB | Out (back), Dec. 12 |
| Corn Elder | DB | Out (knee), Nov. 26 |
| Duke Johnson | RB | Out (ankle), Nov. 14 |
| Hunter Wells | OL | Out (undisclosed), Aug. 29 |
| Hunter Knighton | OL | Out (shoulder), Aug. 15 |
USA Today
Will Stephen Morris Be Able to Keep Pace with Teddy Bridgewater?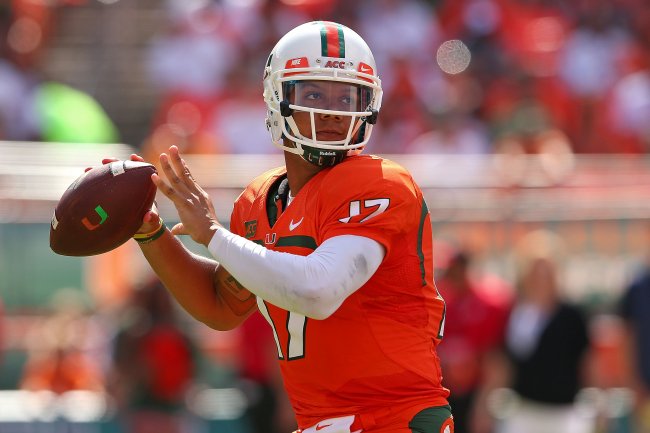 Mike Ehrmann/Getty Images
Bridgewater isn't the only quarterback in this upcoming game worth keeping an eye on.
Miami's Stephen Morris will be playing in his final game as a senior, and a strong performance against Louisville's stingy defense would go a long way toward helping his draft stock.
It's been an up-and-down year for Morris, who has passed for 2,868 yards with 21 touchdowns and 12 interceptions. As noted by Susan Miller Degnan of the Miami Herald, Morris entered the season as a top prospect nationally but has seen his stock drop significantly.
However, at least one analyst believes there could be a bright future in the NFL for Morris, given the right set of circumstances. ESPN commentator Rod Gilmore, who is on the broadcast team for the bowl game, via the Miami Herald, believes a big game could make a huge difference:
Absolutely. You only need one NFL team to fall in love with you, and that often means one coach, one scout seeing the potential they like. I think Morris is talented, no question. He's got a good arm, good size and he's athletic enough. He just has to be more consistent at what he does so that people believe the upside is there.
It's not going to be easy for Morris to succeed, however.
Louisville featured the nation's No. 3-ranked scoring defense in 2013, allowing just 12.4 points per game. Only two teams managed to score more than 20 points against the Cardinals, and it'll likely take at least 20 for Miami to win.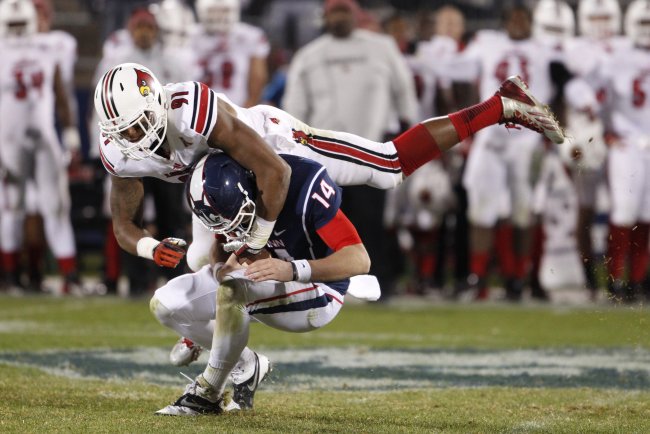 David Butler II-USA TODAY Sports
Morris will likely be trying to avoid the always tenacious Marcus Smith—the No. 2-ranked pass-rusher in the nation, with 12.5 total sacks—all game long. Louisville also racked up 16 interceptions this season, meaning the senior Hurricanes passer must be razor sharp to lead his team to victory.
Prediction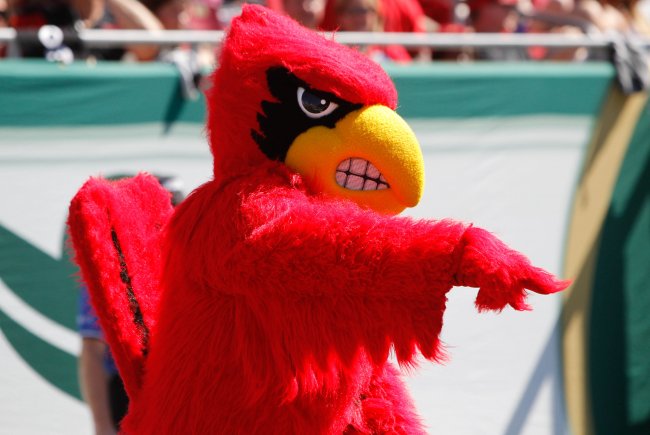 Kim Klement-USA TODAY Sports
Louisville will find a way to win, whether Morris steps up and has a big game or not.
Miami's offense will struggle to move the sticks and score points against the dominant defense of the Cardinals.
Bridgewater will have no trouble picking apart Miami's defense, which finished the season with a mediocre No. 72 rank against the pass after allowing 233.4 passing yards per game. But the Cardinals also run the ball with ruthless efficiency, and Miami's defensive front will wear down throughout the contest.
In the end, it's hard to imagine the Hurricanes will be able to stay close in this one.
Final Score
Louisville wins, 31-21.
Follow me on Twitter @JesseReed78