Serie A in Memoriam: Remembering the Players Italy Lost in 2013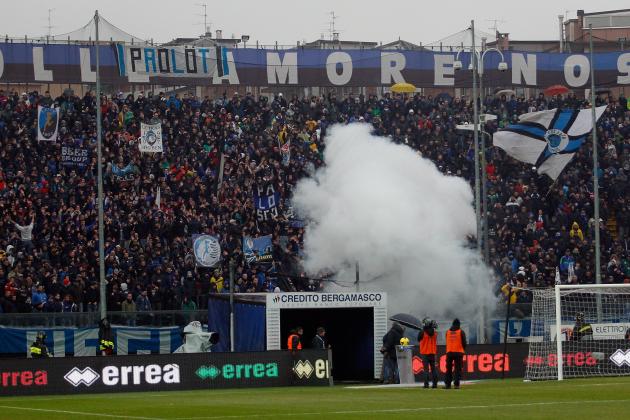 Maurizio Lagana/Getty Images

Another year has gone, and Serie A continues to play on with high-quality soccer.
Many generations of players have contributed to Italy's on-field product, and time passes on, so do some of the men that have helped make this league great.
This article will pay tribute to the former Serie A players who have died in 2013.
Begin Slideshow

»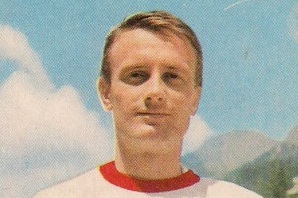 Wikipedia Italia
Lucio Dell'Angelo poses in his Vicenza kit.
A midfielder, Lucio Dell'Angelo has a place in history as the first player in Italian history to be involved in a co-ownership deal—in his case between Fiorentina and lower-tier side Prato.
He was first signed by AC Milan, but he never played a game for the Rossoneri. He made his Serie A debut in 1959 with Fiorentina before spending two years in a co-ownership deal with Prato. He returned to La Viola for two years before moving on to Vicenza.
After two years he spent a year in Serie B with Hellas Verona before his longest single term with one team in the top flight, a three-year stint with Atalanta.
When La Dea were relegated in 1969, Dell'Angelo moved to another Serie B side, Mantova. In his second year with the side he helped them win the cadetto. The next year he played in his last top-flight side before moving back down to Serie B with Monza. After only six games with the club he went back to Prato, where he ended his career four years later after playing 72 games between Serie C and D.
Lucio Dell'Angelo died on New Year's Day 2013 after a long illness at the age of 74.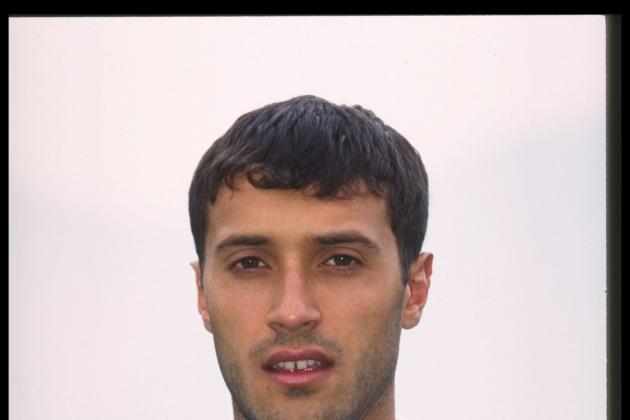 Getty Images/Getty Images
Carmelo Imbriani during his time with Napoli.
Carmelo Imbriani spent only two seasons in the top flight with Napoli, the club he had come up through the youth ranks with. His debut came in February of 1994 as a substitute.
The midfielder's longest stretch of top-flight action came in 1995-96, when he played in 25 matches, scoring twice. After that, he was loaned out in consecutive seasons before returning to the Partenopei after they had been relegated.
He spent the rest of his playing career in the lower divisions. In the winter of 1999 he moved to Genoa, then to Cosenza that summer.
He never broke into the regular lineup at Cosenza, and in 2002 he transferred to his hometown club Benevento. He spent a loan spell at Foggia and jumped back to Serie B for a year in 2005-06 at Catanzaro. After playing only 11 times he came back to Benevento and was a regular starter until retiring as a player in 2009.
In 2009 he became a youth coach for the club, and in November of 2011 he was made coach of the first team.
In August of 2012 he was discovered to have cancer throughout his lymphatic system. By October he could no longer fulfill his duties as coach and resigned.
He died of leukemia in hospital in Perugia on February 15. He was only 37 years old.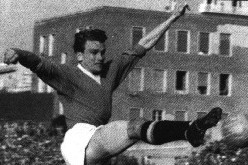 Wikipedia Italia
Hasse Jeppson in action with Napoli
Swedish international Hasse Jeppson started his career in his native country at Djurgardens and then spent half a season at Charlton Athletic, where he scored nine times in 11 games.
He moved to Italy in 1951 with Atalanta. He scored 22 times in 27 games, winning the league's player of the year award and catching the eye of Napoli. They bought the Swede before the 1952 season for 105 million Lira, or about 52,000 British pounds—breaking the transfer record set by the purchase of Jackie Sewell a year before.
The size of his deal prompted Napoli fans to nickname him "o' banco e' napule"—the Bank of Naples. The money wasn't wasted. He scored 52 times in 112 games, although he was never able to propel Napoli higher than fourth in the league.
In 1956 he moved to Torino, then retired from the game.
Internationally he played for his country in the 1950 World Cup, scoring twice. He totaled 12 caps and scored nine times.
He died on February 21 in Rome.
Another player who played the majority of his career in the lower levels of the Italian system, Paulo Ponzo nevertheless spent two years in the top flight, beginning in 2002.
He had spent time at Vado, Montevarchi, Cesena, Ravenna and Reggiana before arriving at Modena in 2000. At the time the club was in Serie C1, but in two years the team had moved all the way to the top flight.
Modena spent two years in Serie A before being sent back down to the second division. Ponzo followed the club, but would never play top-tier soccer again.
He spent one year in Serie B with Modena before moving to Spezia, back to Reggiana and then to Savona.
Ponzo died on March 24 after suffering a heart attack while running in a road race.
Ferruccio Mazzola was the son of tragic Torino legend Valentino Mazzola and the younger brother of Inter star Sandro Mazzola.
He never achieved the same success that his father and brother did, but he still had a respectable career. The majority of his time in the Serie A was spent with Lazio. His last year with the team, 1973-74, saw a scudetto victory, but Mazzola barely played.
He also spent top-flight time with Venezia (a team he helped to promote in 1965-66), Inter and Fiorentina. He spent his last years as a player in Serie C with Sant'Angelo before moving on to a coaching career.
Most of his coaching career was spent in the lower divisions, getting Siena and Venezia promoted from Serie C2 to C1 in his time as head man.
He died in Rome on May 7 after a long illness.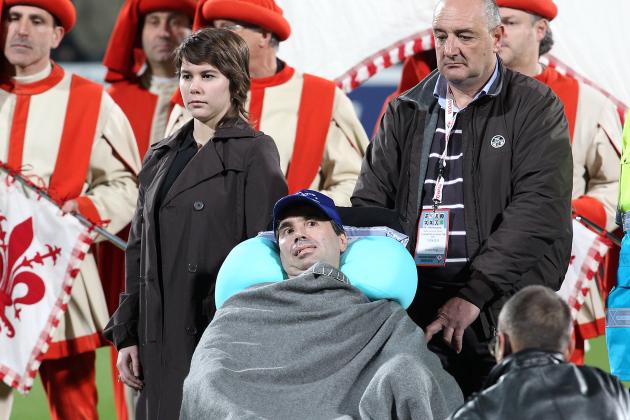 Gabriele Maltinti/Getty Images
Stefano Borgonovo, disabled by his illness, attends a 2010 Coppa Italia match between Fiorentina and Inter.
Striker Stefano Borgonovo made his Serie A debut for Como at the age of 17. After a successful loan at Sambenedettese he was purchased by AC Milan, who loaned him back to Como for the next two seasons.
Another loan stint to Fiorentina produced his best season and a chance to get first-team time at the San Siro. He played behind Marco van Basten on Milan's depth chart in 1989-90 and won the European Cup with the team.
Borgonovo played a vital part in making it to that final. The Rossoneri had traded 1-0 home wins with Bayern Munich in the semifinal and headed into extra time after the second leg. Ten minutes into the extra session Borgonovo scored what proved to be the decisive goal, as Alan McInally's 106th minute strike couldn't overcome Milan's newfound edge in away goals. He would be on the bench for the final against Benfica but was unused.
Despite European success and Arrigo Sacchi's desire to keep him on, Borgonovo desired more frequent playing time and moved to Fiorentina in the summer of 1990. He was never able to regain the form that he found on his loan spell, and he left the club after scoring only four times in 34 games over two seasons.
He finished his career bouncing from Pescara to Udinese to Brescia.
Borgonovo served as a youth coach at his boyhood club Como after his playing career ended, but his coaching career was cut short by amyotrophic lateral sclerosis—better known in the U.S. as Lou Gehrig's Disease.
Borgonovo's fight against ALS became well known in Italy. In October of 2008 his former clubs Milan and Fiorentina played a testimonial to raise awareness for the condition. He even managed to write an autobiography and join in FIFA's anti-doping campaign.
He succumbed to his disease on June 27 at the age of 49. The Italian national team played Spain in the semifinal of the Confederations Cup that day and wore black armbands in his memory.
A defender of some repute, Dino Ballacci played in 306 games for Bologna between 1945 and 1957, making him one of the club's most-capped players in that period.
He finished his career in the Serie B with Lecco and then lower in the pyramid with Portogruaro, retiring in 1959.
He went into coaching, appearing in a surprise Coppa Italia final with Catanzaro in 1966. He also gained three promotions with two different clubs before retiring as a manager in 1988.
He died on August 6.
A defender and midfielder, Francesco Scaratti played in Serie A for seven seasons with SPAL, Mantova and Roma.
It was in his birthplace of Rome that he spent the most time in his career, playing 104 games in the league for the Giallorossi between 1968 and 1973.
He won the Coppa Italia with Roma in 1968-69 and helped his team all the way to the semifinal of the Cup Winners' Cup the next season.
In the second leg of the semifinal against Polish side Gornik Zabrze, Scaratti scored a dramatic equalizer in the last minute of extra time to secure a 3-3 aggregate tie and force a third leg play-off. That game finished 1-1, and Roma was eliminated from the tournament on a coin toss—the last time in European soccer that a coin toss was used as a tiebreaking method.
He passed away in Rome on August 16 at the age of 74.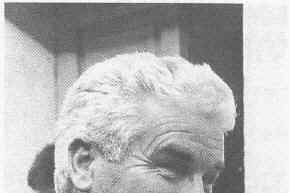 Wikipedia Italia

Giancarlo Cade made his Serie A debut with Atalanta at the age of 19. After moving to Catania for a for the 1950-51 season he returned to Bergamo and played in 55 matches for La Dea over three seasons.
In 1954 he moved away from Atalanta again, this time to Serie B side Cagliari. He again returned after a year but only played four games with his boyhood club before moving away from the team—and the top tier—for good.
The last four years of his playing career were spent in Serie B at Reggina and Mantova.
After playing he went into coaching and had success with various provincial sides. He managed to get Mantova and Pescara promoted to the top flight and managed Torino, Varese and Hellas Verona (twice) in the Serie A. He also got Reggina, Bologna and Ancona out of Serie C and back into Serie B.
He died on October 7 in his birthplace of Zanica.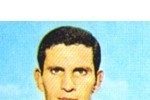 Wikipeida Italia
Dellagiovanna with Varese.
Giorgio Dellagiovanna broke into professional soccer as La Grande Inter began its rise, and it was exceedingly hard for him to break into the team. He was along for the ride for two of the team's championships (1962-63 and 1964-65) but only ever played 10 games with the Nerazzurri.
The defender eventually moved to Varese, where he spent six years and garnered 188 caps. He helped the club to the 1969-70 Serie B title and spent two seasons in the top flight. When Varese was relegated after the 1971-72 season, Dellagiovanna retired.
He died on October 17 in his native Milan.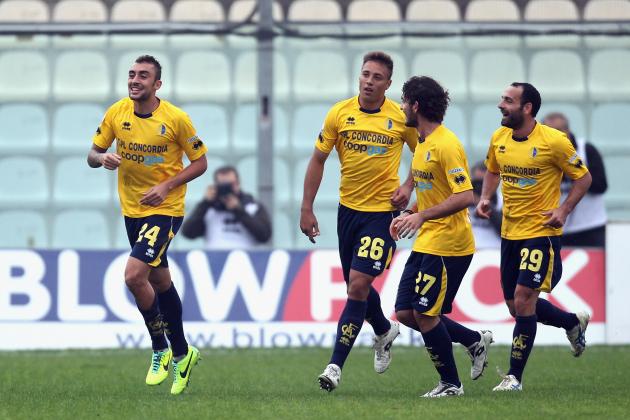 Maurizio Lagana/Getty Images

I was unable to find a picture of Dino Gifford I could reliably use, so the photo in this space is graced by the players of Modena, the club that he garnered the most top-flight caps for.
A minor part of several lower-division teams, Gifford played in Serie A for two seasons with Livorno in 1937-38 (four games) and Modena in 1938-39 (13 games).
Gifford died on November 5 at the age of 96. At the time of his death he was the oldest former player in the history of Modena.

Wikipedia Italia

A native of Bergamo, Giuseppe Casari minded the net for his hometown club Atalanta for the first six years of his career, appearing in 170 league games.
He moved to Napoli in 1950 and appeared in 107 games over three years before dropping down a division to finish his career at Padova—but not before making a swan song in the top flight after helping the team get promoted from Serie B.
Internationally, Casari was the starter for the Italians at the 1948 Olympics in London, but was shelled for five goals (four by John Hansen) in the quarterfinal by Denmark. He went to the 1950 World Cup but did not play. After the World Cup he garnered four caps during a period of extreme flux in goal for Italy but never played in a major tournament.
He died on November 12 at the age of 91.
One of the greatest players in the history of the Italian game, Amedeo Amadei played for a total of 12 years between two stints at Roma, scoring 116 times.
He led the Giallorossi to the 1941-42 league title and holds the record as the youngest player ever to appear in a Serie A game (15 years, nine months, six days on his debut in 1936) and to score in one (one week after his debut). By 1943 he was captaining the team.
After World War II, Amadei was sold by a financially-strapped Roma to Inter. He spent two seasons in Milan, scoring an absurd 42 times in 72 games and leading the team to second and third place finishes.
In 1950 he was sold to newly-promoted Napoli. He spent the final six years of his career in Naples, scoring 47 times to finish with a total of 174 goals in league play, still good for 13th in the history of Serie A.
Internationally Amadei garnered 13 caps for his country, scoring seven times and representing Italy in the 1950 World Cup.
After his career he had two stints as manager of Napoli and was the coach of the Women's National team from 1972 to 1978.
In 2012 Roma named him as an inaugural member of the Roma Hall of Fame.
He died in his native Frascati on November 24 at the age of 91.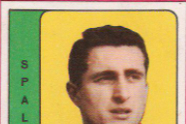 Wikipedia Italia

Goalkeeper Edo Patregnani played parts of four seasons in the top flight, mostly with SPAL.
Purchased by the club from Sambenedettese in 1961, Patregnani started 23 games and led his team to the final of the Coppa Italia at the end of the '61-62 season.
He only played in one game the following season after falling behind Eugene Bruschini in the pecking order, but performed well in 1963-64 when Bruschini went down with a serious injury. Unfortunately, his performance wasn't enough to keep SPAL in the top flight.
The next year he was loaned to Vicenza, where he played his last nine Serie A matches.
He returned to SPAL the next year but did not see the field, then played nine games for Alexandria the next season.
He spent the next two years at low-level teams Jesi and Fano—the team he started his career with. He played only once—with Jesi—and in the meantime used his physical education degree to teach at local high schools.
After retiring he became a teacher of kinesiology, but kept a hand in the game. He coached amateur sides and served as a goalkeeping coach for five clubs, including SPAL, the team that brought him to the pinnacle of Italian soccer.
He died on December 3 in Cento after a long illness.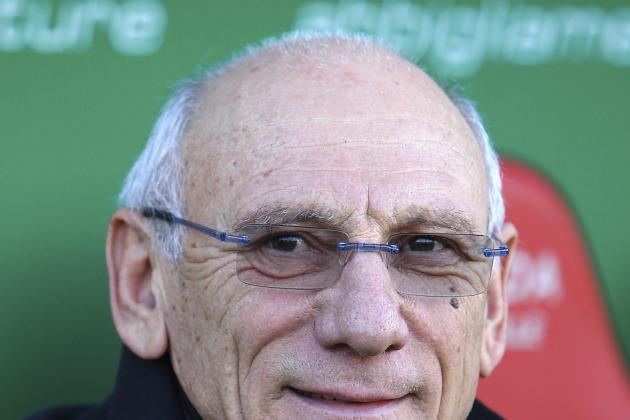 Marco Luzzani/Getty Images
Luigi Menti in attendance at a game for his old club, Vicenza, in January of 2012.
Luigi Menti played for Vicenza for 14 seasons, and played regularly in Serie A from 1958 to 1969, when he retired.
Menti helped Vicenza's primavera team win the prestigious Viareggio Tournament in 1954 and 1955, but didn't start playing regularly for the team until returning from a loan stint at Padua.
From the 1958 season on, Menti played 291 matches—all in the top flight—and scored 18 goals.
The team's best finish in Menti's time was sixth—a place they attained twice.
Menti finished his career as Vicenza's second-most capped player overall and their most-capped player in Serie A.
He died in Vicenza at age 79 on December 11.