The 2014 Sochi Winter Olympics are just around the corner, but the United States has yet to put together its 30-athlete speedskating team.
That will all change in the coming days, as skaters from around the country converge on Utah to prove their worth at the Olympic Trials.
For the first time ever, these events will be shown on both network and cable television, with NBC dedicating 13 hours of coverage to speedskating during the 11-day process.
President of NBC Olympics Gary Zenkel said in a U.S. Speedskating press release that the television coverage will offer fans of the sport a unique perspective:
"We are excited to present the speedskating Olympic Trials for the first time," Zenkel said. "Our extensive coverage gives fans a head start to follow the U.S. Olympians as they prepare for Sochi 2014."
U.S. Speedskating President Mike Plant echoed Zenkel's sentiment in the release:
U.S. Speedskating is the most decorated Olympic winter sport in the United States with more than 85 Olympic medals. Having our 2014 U.S. Olympic Team Trials televised on NBC and NBC Sports Network are outstanding platforms on which to showcase the team we'll be sending to compete at the Olympic Winter Games in Sochi, Russia.
Let's take a look at where you can catch all this exciting action leading up to the Sochi Games—which begin on Feb. 6 and run through Feb. 23—plus highlight a few athletes to keep an eye on during these thrilling trials.
When: Long-Track Trials: Dec. 27, 2013-Jan. 1, 2014, Short-Track Trials: Jan. 2-Jan. 5.
Where: Utah Olympic Oval, Kearns, Utah
Watch: NBC, NBC Sports Network
Live Stream: IceNetwork
Stars to Watch
J.R. Celski, Short Track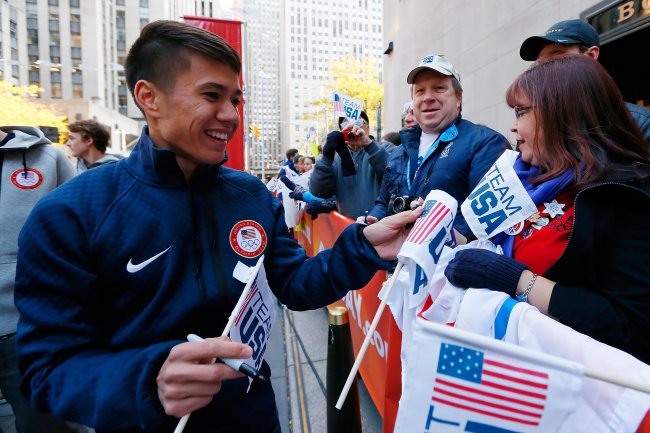 Mike Stobe/Getty Images
American short-track speedskating was left with a major void to fill when Apolo Anton Ohno elected to shut the door on any potential comeback in 2014. The eight-time medalist was the most popular and decorated speedskater in U.S. history, but decided to rule out a return at the age of 30.
Will Celski win gold in Sochi?
Celski is the nation's best hope to return to prominence in the sport, as the 23-year-old has enjoyed a quick rise through the ranks and is now poised to once again represent the Stars and Stripes in Russia.
The skater told Allen Schauffler of King 5 News that he is ready to take over as the leader of this team with Ohno out of the picture:
"It's a big task. But I am mentally ready to step up and take that role. It's going to be good. I'm hoping to lead this team to a lot of medals."
While he was only able to secure two bronze medals in Vancouver (in the 1,50 -meters and relay) after recovering from a gruesome thigh injury during the U.S. trials, Celski recently set a world record in the 500 meters at the 2012 ISU Short Track World Cup.
Hopefully, Celski can stay healthy, set some records and bring home plenty of medals for the United States.
Shani Davis, Long Track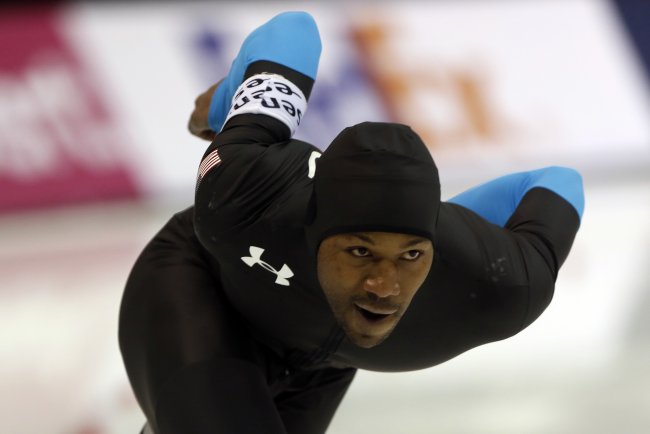 Jim Urquhart-USA TODAY Sports
Sochi won't be Davis' first rodeo, as this long-track stud has arguably been the second-most popular speedskater in America over the last decade or so.
He's the back-to-back defending gold medalist in the 1,000 meters, dominating the field at both Turin in 2006 and Vancouver in 2010.
Those aren't Davis' only Olympic medals. He also captured silver in the 1,500 meters at both Winter Games.
The 31-year-old holds the distinction of being the first black athlete from any nation to win a gold medal in an individual sport during the Winter Olympics after emerging victorious in the 1,000 meters in Turin.
Considering that Davis has won more than 50 World Cup events, this veteran speedskater is arguably America's best shot at bringing home medals on the long track in Sochi.