Week 17 in the NFL is one of the best weeks in the entire year for football fans. So many exciting, make-or-break games all in one Sunday.
For teams like the Philadelphia Eagles, Week 17 is everything to them. It's a chance to beat their division rival and it's a chance for a playoff berth, but more importantly, it's a chance for validation.
Coming into the 2013 season, there was very little expected of Chip Kelly's team. Despite the doubt coming from most everyone that isn't an Eagles fan, Philly has made some things happen and find themselves in an advantageous spot.
Win, and they make the playoffs. Lose, and they're just another team who almost made it.
They are in a pretty favorable situation, though. The Dallas Cowboys will likely be without Tony Romo come Sunday due to a back injury suffered against the Washington Redskins, which would be a huge advantage to Philadelphia.
It's an exciting time in the NFL, and these make-or-break games are upon us.
Philadelphia Eagles vs. Dallas Cowboys
The Eagles' job on Sunday got a bit easier when news broke about Romo's injury, but they should still be on their toes heading into the Week 17 game.
Although it won't be Romo at the helm for Dallas, Kyle Orton has done a great job of leading teams in the past and could do the same on Sunday. Plus, the bread and butter for Dallas is their running game; as long as DeMarco Murray is healthy and given the ball, the Cowboys could pull an upset.
With that said, it's not exactly likely.
The Eagles have been on a roll since Nick Foles took over, and he should be able to throw it all over Dallas' 31st-ranked passing defense.
LeSean McCoy will also be vital to Philly's success against Dallas despite rushing for just 55 yards the last time these two teams met.
The biggest difference between then and now is the absence of Sean Lee. Dallas' star linebacker suffered a neck injury that has turned out to be worse than the Cowboys originally thought and will keep him out of Week 17, per ESPN's Adam Schefter (h/t Pro Football Talk).
Lee had a decade of tackles in the first meeting of these two teams, and given the fact that he won't be playing Sunday, McCoy should be that much more effective.
Prediction: Philadelphia 34, Dallas 17
Green Bay Packers vs. Chicago Bears
Let's have a moment of silence for the Detroit Lions.
They let a division championship slip through their fingers after Jay Cutler and Aaron Rodgers both missed substantial time this season, and the team is now in a complete state of disarray.
Okay, now back to the teams still competing.
The Green Bay Packers will be traveling to Soldier Field in a game that will decide the NFC North crown. The Packers are still without Rodgers at this point in time, but have been able to squeak by with Matt Flynn running the show.
Who will clinch the NFC North title?
Chicago, on the other hand, has returned their starting quarterback but isn't exactly playing like a playoff team. Their most recent manhandling came in the form of a 54-11 shellacking at the hands of the Eagles, and it disrupted any momentum they had built previous to that game.
If this were a battle of two healthy teams, then it would go to the Packers in a landslide. However, that is not the case.
Packers running back Eddie Lacy is also nursing an ankle injury that nagged him for the greater part of their game last week. Lacy has been an integral part of Green Bay's offense this season and has made up for the downgrade in quarterback since Rodgers' injury. If Lacy isn't playing like he normally does, then things could get pretty rough for the Pack.
No Rodgers, an injured Lacy and the league's 26th-ranked defense? I'm taking the Bears.
Prediction: Chicago 28, Green Bay 13
Baltimore Ravens vs. Cincinnati Bengals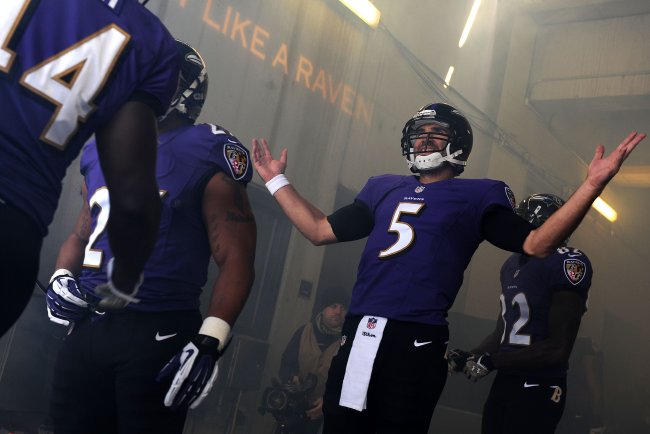 Patrick Smith/Getty Images
Despite an embarrassing loss to the New England Patriots at home last weekend, the Baltimore Ravens still have some serious playoff hope. In their season finale versus the Cincinnati Bengals, Baltimore must play a smart game if they want to get out of Cincy with their playoff hopes still alive.
The Bengals' defense is one of the league's best, but has fallen to Baltimore before; they lost 20-17 in Week 10. The Bengals are the better team on paper, but considering the familiarity between these two teams, throw the records and numbers out, because this one is up in the air.
Stopping the Andy Dalton-A.J. Green connection will be most key for the Ravens, and that all starts with putting the pressure on Dalton. The Ravens' defense was able to sack him five times in their last meeting and also had a trio of interceptions.
If Baltimore's pass rush can lay some hits and hurries on Dalton then they will be in great shape to win. That being said, they will need some help to get into the playoffs even with a victory; they would also need a loss from the Miami Dolphins or the San Diego Chargers to break into the playoffs.
What should also be noted is that John Harbaugh is 4-1 in season finales. It will be tough, but Joe Flacco and the Ravens do especially well in December around playoff time, and are a dangerous team regardless of their record.
Prediction: Baltimore 17, Cincinnati 14