New York Jets: The Real Reason for Geno Smith's Inconsistency in 2013
December 27, 2013

Ron Antonelli/Getty Images
One of the most difficult decisions the New York Jets will have to make this offseason is whether or not Geno Smith is capable of being their franchise quarterback for the next decade.
The Jets have been wise in their decision to start him in every game, giving him invaluable experience while creating a body of work in the NFL from which they can make a much more informed evaluation of him than if he were just a college prospect.
Making judgments about a player's career after their rookie season is hardly fair, but the Jets have no time to waste as they try to turn the fortunes of their franchise around as quickly as possible.
Despite having a full 15-game slate of tape to work with, Geno Smith has not made himself an easy case study for the Jets' evaluators. Smith has shown flashes of greatness in clutch situations, only to conduct one of the least-effective offenses of the Rex Ryan era (which is quite the feat, considering Ryan's history of offensive "success") for stretches of time.
In a sense, it is not that Geno has been a drastically different player from week to week. Rather, it is his environment that has created an influx of ups and downs that have plagued the Jets' season. 
Geno Smith has dealt with a revolving door at the receiver, running back and tight end position, but the true source of his "Jekyll and Hyde" play can be derived from the play of his offensive line and his pass protection as a whole (including tight ends and running backs).
The Big Play

Ed Mulholland-USA TODAY Sports
When the Jets were turning heads earlier in the season and scoring points at an alarmingly acceptable rate, they were generating most of their offense through big plays down the field—which, of course, take time to develop.
As a result, Geno Smith needed more time in the pocket than what is typically expected, and for the most part, he got it.
Let's take a look at what was arguably the Jets' best offensive game of the season, Week 5 against the Atlanta Falcons. Thanks to a rather anemic pass rush from the Jets, Smith was able to generate a handful of big plays behind some stellar pass protection.
Check out how much room Smith has to work with on this touchdown pass. Not only does he have several seconds to survey the field, but he has plenty to space to step up into his throw and deliver with accuracy—which he does. 

NFL Game Rewind
He instantly sees Jeff Cumberland breaking open against single coverage from a linebacker. The coverage is not terrible by any stretch, so he must make a tremendously accurate (yet makeable) throw to beat the defense.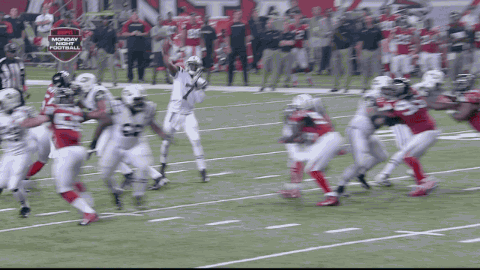 Bleacher Report
Because he had so much time and space to operate, Smith was able to get the most out of his talented arm to fit a perfect pass right over the outstretched linebacker for the 20-yard touchdown.
The Blitz

Patrick Smith/Getty Images
The Jets never did maintain the offensive heights they had gained after beating the Falcons that week. Defensive coordinators across the league had over a month of tape to study how the Jets were so explosive all of a sudden, and they figured out the Achilles' heel of the Jets offense:
The blitz.
Blitzing may be a riskier way to play defense, as it leaves a secondary vulnerable to giving up a big play if there is no pressure on the quarterback soon after the ball is snapped. But it presented problems for the Jets' protection schemes that took far too long to figure out, and it ultimately cost them a chance to go to the playoffs. 
This sack given up against the Ravens summarized just about everything that was wrong with the Jets offense in one play.
The Ravens are using a six-man blitz against he Jets' five blockers. With at least one guaranteed free runner, Geno must get the ball out quickly to a receiver running an adjusted shorter route to combat the blitz.
However, the Jets fail on just about every front possible. Neither receiver runs an adjusted route, forcing Geno to hold on to the ball for a few extra seconds. The blame for this lies on both the receivers' and Smith's shoulders: Smith may not have given an alert for a blitz, and the receivers did not recognize or adjust to what was happening (it is impossible to tell for sure without knowing the intricacies of the Jets' offensive system).

NFL Game Rewind
Meanwhile, tight end Jeff Cumberland is getting mauled by a Ravens defensive lineman, who is getting pressure on Smith. Smith lowers his eyes and has all but given up on the play at this point. 

NFL Game Rewind
There is a wide open receiver to the right, but a blitzing Daryl Smith cleans things up for the sack.
Everything possible went wrong for the Jets on this play, from the receivers running routes to the protection and Smith losing his composure a bit too soon.
Plays like these are not all Smith's fault, but quarterbacks that are capable of winning Super Bowls overcome the mistakes of those around them; they don't contribute to the problem.
The issue the Jets ran into was they were so reliant on the deep pass earlier in the season that Smith never developed the skills to run any other type of offense. When teams started to test the Jets under heavy pressure, they crumbled. 
By the time the Jets finally figured out how to  adjust to heavy-pressure schemes, they were already out of the playoffs.
Other Factors
While the Jets' inability to protect Geno was a driving force of their offensive woes in the third quarter of the season, it would be ignorant to not at least note the other factors that contributed to such a poor period of offensive football.
Even a fully healthy Jets receiving corps would be regarded as one of the worst units in the league. The fact that the position was ravaged with the injury bug for the second straight year only compounded the issue of not giving Geno Smith a supporting cast capable of winning consistently.
Santonio Holmes has had yet another disappointing season that was held back by a nasty hamstring injury. Meanwhile, former second-round pick Stephen Hill has had a season that was hardly worth remembering.
Because of the massive amount of injuries, the Jets had to bring in misfit players off the street just to fill the roster on game day. 
Different Jets Receivers and Tight Ends in 2013
Player
Position
Santonio Holmes
WR
Jeremy Kerley
WR
Stephen Hill
WR
Clyde Gates
WR
David Nelson
WR
Josh Cribbs
WR
Greg Salas
WR
Hakim Saalim
WR
Jeff Cumberland
TE
Kellen Winslow
TE
Zach Sudfeld
TE
Chris Pantele
TE
NFL.com
The scary part is these "misfits" were forced into key roles as injuries continued to pile up and drag on deep into the season. Not only are these players less than stellar (they are available on the street for a reason), but they also lack chemistry with a rookie quarterback that is still trying to get his own bearings settled.
Every team has their share of injuries, and they are not an excuse for losing games, but it is nothing short of ignorant to suggest that the revolving door at wide receiver and tight end had nothing to do with the epitome of inconsistency that was the 2013 Jets offense.
Inconsistent play from a rookie quarterback is to be expected, especially one that was taken in the second round. 
However, the Jets should not just be looking at the fact that Geno Smith's performance varied so much week to week as they should wonder why the quality of his play had so much variance in the scope of a single season.
There are specific reasons as to why the Jets looked so successful one week and inept another, and the Jets need to identify how much blame falls on Geno Smith's shoulders—and how much of it can be corrected. 
From there, the Jets will be able to make the all-important decision of whether or not they will be heavy players in the quarterback market in the coming months.