Hull City vs. Manchester United: 6 Things We Learned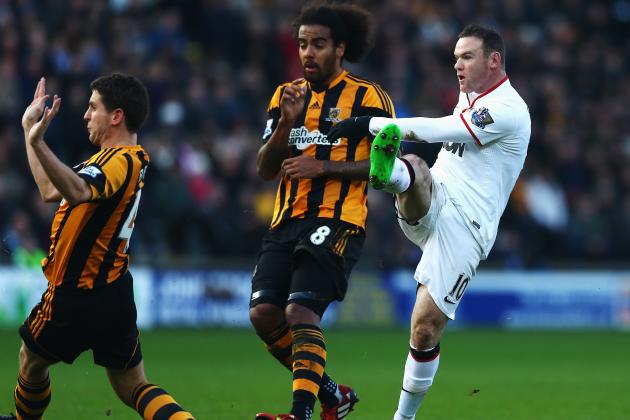 Matthew Lewis/Getty Images

Manchester United's league revival continued on Boxing Day after a hard-fought victory at Hull City.
It was a classic United display, going two goals behind before rampaging their way back into the game, to then nearly losing the victory at the death.
A magnificent David de Gea save sealed the points for the Red Devils.
There was a marked difference between this United team and the one that lost at home to Newcastle. This United team played "for" David Moyes. They looked like "Moyes' Boys."
They appeared to be a team that wanted to win it for their manager and win it for their supporters.
After a breathtaking match, here are six things we learned from this early kick-off.
Begin Slideshow

»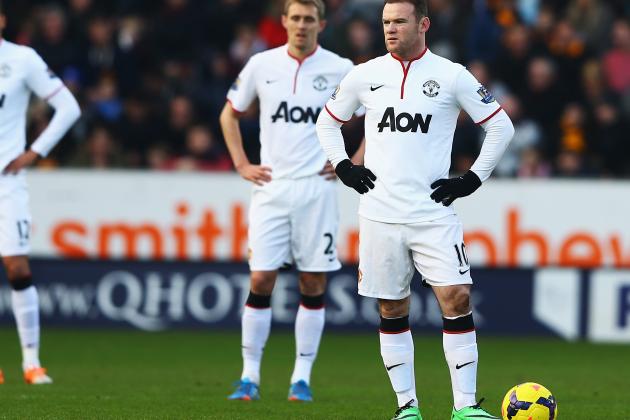 Matthew Lewis/Getty Images

He is still unpopular with a section of United fans, but there is no doubting the current value of Wayne Rooney to Manchester United.
Rooney was involved in all of United's attacking play on Thursday, dictating from the midfield role that Sir Alex Ferguson used him in last season.
The difference between this year and last is that Rooney is once again the star of the team, and he revels in this elevated role.
His goal was sensational, a volley taken with consummate ease. His link-up play with Danny Welbeck was excellent, and his work-rate was phenomenal.
United need to secure Rooney for the long term as soon as possible.
Any replacement would surely cost more than the wage demands that the Liverpudlian would require.
Like him or not, as things stand, Man Utd cannot do without Wayne Rooney, and as Liverpool have done with Luis Suarez, the club need to secure him before other suitors pounce.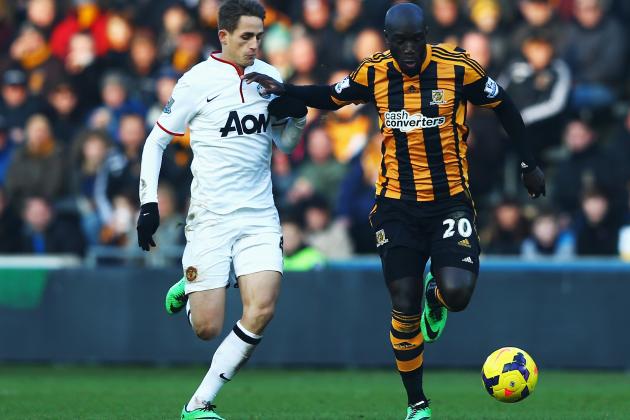 Matthew Lewis/Getty Images

The young man's impact has been amazing.
He was rotated out of the team for this match, only to see his side go 2-0 down and see his manager bring him on early in the first half for the injured Rafael.
Januzaj's influence is clear and simple. His mobility is essential when playing Rooney in such a withdrawn position. United need him to create in the attacking positions.
Before the young Belgian's introduction, it was difficult for Rooney and Danny Welbeck to link up the play, with the wingers playing in conventional wide roles. However, as soon as Januzaj was introduced, it allowed Rooney to dictate with a much more fluid attack in front of him.
Januzaj has now become a fundamental part of this Manchester United squad and will remain so in the years to come.
His involvement allows Rooney to play in midfield without making United a predictable attacking unit.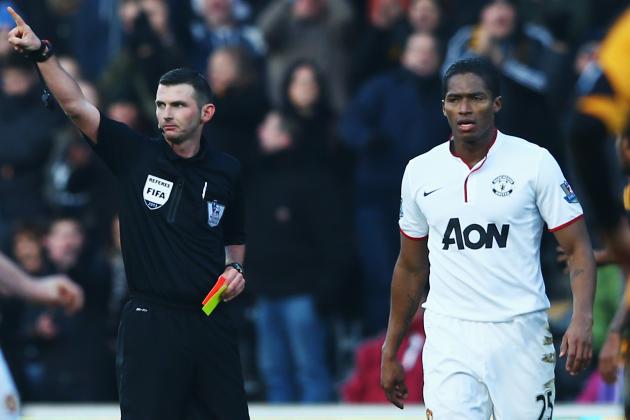 Matthew Lewis/Getty Images

But for a last-minute moment of petulance, Antonio Valencia had a superb game at right-back.
His continued aggression in offence and pace from deep make him a deadly weapon.
If we can assume that Januzaj will feature more in the coming months, and the availability of Ashley Young, Nani, Danny Welbeck and Shinji Kagawa for the wide positions, then the Ecuador international might well see himself being used as direct competition to Rafael.
The Brazilian player has not found his best form under Moyes yet, and he appears to be suffering with a number of minor injuries.
As Valencia's confidence grows, Moyes might utilize this by giving the player a run at right-back. He is no stranger to playing this position.
His suspension for the next match means that this will not happen immediately, but if Rafael continues to struggle with injury throughout the season, then he could turn to Valencia and give him a run in the team to solidify a regular back four.
With Chris Smalling and Phil Jones occupying other roles, Valencia could become United's first choice in 2014.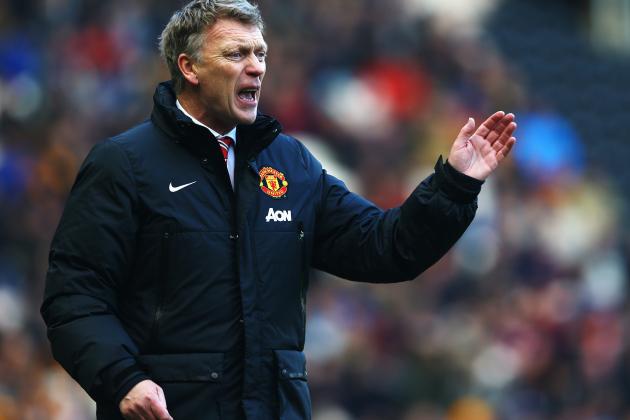 Matthew Lewis/Getty Images

With the advent of David Moyes' tenure at United, it was quickly apparent that he was going to take a conservative approach to all matters at the club.
He stuck with the players that had delivered the title just months before, and with that stuck with United's classic 4-4-2.
Well, it appears that at Man Utd at least, 4-4-2 is dead.
United's best performances have come this season under variations of 4-3-3, allowing Rooney into the midfield and relying on the striker and wingers to push forward.
The tactic has worked perfectly.
Did Rooney really not enjoy playing this role last year? His performances this season show it was not the position that was the issue.
It looks guaranteed that the Scotsman will continue to drill his team using this formation until the end of the season.
His bravery in moving away from 4-4-2 is a credit to the manager.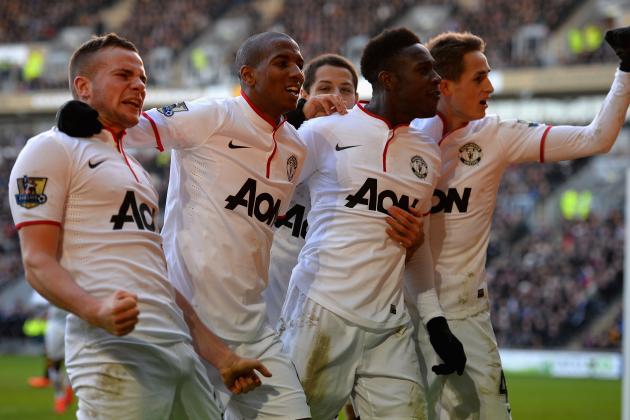 Laurence Griffiths/Getty Images

He will never attain wholesale popularity amongst United's fans, but Ashley Young has found his mojo once again.
Not helped by his injury problems and his habit of falling over, Young has seen his confidence spiral to new lows, but there is new evidence that the dice may now be rolling in his favour.
Young played with pace and intelligence on Boxing Day, looking to be involved at all times and working in tandem with Patrice Evra on the left-hand side.
His assist from the right wing in the second half won United the match.
As a squad member, Young is very useful to Moyes, but it is up to him to prove his worth to the United Faithful.
It is evident that Young is popular with his teammates. He is by no means the pariah that the press make him out to be.
If he can help United drive up the table in the next few weeks, he could find himself on a plane to Brazil in the summer, with his second Premier League winners medal around his neck.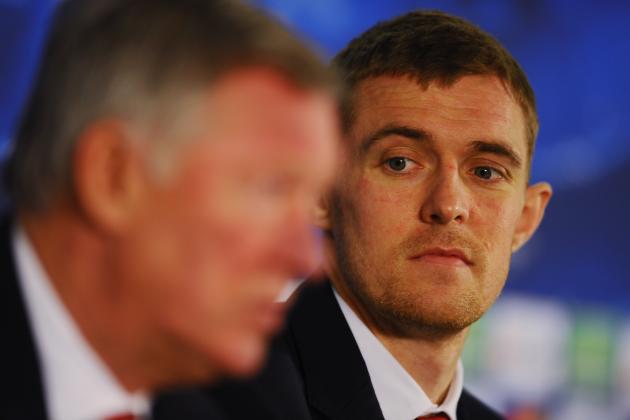 Laurence Griffiths/Getty Images

The expectations of Darren Fletcher should be low.
The Scotsman has returned to the highest level of club football after an illness that would've ended most players' careers, but against all odds, Fletcher is winning his own personal battle.
Fletcher's starting place against Hull was probably enforced by the knee injury to Phil Jones, but for an hour, he was composed and functional.
His experience is there for all to see, as he plays it simple and works his position to a maximum.
Fletcher will never be the player he once was, for age alone dictates this fact. However, his use to Moyes in the coming months could be priceless.
With a fit Michael Carrick once again, United now have two genuine defensive midfielders available, taking the weight off the shoulders of the likes of Jones and Cleverley.
His availability will also give Moyes the time required to purchase the midfielder that his side needs, if indeed he cannot complete a deal in the January transfer window.
United look in good shape, despite their current injury list. A glance at the league table should be all they need to motivate themselves to perform in 2014.
David Moyes' smile was a mile wide as United scored their third and completed their excellent comeback. If events continue in this manner, that smile will become a permanent fixture on his face.