Every team that makes the playoffs has a reason for being there. Whether it's the Chicago Bears or Green Bay Packers—whom many think shouldn't get in over the likes of the Arizona Cardinals—one team can always shock the world like the Seattle Seahawks did in 2010.
Whether it's one individual player or an entire side of the ball offensively or defensively, each team with a shot at making the playoffs this year has one strength that has gotten it to this point. And with just one week remaining before the playoff brackets are set, those strengths will be more important now to attain the ultimate prize of the Super Bowl.
Here is a breakdown of each potential AFC playoff team's biggest strength heading into the final week of the season.
Pittsburgh Steelers: Le'Veon Bell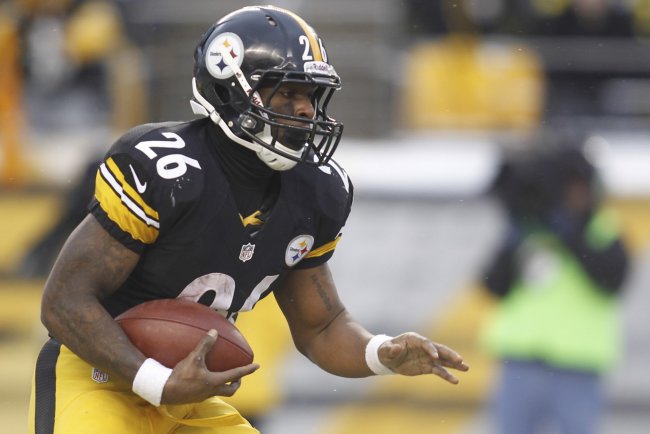 Charles LeClaire-USA TODAY Sport
The odds of the Pittsburgh Steelers making the playoffs are unlikely. But when it comes to rookie running backs making a splash this season, Le'Veon Bell should be close to the top of the list alongside Eddie Lacy and Giovani Bernard.
In just 12 games this season, Bell has rushed for 770 yards and seven touchdowns, and he has another 393 receiving yards. The Steelers named the former Michigan State running back as the top rookie in the organization earlier this year, and head coach Mike Tomlin praised him, according to Ray Fittipaldo of the Pittsburgh Post-Gazette:
This is a guy who has been continually on the rise. We're getting an understanding of what he's capable of and what we need from him. In the midst of it all, he's stayed humbled and grounded. I just like where he is.
Since his return, the Steelers have gone 7-5. He has turned around a team that looked nowhere close to being a playoff contender, as it had three straight losses before Bell's arrival.
San Diego Chargers: Philip Rivers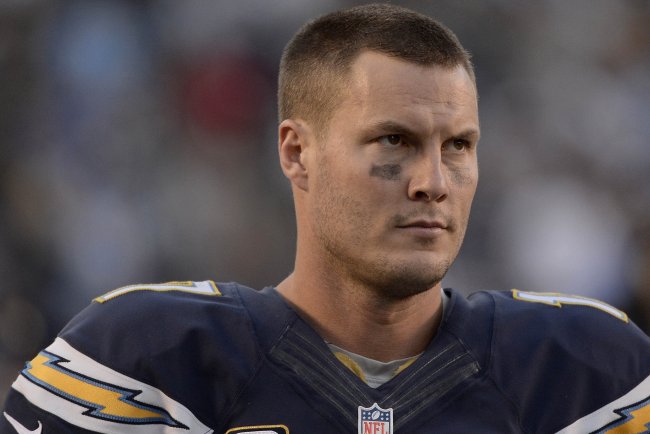 Donald Miralle/Getty Images
Much like the Steelers, the San Diego Chargers need some serious help to even make the playoffs. But if they get there, it will be thanks in large part to the work of Philip Rivers.
The 32-year-old signal-caller enjoyed a breakout season in 2013 that was good enough for him to be placed at No. 2 on Greg Rosenthal's list of quarterbacks this season, according to the NFL's official Twitter account:
Year-End QB Rankings: 1. Peyton Manning 2. Philip Rivers 3. Drew Brees 4. Tom Brady 5. Big Ben Full List: http://t.co/r0zgWgQGXn

— NFL (@nfl) December 25, 2013
With young receivers like Keenan Allen and Ladarius Green and mainstay Antonio Gates, Rivers has compiled a 105.5 quarterback rating, 4,249 passing yards and 29 touchdowns with one game remaining. While he's not even considered the best quarterback in his own division, Rivers has been one of the best quarterbacks in the NFL this season.
Baltimore Ravens: Receiving Corps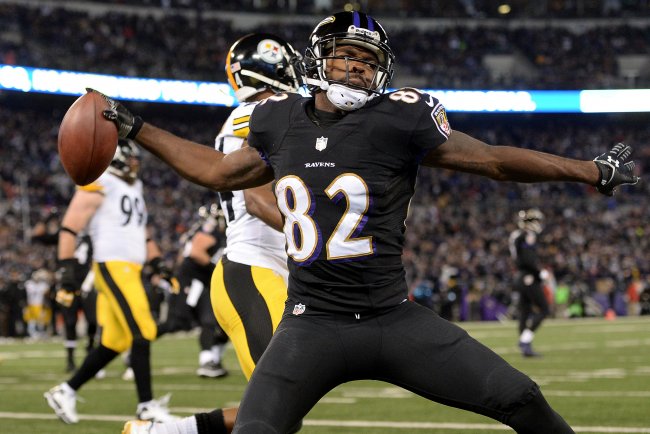 Patrick Smith/Getty Images
Well, let's just put it this way: It's not like the running game has been getting anything done for this team thus far. And while Joe Flacco has been throwing the ball, he has 18 touchdowns and 19 interceptions this season.
Needless to say, the receiving corps has been the Baltimore Ravens' saving grace this season. The group is led by Torrey Smith, who, despite not touching paydirt much this season, has compiled 1,101 receiving yards and has four games with 90 or more yards this season.
Along with Smith, rookie Marlon Brown has been getting it done in the red zone all year for nearly 500 receiving yards and six touchdowns. The last piece to the Baltimore puzzle is Jacoby Jones. The Dancing with the Stars champion—yes, he did that—has played in 11 games this season after suffering an injury in the season opener, but he is still just 56 yards from 500 this season.
Miami Dolphins: Ryan Tannehill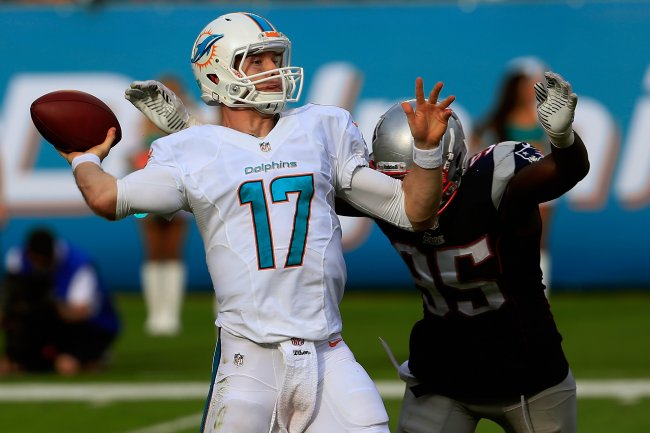 Chris Trotman/Getty Images
Last year, people criticized Miami's decision to take Ryan Tannehill with the eighth overall pick because of his inexperience at the quarterback position after being a wide receiver for his first three years with Texas A&M and converting to QB for just one-and-a-half seasons.
After two seasons, it looks like the Dolphins got it right. Tannehill has not only led Miami to a shot at the playoffs with just one game remaining, but he's also being mentioned in the same breath as Dan Marino, as ESPN Stats & Info pointed out earlier this week:
Ryan Tannehill needs 373 passing yards to become the 1st Dolphins QB with at least 4,000 in a season since Dan Marino in 1994

— ESPN Stats & Info (@ESPNStatsInfo) December 22, 2013
The second-year quarterback is enjoying a sensational season with more than 3,700 yards, 23 touchdowns and 14 interceptions thus far. During a three-game winning streak before a loss to the Buffalo Bills, he threw for eight touchdowns and two interceptions and beat the New England Patriots.
Kansas City Chiefs: Jamaal Charles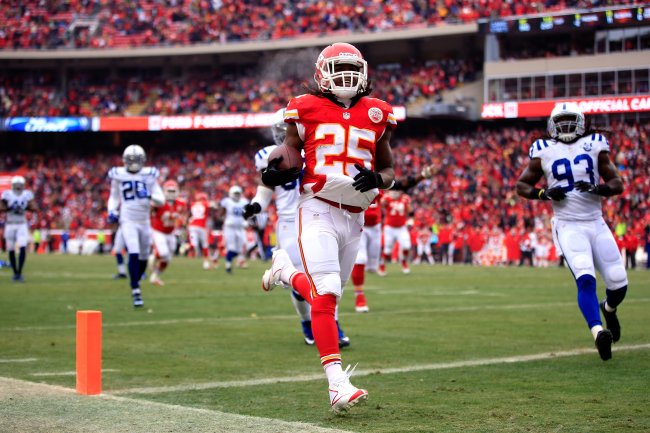 Jamie Squire/Getty Images
This could have gone to the entire defensive side of the ball, but not recognizing the greatness in Jamaal Charles this season would have discredited any argument made in this article. Whether he's been a stud for fantasy owners or an MVP candidate in the league, he has been one of the best players this season.
For fans who didn't know about him prior to the season, they got a taste of what he's capable of against the Oakland Raiders. NFL's Around the League recounted the entire performance:
It's Jamaal Charles' world. We're all just living in it: http://t.co/DI5GDNlwfa

— NFL: AroundTheLeague (@NFL_ATL) December 16, 2013
While it's difficult not to admire what the defense has done this season, Charles' stats are out of this world. On the ground, he has 1,287 yards, 12 touchdowns and a 5.0 yards-per-carry average. Through the air, he has 693 receiving yards, seven touchdowns and nearly 10 yards per reception.
Indianapolis Colts: Robert Mathis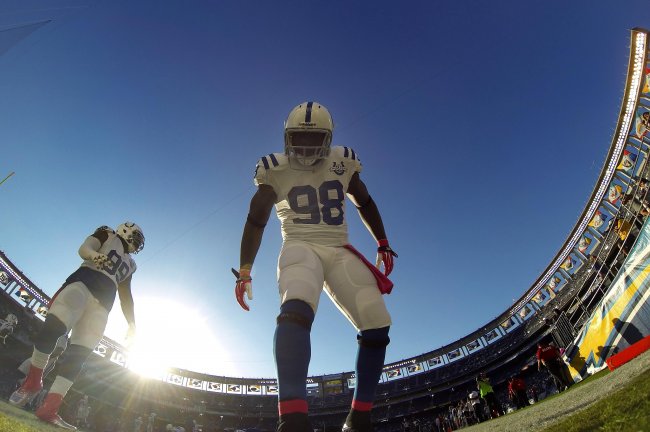 Donald Miralle/Getty Images
The Indianapolis Colts possess the 19th overall defense and allow 357.5 yards per game. Numbers like that could lead any player to mail it in for the season, but that's not what Robert Mathis has done.
On a defense that only has 39 sacks on the season, Mathis has 17.5 of them. If that statistic isn't insane enough, the 11th-year defensive end has forced eight fumbles and has 53 tackles.
Though he likely won't win it due to the outstanding play of Robert Quinn, Mathis told Kevin Bowen of Colts.com that he's happy just to be in the discussion for the Defensive Player of the Year:
Win it or not, it's an honor to be considered. It's a team sport so you've got to be a team guy. You can make plays being a team guy. That's the message. You don't have to be selfish. Just do your job and good things will happen.
The man has done it for 11 years, but without Dwight Freeney on the other side of the line, he's had one of his best seasons as a Colt. He also had an incredible sack-forced-fumble safety against former teammate Peyton Manning.
Cincinnati Bengals: Defense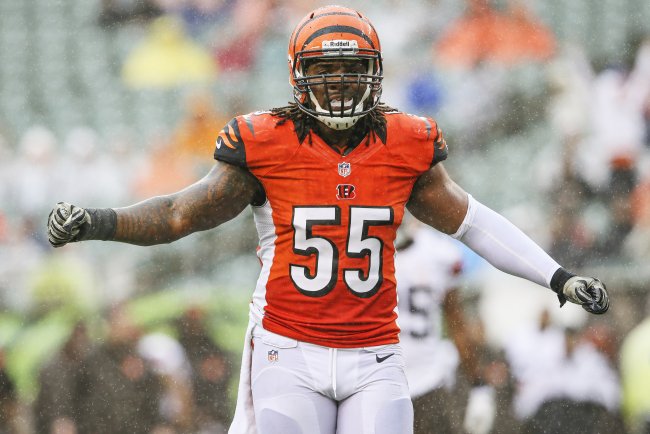 Kevin Jairaj-USA TODAY Sports
With Cincinnati having so many offensive playmakers, it's easy to say that Andy Dalton, Giovani Bernard or A.J. Green has been the catalyst for this team's success thus far this season. But with a defense that still ranks in the top five despite the loss of Geno Atkins to a torn ACL, Leon Hall to a torn Achilles and Taylor Mays to a shoulder injury, it's impossible not to be enamored by what the Bengals defense has done.
Not to mention, Terence Newman has been out for the last two games with a knee injury. But for a depleted defense, it still remains the Bengals' biggest strength and is easily the best defense in the AFC North, a division known for its stout defense.
Much of the credit this season has gone to defensive coordinator Mike Zimmer, who has implemented one of the best "next man in" systems in the NFL this season. In an Associated Press story on Thursday, defensive tackle Domata Peko spoke about how Zimmer has kept the defense together despite injuries:
That's what coach Zimmer has been preaching to us defensively, saying that when you look around the league at the top teams right now, our defense is probably going to be one of the best ones in the playoffs. So he just said, 'Hey, let's just keeping playing like we've been playing and our defense will carry us, so let's go.' So we have a lot of confidence in this room.
With the highest-ranked defense in the AFC, no team is more deserving than the Bengals of having their biggest strength bestowed upon the defense. And with just one week remaining before they get to prove it in the playoffs, the Bengals are looking forward to proving that defenses can still win championships.
New England Patriots: Tom Brady
If one quarterback can will an entire team to a victory with a depleted offense, it's Tom Brady. The man who had his single-season touchdown record erased this year and saw his favorite target Rob Gronkowski go down with an injury has still carried the Patriots to an 11-4 record and a shot at the No. 2 overall seed in the AFC.
Tommy Terrific has thrown for more than 4,000 yards, 24 touchdowns and 10 interceptions this season with a 60.6 completion percentage. Though his own teammates have shunned him on multiple high-fives this season, the 14-year signal-caller has once again been the catalyst behind the Patriots offense.
If New England can once again find a way to advance to the AFC Championship Game, it will likely be on the road against the Denver Broncos. As if the history between him and Peyton Manning hasn't been great already, that book might add two chapters this year alone.
Denver Broncos: Peyton Manning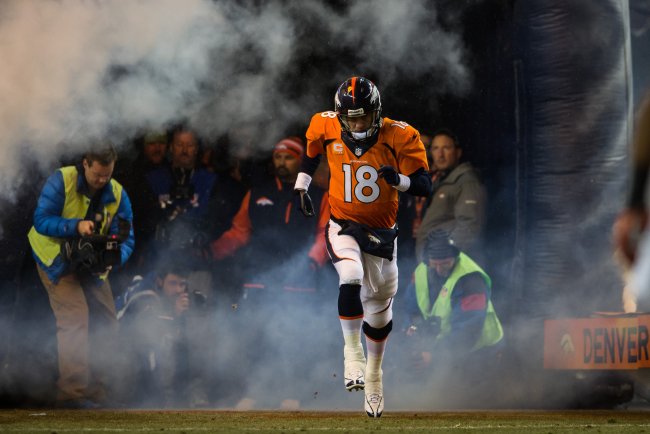 Dustin Bradford/Getty Images
The Denver Broncos have a history with quarterbacks. Some good—John Elway—and some bad—Tim Tebow and Jake Plummer—but the team certainly has a storied QB history. This season, the current Broncos quarterback had the best statistical season of any in history, and his name just happens to be Peyton Manning.
While he didn't spend his entire career with the Broncos, Manning's season this year was better than any Elway ever put together. The Broncos' official Twitter account followed Manning's record-breaking season all the way down to his 51st touchdown in Week 16:
If Denver makes it to the Super Bowl, it will be because of Manning. If it wins the Super Bowl, it will be because of Manning. And with a season that has been more memorable than nearly any in his 16 seasons as a quarterback, it would only be fitting if he lifted the Lombardi Trophy for a second time—just like Elway did.