Chiefs vs. Chargers: Breaking Down Kansas City's Game Plan
December 29, 2013

Denny Medley-USA TODAY Sports
Regardless of what happens this Sunday, the Kansas City Chiefs (11-4) are playoff-bound and, although they could share the AFC's best record, snugly sitting on the No. 5 seed. Like Andy Reid-sprawled-in-a-Fiat-after-Arthur Bryant's snugly. Win, loss or tie, they're handcuffed to it. 
Make no mistake, the City of Fountains' beloved walking walrus will rest his key starters. During Reid's 14-year stint in Philadelphia, he was afforded that luxury on four occasions, and the Eagles rattled off a 3-1 postseason record in the ensuing contests. Furthermore, before he booked a one-way trip to the Midwest, Reid mustered a 13-1 record after bye weeks in Philadelphia.
Now, with all of that being said, allow me, snide commenter: Sunday doesn't even count toward anything! Nobody cares about the game plan, idiot!
I get it. Honestly.
But you and I both know that, regardless of who's under center and how vanilla the offense is, you're going to tune in with glued eyes. Why? Because one slip of the tongue—one "How come you're watching this? Aren't the Chiefs playing?" Yeah, all the key guys are resting, though. It's a bunch of backups—ends with you antiquing in some Mayberry-esque town with the population of a speed limit. 
Don't be a rookie. 
Squeeze the lemons and swallow your "Why did we sign Chase Daniel? Why?" Week 17 fate. Sunday's sabbatical is, if nothing else, a toast to the fact that Reid doesn't answer coaching questions like Tron Carter and John Dorsey's press box doesn't moonlight as a vulture nest. 
Jokes aside, the Chiefs' season finale isn't a glorified preseason game. Rest assured that there's no shortage of storylines to follow, and they all, in some form or another, trace back to one mystery.
Who's Starting, Who's Sitting?

Denny Medley-USA TODAY Sports
Every year, the above question arises from its 11-month slumber and starts popping up around Week 15. And every year, we take a broad brush and ask coaches the same black-and-white question: Do you plan on resting the starters this week?
According to The Kansas City Star, if Reid's a man of his word, you can expect to see a mixed bag of starters and backups on Sunday. 
Although there's no right or wrong approach, people insist on trying to whittle destiny down to an exact science and ultimately add nothing more than hit of hot air to a Catch 22. 
One self-righteous mob will argue that Kansas City needs to enter the playoffs riding a wave of momentum, and the only way to accomplish that is by playing its starters and thrashing San Diego. 
The other group, meanwhile, will contend that the game bears no playoff implications, and losing a star to injury far outweighs any potential risk(s) by sitting them.
Personally? Gun to my head? I'd side with...I'd take my chances and try to Jet Li my way out of it because hearing, reading and (now) writing about the debate makes me want to fill a cereal bowl with aspirin. 
Hypotheticals aside, though, I think that resting the bulk of a team's starters is the right call. If momentum carried over on a weekly basis, the Chiefs would've scored more than a meager seven points versus the Colts after averaging 50.5 in their previous two games.
And if you tell me closing the (regular) season on a low note dooms your playoff aspirations, I'd kindly point you in the direction of teams like the 2012 Baltimore Ravens (who lost four of their last five regular-season matchups) or 2009 New Orleans Saints (who were bested in their final three, including one to a 3-13 Tampa Bay Buccaneers squad). 
Offensively, Kansas City came out of its Week 10 bye (which is also what Week 17 will/would essentially be) with guns blazing. Leading up to it, Alex Smith lobbed nine touchdowns in the first nine weeks of play. Since the aforementioned bye, he has posted 15 in three fewer games. He has also eclipsed 280 yards passing in three of those six contests—a feat he only managed once throughout the first nine weeks in Kansas City. 
Projected Lineups

Kirby Lee-USA TODAY Sports
Before drafting a game plan, one usually has the benefit of knowing the projected lineup—it's kind of essential. 
Normally, laying out a team's weekly blueprint for success involves stirring a hodgepodge of teams' stats, schemes, assets, liabilities, tendencies, etc. If you do your homework, more times than not that recipe yields a fairly clear crystal ball.
For Week 17, it's more like probing a Magic 8-Ball.
In preparation for wild-card weekend, will Reid's play-calling err on the side of caution? "Reply hazy, try again." Will any of Kansas City's Pro Bowlers play a snap on Sunday? "Reply hazy, try again." Will Dexter McCluster return punts? "Reply haz..." [Punts 8-Ball over The Sandlot fence]
Throughout similar scenarios in the past, Reid has inserted a batch of starters into the game. However, they generally only partook in a handful of drives before punching their time card and retiring for the afternoon. 
I'll be surprised if any of the prominent starters take the field for more than three drives, and there's little doubt in my mind that every notable name who's remotely banged up will be sidelined from the get-go.  
As KCChiefs.com's Rachel Santschi notes, that list already includes Dwayne Bowe and Tamba Hali:
If you think Reid's going to throw caution to the wind by playing his starters through all four quarters, even though he'll be without his best wideout and a Pro Bowl pass-rusher, I'd suggest staying away from sharp objects. It's not happening.
With that being said, I imagine that Kansas City's lineups will look something like this after a drive or two:
Offensive Lineup
Quarterback:
Chase Daniel
Running Back
Knile Davis
Fullback:
Anthony Sherman
Wide Receiver:
Junior Hemingway (SE)
Donnie Avery (FL)
Tight End:
Sean McGrath
Tackle:
Donald Stephenson (L)
Geoff Schwartz (R)
Guard:
Rishaw Johnson (L)
Rokevious Watkins (R)
Center:
Eric Kush
vs Chargers Week 17
Defensive Lineup
Defensive End:
Tyson Jackson (L)
Allen Bailey (R)
Nose Tackle:
Jerrell Powe
Outside Linebacker:
Frank Zombo (L)
Dezman Moses (R)
Inside Linebacker:
Akeem Jordan (S)
James Michael-Johnson (W)
Cornerback:
Dunta Robinson
Sean Smith
Safety:
Quintin Demps (SS)
Kendrick Lewis (FS)
vs Chargers Week 17
At some point, every starter will be spelled. Without the bulk of Kansas City's playmakers on the sideline, Philip Rivers and Co. are bound to jump out to a two-possession lead sooner than later, and there will be little sense in potentially adding more household names to the injury report.
Color me confused if Smith sees more than two series (if that) under center. Rewinding back to the preseason, Kansas City touted a more potent offense with rookie Tyler Bray slinging the rock, and he could definitely take some snaps before the final whistle. However, Daniel will first take the reins for two reasons: experience and mobility. 
The Chiefs offensive line heads into Week 17 hampered by injuries, with Branden Albert (knee), Eric Fisher (shoulder) and Donald Stephenson (knee) all traveling out West at less than full strength. And keep in mind that Kansas City's pass protectors will be squaring up San Diego's starters.
While the Chargers don't boast a menacing pass rush—33 sacks lands them at No. 24 in the league—you can expect them warp pockets early and often. Daniel has the wheels to evade; Bray doesn't. 
Wideout A.J. Jenkins will also shoulder his biggest workload of the season. If the Chiefs break the huddle with trips, Junior Hemingway, despite having atypical size for the slot, will likely slide inside. 
The most puzzling mystery lies on the other side of the ball, specifically the secondary. The last wave of of defenders have doubled as the weakest link of an opportunistic but bipolar defense, which begs the question: When will the second-stringers enter?
Brandon Flowers and Eric Berry are cornerstones of the defense—if they see any playing time, it'll be largely limited. Sean Smith could be swapped out at the same time, or he could play throughout the first half. That's up in the air.
Kendrick Lewis, though? He's been the Achilles heel of the group, consistently committing to head-scratching angles and/or sloughing off of ball-carriers like they're eight-bit Bo Jacksons. Unfortunately, more times than not, he's also the single-high safety in a Cover 1 scheme. Basically, a conductor and safety valve. 
Unless Reid is considering reducing his playing time (which, at this point, is a long shot), Lewis needs every second of game experience that he can salvage. 
Kansas City's Offensive Game Plan

Brad Mills-USA TODAY Sports
Feed Knile Davis, Then Feed Him Again
Last week, Knile Davis cradled a kickoff and encapsulated his entire scouting report in one fell swoop.
NFL Game Rewind
Davis can rip your heart out and A-Town Stomp on it in one play. On the next, he can defibrillate it and restore your faith in him. 
Physically, Davis owns every tool in the playmaker arsenal. He flashes blurring speed—his 40 time was only one-tenth slower than Jamaal Charles'—and the strength of a bloodlusting fullback. If you possess that combination when stepping out of bed in the morning, odds are that you have a stack of capes next to your tie rack. 
Seriously, let's put this into context: Coming out of Oklahoma, 2012 MVP and athletic demigod Adrian Peterson dropped jaws while recording a 4.40 40-yard dash and squatting 530 pounds; Davis ran a 4.35 40 and lifted 570 pounds. He didn't eclipse Peterson's marks; he added 20-pound dumbbells and squatted it.
The Chiefs tailback definitely totes superhuman speed and strength, but even if he could fly, Kansas City's rookie would be suspended from Superhero U on day one: The first attempt at saving someone from a burning building would result in said someone skydiving 10 stories to their grisly death.
Anything in Davis' hands is bound to get dropped like a bad habit, which, relative to fumbling, is exactly what No. 34 has. Pro Football Focus' Scott Hanson writes, "Davis is big, fast, can catch the ball out of the backfield, and also return kicks. Including nine kickoff returns, he's touched the ball 62 times on the season and has three TDs, but also three fumbles."
Regardless of what unfolds throughout the next handful of weeks, Davis will head into next offseason answering questions about his hands. That's a given. What people won't question? His talent. 
Everyone is well aware of the third-rounder's value as a kick returner—something that became crystal clear throughout the preseason. But considering he'll leave the tunnel as Kansas City's featured back (and last week's aforementioned fumble), there's little chance that he'll be tracking kickoffs on Sunday.
While Davis' opportunities in the backfield have been limited, he has shown the same brand of heart-pounding highlights as his special teams returns. This year, he has churned out 161 yards on 43 rushes—a pedestrian but serviceable 3.7 average. Remember, though, the bulk of his carries stem from garbage-time blowouts with defenses expecting preparing for handoffs.
Another reminder: This is the same guy who, before a string of injuries in his junior year, stockpiled 1,322 yards (6.5 YPC) and 13 touchdowns as a sophomore. A smattering of highlights demonstrate how those kind of cosmic numbers came to fruition. 
Here, in Week 16's matchup at Oakland, Davis clutches the pigskin on an inside zone run. Rodney Hudson and Jeff Allen double the right defensive tackle, Jon Asamoah seals the opposite edge of the lane, and the middle linebacker (who loses sight of Davis in the fracas) is upended by Anthony Sherman. 
Instead of following his fullback, Davis spotted and sprinted through the cutback lane, ultimately plowing a safety and dragging Charles Woodson into the end zone. 
NFL Game Rewind
On the previous Sunday, the Chiefs aligned in a "weak I." Sherman (uncharacteristically) whiffs on the left defensive end, tripping Geoff Schwartz in the process. Davis creates on the fly, hurdling a downed Schwartz and bouncing to the back-side edge.
A subtle juke momentarily freezes Josh Wilson, allowing Davis to shed his would-be tackle before gliding across the goal line. 
NFL Game Rewind
The final GIF isn't as thrilling, but it shows something that you'll sporadically see against the Chargers: a screen featuring backups. 
Although Davis' ball-security issues haven't subsided, he has seemingly improved at least one facet of his game. Throughout the preseason, he definitely didn't didn't gain any Twitter followers after running pass routes. Drops routinely plagued him prior to opening day, including training camp. 
However, he's snatched nine of 10 regular-season targets and has yet to register a drop.
On this particular play, Daniel lines up in the gun, and Sherman splits out to the slot (Reid is nothing if not unconventional).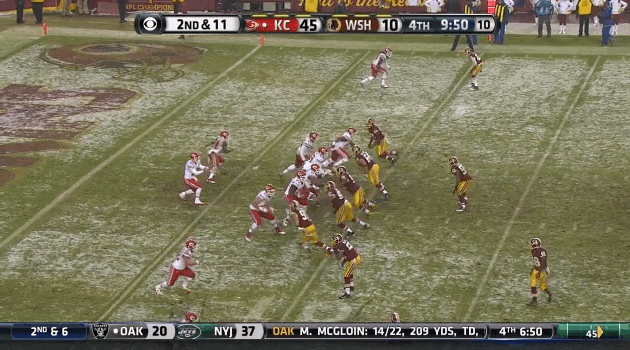 NFL Game Rewind
Davis releases from the backfield on a flat route, snags the pass and brushes off a Washington safety for a 17-yard chain-mover.  
Employ the Read-Option

Jamie Squire/Getty Images
While Davis isn't Charles, he has headlined enough highlights for defenses to respect him. Daniel, like his aforementioned halfback, isn't packaged without his own set of flaws.
Running isn't one of them.
The backup's scrambling abilities rivals Smith's, earning him the reputation of a dual-threat playmaker during his stay at Missouri.
The read-option not only adds a hint of diversity to the ground game, but it puts pressure on outside linebackers Jarret Johnson, Tourek Williams and Melvin Ingram (who, due to an ACL tear, has played just three games in 2013). Furthermore, it shortens the game and minimizes Philip Rivers' opportunities.
Move the Pocket

John Rieger-USA TODAY Sports
Assuming that Bray doesn't notch his first professional snap, the Chiefs desperately need to move the pocket via play-action rollouts. 
Daniel, to this point, hasn't proven to be an efficient pocket passer, and this season's meager nine attempts—only one less than his previous three years combined—don't exactly paint him in a positive light. 
On a 3rd-and-6 at Oakland, the Raiders run a stunt that ends with Lamarr Houston splintering the gap between Stephenson and Allen. Daniel feels the pressure and short-arms his release, resulting in a nosediving throw that Cyrus Gray (somehow) scoops and turns into a 17-yard first down. 
NFL Game Rewind
Two downs later, Daniel palms the shotgun snap and telegraphs his intentions, eyeing a slanting Hemingway from the second he gains possession. Not only does the cornerback read him like a book, the fourth-year passer waits until after the wideout makes his cut (throwing off the timing) before firing a pass that lags behind him, nearly leading to surefire pick-six. 
NFL Game Rewind
Daniel didn't look the part at Washington, either, which served as a precursor to Oakland's montage of mediocrity. 
The next throw oozes with inaccuracy and subpar decision-making. 
Washington breaks the huddle with dime personnel. Gray runs a wheel route on a play designed for the tight end (McGrath) to pick the middle linebacker. However, the defensive front, including said linebacker, is shifted to the strong side, which reduces the amount of time that McGrath has to impede his target. 
The linebacker, Perry Riley Jr., sheds Kansas City's tight end and matches Gray stride for stride. Ideally, Daniel should've tucked the rock and exploited the pass-centric subpackage. That, or roll out and cross his fingers that one of the underneath receivers gain separation.
Instead, he lobs a forced touch pass to Gray that's punctuated by Riley's first career interception.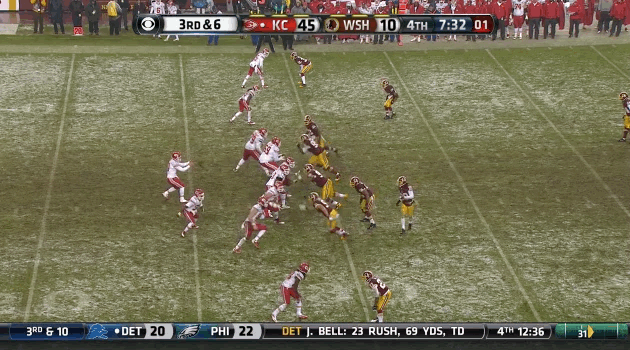 NFL Game Rewind
Time and again, Daniel sees ghosts and allows oncoming pressure to dictate his throwing mechanics, usually culminating in a hurried and misfired incompletion. Moving the pocket offers a clearer view of the field (remember, he's only 6'0") and capitalizes on his athleticism. 
Statistics provided by Pro Football Focus (subscription required). 
Follow Brett on Twitter: Follow @BrettGering