Analyzing James Harden's Christmas Day Performance vs. San Antonio Spurs
Use your ← → (arrow) keys to browse more stories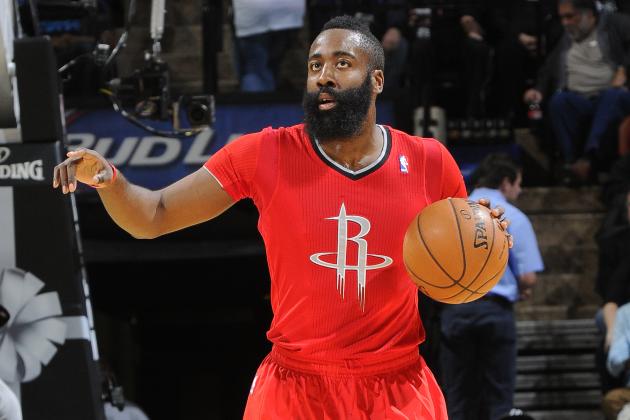 D. Clarke Evans/Getty Images

The Houston Rockets needed James Harden to return and bring his typical offensive potency in order to have a shot at a road win in San Antonio. They got that and then some.
The star shooting guard finished with a game-high 28 points on 11-of-16 shooting in a 111-98 victory over the Spurs. He also poured in six rebounds, six assists and two blocks in a spectacular overall performance.
ESPN Stats & Info summed up his late heroics:
James Harden scored 16 of his 28 points in 4th quarter in Rockets win. He scored on shots from all around the court pic.twitter.com/2yp0Wqa6YB

— ESPN Stats & Info (@ESPNStatsInfo) December 26, 2013
Harden had a pedestrian scoreline before exploding when his team needed it most. The Rockets burst out to a big lead and held it for much of the game, but the Spurs trimmed it down to single digits and got back within a couple of possessions.
Then the Rockets' star player took over the game.
Harden poured in 16 of his 28 points in the fourth quarter, hitting clutch shot after clutch shot and driving the lane to finish over multiple defenders. He was nothing short of unstoppable, proving to be a mismatch for whomever San Antonio decided to put on him.
In the clutch moments of the game, the Rockets simply got the ball to Harden as quickly as they could. It resulted in him hitting dagger after dagger to clinch the win.
Winning on Christmas Day is nothing new to Harden, who has a perfect record on the holiday, according to Doctor NBA on Twitter:
James Harden (HOU) is 4-0 on Christmas Day. Of course, he is the Santa Claus of the NBA.

— Doctor NBA (@DoctorNBA) December 26, 2013
Of course, it didn't hurt that he did so with these fashionable socks, per Jose 3030:
James Harden Christmas Shoes & Socks pic.twitter.com/ikGiQEfn3N

— 3030 (@jose3030) December 26, 2013
Not usually known as a defensive stopper, he even made his impact felt on defense. Harden blocked two shots, but used his length and wing span to affect a handful of other attempts.
A scoring-by-committee game plan worked wonders for Houston for most of the game—all five starters finished in double figures, with three over 20. But when the Spurs finally found their way enough offensively to claw back into it, the Rockets needed a go-to guy.
Harden, as usual, was up to the task.
He showed no signs of being slowed up from that lingering ankle sprain that kept him out of the last two games, showcasing speed on both ends and getting to the spots that he needs to in order to shoot from the perimeter or find teammates.
The 24-year-old has already established himself as one of the league's best players, only in his second season in Houston. Now that the franchise has put a championship-caliber roster around him, things are only going up for Harden.