As you can tell with five Christmas Day games, the NBA doesn't get put on pause for the holidays, and that can be said on the front of trade rumors as well.
While the trade deadline won't strike until Feb. 20, some teams are desperately trying to make moves as quickly as possible to bolster their squad for a playoff run. Others, however, are simply trying to get rid of a certain piece sooner rather than later.
The buzz never seems to stop surrounding the biggest and best players in the Association, and there's more of that over the holidays for a certain superstar player on a sub-.500 team.
Here's a look at what's currently happening in the rumor mill.
Carmelo Anthony Linked to Clippers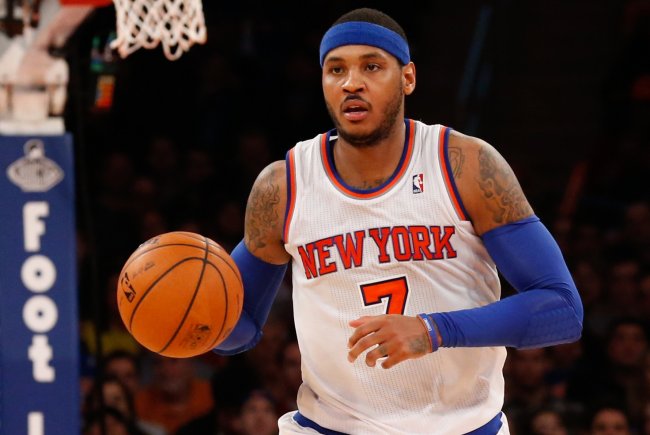 Anthony Gruppuso-USA TODAY Sport
Carmelo Anthony vowed not to talk about his upcoming, sure-to-be-interesting free agency entering the season, but that hasn't stopped the New York Knicks superstar from having his future talked about by others ad nauseam. That trend has grown even more after New York's woeful early stretch of the season.
One of the most interesting wrinkles in the rumors surrounding 'Melo came out on Tuesday, Dec. 24, when Steve Kyler of Hoopsworld reported that the Los Angeles Clippers—not the Lakers—are one of the likeliest options according to those close to Anthony and the Knicks.
It may not take long to happen, either. Kyler continued by saying that he could be moved before the deadline and choose to opt in to a Clippers extension rather than do as he currently plans and opt out to test the market.
The Lakers have long been a talked-about destination for Carmelo, but Kyler reports the Lakers are not as willing to offer a max-level contract that would be needed—among other things—to lure Anthony.
It's not exactly surprising that the Clippers might actually be 'Melo's team of choice in L.A. The team already has a superstar in Chris Paul. Those two have been tied together in free agency circles for years, and playing alongside one of the NBA's best passers should be enticing for the trigger-happy Anthony.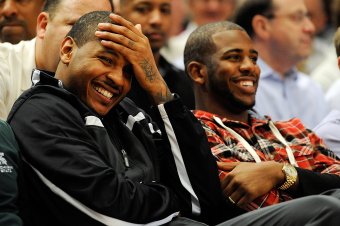 Patrick McDermott/Getty Images
Just as well, the Clips boast one of the best young frontcourts in Blake Griffin and DeAndre Jordan, so Anthony could focus more on the wing and find more favorable matchups in the post. Having Doc Rivers, one of the game's most respected coaches, is another plus.
On the other hand, the Lakers are covered with question marks with a ton of money tied up in Kobe Bryant's bank account. Their future is far from secure, and a lot of careful moves would have to be made in free agency to put a formidable team around two max players.
It's far too early to know if Carmelo is going to move over the offseason, or before. But considering the latest report, you have to throw the Clippers' name into the hat.
Magic Looking to Sell, But Not Afflalo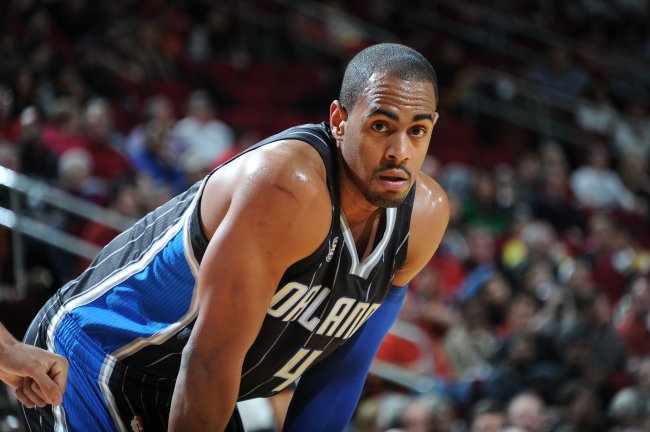 Bill Baptist/Getty Images
Trade season is either a chance to bolster a squad for the playoffs or an opportunity to rebuild for the future. The Magic are keen on the latter, but are showcasing plenty of caution.
Hoping to stockpile assets, the Magic are looking to move a pair of veterans. Orlando "would entertain" a trade for point guard Jameer Nelson or forward Glen Davis, according to Hoopsworld's Steve Kyler.
Despite listening to talk surrounding two players who are very valuable to the Magic, they haven't been as receptive on the Arron Afflalo front.
Should the Magic keep Arron Afflalo?
Per Yahoo Sports' Marc J. Spears, in his weekly power rankings, "Orlando keeps saying no" when asked by other teams about their desire to include Afflalo in a deadline deal.
It's not shocking in the least that the Magic are hesitant to trade him. The seventh-year shooting guard has exploded for a career-best season, scoring 21.9 points along with 3.9 assists and 4.6 rebounds per game.
The Magic certainly aren't gunning for a playoff spot this season—even though it would be entirely possible in a putrid East. But even so, they need important pieces to build around, and Afflalo looks to be a candidate given his emergence in recent seasons.
Moving a guy like Nelson or Davis would help to continue adding assets for the future, but the Magic must be careful not to part ways with a player, whether it be Afflalo or anyone else, that could be built around in the next few seasons.